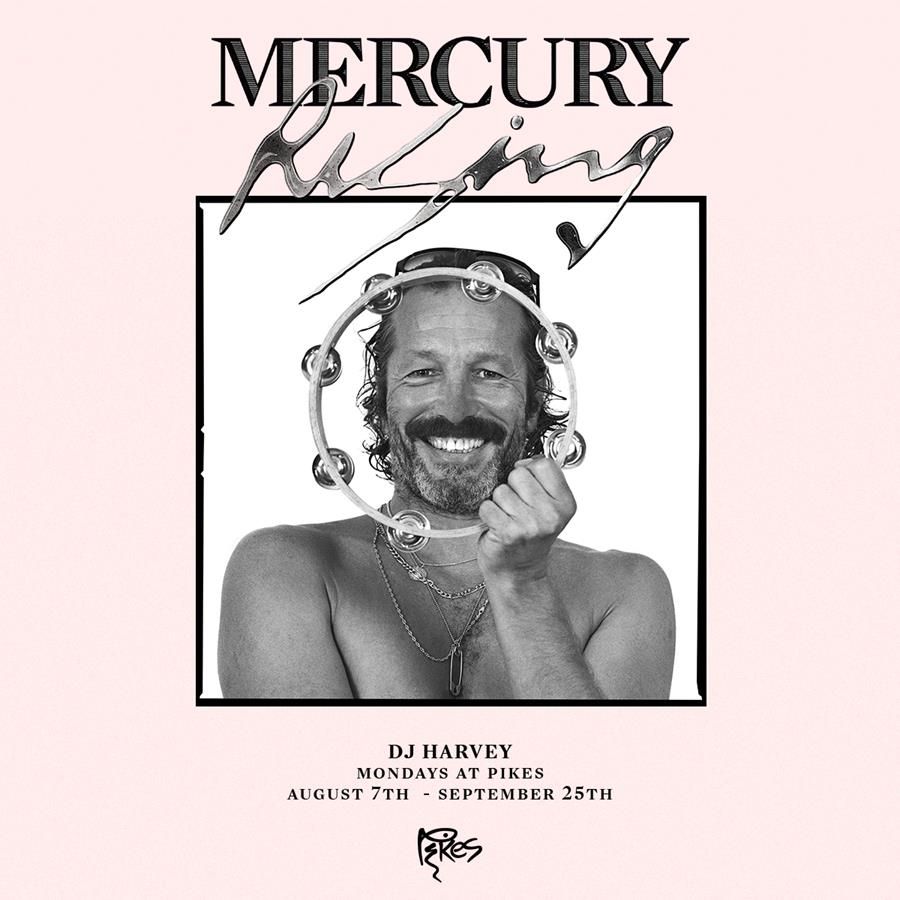 DJ Harvey Returns For 8-week Residency at Pikes Ibiza
There is a long-standing love affair between DJ Harvey and Pikes, Ibiza. As well as coming back for his third consecutive 'Mercury Rising' residency, the legendary 'DJs' DJ has been appointed 'Cultural Attaché' for Pikes, meaning his magic touch and feel-good presence will create even more special moments at Pikes this summer, including the launch of new label, Pikes Records. DJ Harvey and his incredible all night long sets return for Mercury Rising from Monday 7th August to Monday 25th September.
In 2015 DJ Harvey made his hugely anticipated return to Ibiza and made Pikes his home for his Mercury Rising debut, a concept inspired by the beauty of the real Ibiza, the incredible history of Pikes and a genuine love for music. At the time Harvey said, "Once upon a time at Club Tropicana, Tony Pike, Grace Jones, Bianca Jagger and Freddie Mercury enjoyed their own grown-up playground at Pikes Hotel on the White Island of Ibiza. They worshipped Tanit the Goddess of Love and worshipped the night away to music as exotic as their fantasies. Thirty years later and for those in the know, little has changed. Tony is still here and we still dance and love to a Balearic soundtrack. Freddie may be gone but his pleasure palace remains."
The love, the dancing, the music and the Balearic spirit perfectly and poetically encapsulated by DJ Harvey has seen Mercury Rising widely recognised as the most special night to embrace the island in over a decade. Harvey has been coming to Ibiza since the late 80's and has always gravitated towards the cultural oasis that is Pikes, a place passionately hand-built with soul and with a long history of enticing the kind of grown up and hedonistic behavior Harvey thrives upon – "Now I'm basically living the dream that I had 5 years ago with the Mercury Rising residency. What you get with Pikes and Freddie's is almost like a house party and you are amongst the people. Its very intimate and it has this family feel. There is no other party like it on the island that has the Ibicencan hedonism mixed with the house party vibe. Even though I might not know half the people there its like everyone is a good old friend."
DJ Harvey is a man that goes way beyond the call of DJ duty, taking care of every meticulous detail to fully immersive himself in the flow and enjoyment of the evening. This is a responsibility Harvey takes seriously, saying: "I really care about the welfare of every single person in the party. So many people say 'Oh I don't give a [email protected] what people think' and I'm the complete opposite of that. I give a [email protected]. I care. Its important to me and I take time and I prepare whatever it may be, tuning the sound system, doing the lighting, deciding on the flowers, setting the ambience to ensure the way the evening flows. I'm usually in the DJ booth two hours before everything starts to make sure that everything is right before we open the doors. I feel personally responsible for the enjoyment of everyone that comes to the party and hopefully that makes a difference."
Harvey will also head up the soon to be launched Pikes Records – the first record label founded by Pikes owners and Ibiza Rocks Co-Founders Andy McKay and Dawn Hindle. With the finer details still under wraps, it's safe to say fans can look forward to the first release being Harvey's very own Mercury Rising compilation. On Pikes Records, Harvey said: "I see so many avenues to work together to release music, everything from live recordings from Ibiza Rocks and Pikes, mix tapes, original productions, showcasing new artists, there's all sorts of avenues to open up."
From launching Pikes Records to consulting on the redesign of the infamous 'Freddie's' party suite and installation of the new sound and lighting systems, to event programming, through to creating bespoke Mercury Rising menus with the chef and even choosing the flower arrangements for his sets in Freddie's, DJ Harvey defies modern DJ culture and sensually awakens ALL the senses during his all night long sets at Pikes. On being crowned 'Cultural Attaché' at Ibiza's hidden gem in the hills, Harvey said: "Cultural Attaché is a broad term for basically being a lot more involved. I do a lot of things that most DJs don't consider. Putting a bit more effort and care into the whole thing and going beyond the natural call of duty of a DJ and really being involved in all aspects of the evenings entertainment. I do take great care in compiling the best music that I possibly can for the night that portrays my idea of a hedonistic Balearic house party. I'll be playing music that could be forty years old from the seventies and music that's only a few days old from modern producers. So right across the board and my sensibility is what will hold it all together."
So what can we expect from the third instalment of Mercury Rising? Putting it quite simply "Just a serious good time really" says Harvey.
For more information and guest list enquiries, visit www.pikesibiza.com