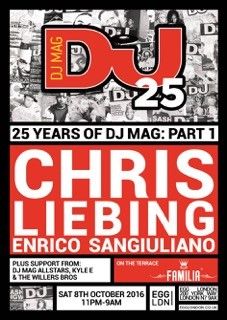 DJ Mag 25th Anniversary Part 1
Commemorating their 25th anniversary, internationally renowned electronic music publication DJ Mag takeover Egg LDN for two parties in October. Everything kicks off on Saturday 8th October with a techno heavy affair headed up by CLR main man Chris Liebing, who is joined by UK techno legend The Advent and Drumcode's Enrico Sangiuliano. Part 2 on Friday October 21st features Radio 1 superstar, Pete Tong joined by Cristoph and Emanuel Satie.
Having been DJing since 1990, Liebing has proved immune to the ever changing fashions of dance music. He made his first mark by opening Spinclub, before cutting his teeth at the influential Eye Q Records in Frankfurt, going on to become a regular DJ at the city's infamous Omen club. In 1996 he launched his own Audio label, but it was its successor, CLR, which began life in 1999, that helped transform him into one of the biggest stars of the new millennium. A regular everywhere from Ibiza's Amnesia to Fabric in London, his weekly podcasts have brought his hard techno sound to a global audience since 2009, while past studio collaborators include Loco Dice, Green Velvet and Speedy J, the latter of whom he recorded an entire album with to add to two artist albums and a remix album featuring the likes of DJ Rush and The Advent.
The Advent, aka Cisco Ferreira, is undoubtedly one of techno's most influential figures, if not the most influential from the UK. Studying sound engineering in the late '80s, he worked with everyone from John Lydon's P.I.L. to Massive Attack, when they were part of The Wild Bunch with Nellee Hooper. It was the birth of acid house in 1987, however, and his involvement with UK label Jack Trax, that put him at the centre of an influential new scene, working with pioneers such as Fingers Inc, Adonis, Marshall Jefferson and Derrick May. Later he spent a brief spell working for iconic Belgium label R&S, engineering for techno stars such as CJ Bolland, whose classic 'Camargue' is one of the track that he worked on. While already producing solo, it was meeting Colin McBean (aka Mr. G) in 1996 and forming The Advent that he began to stamp his indelible mark on the world, a series of 12"s and three albums with Internal/FFRR winning them an army of fans for their hard techno and electro sound. While The Advent is now just Cisco, he's remained prolific as a DJ, producer and live act.
In recent years Enrico Sangiuliano has proved himself to be one of the industry's rising stars with his Midas touch in the studio. 'X-Pollination' on Unrilis hit the No.1 spot on Beatport, not only in the techno chart but in the overall chart as well, adding to his already proven record as one of the most downloaded artists in his genre. As well as the Unrilis imprint, Enrico's releases have made waves on Gem, Tronic, Alleanza, Suara and the mighty Drumcode, for whom he also plays at their live events.
The Terrace will be hosted by Familia, the monthly party that's been in residence at Egg since 2012. The event and imprint of the same name have gained a loyal following, thanks to their resident DJs and, of course, the carefully curated headliners, which include Matthias Tanzmann, Julian Jeweil, Paul Ritch and wAFF. Setting its sights further afield this summer, with two appearances in Ibiza alongside Unusual Suspects at Sankeys, a party in Barcelona for Off Week alongside Alleanza, and another in ADE this October collaborating with the same label, Familia show no sign of slowing down.
It makes Saturday 8th October looks set to be one of the most talked about nights in the calendar and a fitting way to celebrate part one of DJ Mag's 25th anniversary. Catch the second part on Friday 21st October.
For Part Two on Friday 21st October, we're proud to announce Radio 1 superstar Pete Tong — picked by DJ Mag as a 'pioneer' in the anniversary issue for giving underground dance music a platform on the mainstream airways for 25 years! From his early acid house residency at The Trip to his Friday nights at Pacha Ibiza, running the much feted ffRR label home to anthems and crossover hits such as Lil Louis 'French Kiss', Orbital 'Chimes', Goldie's 'Inner City Life' and Artful Dodger and Craig David's 'Rewind Selector' smash, Pete Tong has headlined many of the world's leading festivals, headlined Ibiza seasons, won awards for his DJ and broadcast career and continues to set the standard in UK dance music.
He's joined on the decks by Knee Deep In Sound alumni Cristoph and Emanuel Satie in support, plus more TBA.