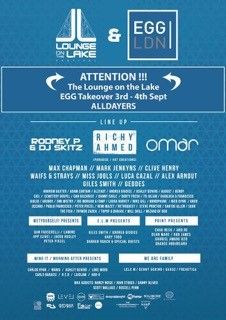 Lounge On The Lake Festival Takeover @ Egg LDN
Lounge On The Lake Festival Takeover @ Egg LDN
Daytime Weekend Takeover Saturday September 3rd & Sunday September 4th
featuring Richy Ahmed, Mark Jenkyns, Waifs & Strays, Geddes, Clive Henry, Giles Smith, Max Chapman
+ Omar Live, Rodney P & Skitz, Femi Fem
+ Saturday September 3rd: After Party in Apothecary till 6am
After losing the licence at the 11th hour for their original site in Hertfordshire, festival Lounge on The Lake takes over Egg LDN this weekend, running Saturday September 3rd and Sunday September 4th from midday onwards and bringing a huge cast of DJs and live music to enjoy the alfresco experience before an after party in the Apothecary running till 6am Sunday morning.
Saturday highlights include some of the UK's finest house DJ/producers such as Secretsundaze's Giles Smith and Clive Henry back to back with Alex Arnout, while on Sunday the likes of Waifs & Strays, Geddes, Mark Jenkyns, Luca Cazal and Max Chapman are joined by UK soul legend Omar playing live, hip hop trailblazers Rodney P & Skitz and Rotation's funk and disco maestro Femi Fem.
Promising 18 hours of amazing music and friendly festival vibes, with dressing up seriously encouraged, the Lounge On The Lake Festival takeover also features acclaimed Sunday party Wet Yourself!, Wax Addicts, Shoreditch's funky Drunken Monkey and much more.
Listings Info
Event: Lounge On The Lake Festival @ EGG LDN
Date: Saturday September 3rd & Sunday September 4th
Saturday Time: 12 midday – 11pm : After Party @ Apothecary 11pm-6am
Sunday 4th: 12 midday – 3am
Saturday Line Up: Ground Flr: We Are Family with DJs Lelem, Genny Seriono, Uakoz, Danny Eagle B2B Durty Fresh, Remi Mazet, Cici, Taymor Zadeh
Terrace: Point with DJs Dean Marc, Gabriel, Amaru, Chad Best, Andre B2B Dragos Ungurean, Rob James
Garden: Wax Addicts w/ Giles Smith, Clive Henry B2B Alex Arnout, Nick Gynn, Monophunk, Johon Stokes, Russell Penn, Danny Oliver, Scott Wallace
Loft: Wing It & Morning After! w/ Manio, Ashley Deniero, Carlos Ryan, H.E.R, Carlo Barassi, Luke Wood, Harry Luderman
Apothecary: E.L.M w/ Andrea Guidice, Adam Curtain, Darren RoachGary Todd, Lingerie Party, Jimi Mistry
Laura Harvey, Mike Gill, Monophunk, Suru, Joe Morgan, Retroquest
Sunday Line Up: Terrace: Richy Ahmed, Luca Cazal, Mark Jenkyns, Waifs & Strays, Max Chapman, Geddes, Santos Allen, Paolo Francesco
Ground Flr: Wet Yourself! with Jacob Huxley, Peter Pixzel, Dan Farserelli, August, APP Live, Monophunk
Garden: Drunken Monkey presents…Omar Live, Rodney P & Skitz, Femi Fem, Retroquest, Digits (Dub set), Steve Proctor, Jimi Mistry, Monophunk
Apothecary: Lounge On The Lake All Stars including Danny Lopez, Tim Ross, Alstadt, Andy Baxter, Gianluca b2b Francesco Boffa, Danny Eagle, Durty Fresh, Wizard Of Odd, Hawton b2b Nick Glynn and Monophunk