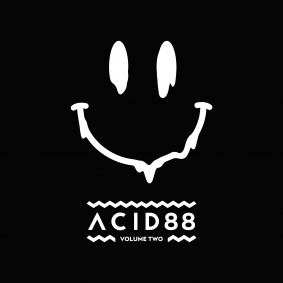 Various Artists - DJ Pierre pres. Acid 88 Vol. 2
DJ Pierre serves up the second edition of his revered Acid 88 project this June, featuring productions from Luke Vibert, Hardfloor, Posthuman, Bloody Mary, Phuture feat. DJ Spank Spank and more.
Following the unparalleled success of its Record Store Day vinyl release, 2018's collection of tracks will now see a digital release in mid-June as Afro Acid founder and Acid House pioneer DJ Pierre welcomes a fresh set of artists to deliver their own interpretations of the classic Acid House sound, whilst unveiling a new production as Phuture in memory of his legendary production partner DJ Spank Spank.
"The godfather of acid house DJ Pierre delivers his own selection of stomping delights via his iconic ACID 88 project. Twelve original tracks from heavyweights such as Hardfloor, Thomas P Heckmann, Posthuman, Bloody Mary, Luke Vibert and the main man himself alongside his legendary partner in crime at Phuture, DJ Spank Spank (RIP)." – Afro Acid.
Phuture & DJ Spank Spank's 'Who Would Have Thought' opens proceedings, combining menacing vocals with rich synth stabs, whilst German duo Hardfloor utilise twisting lead lines and laser sharp percussion throughout 'Acid All The Way'. Gettoblaster & Missy and Garry Gamble's efforts both layer infectious vocals amongst their ever-evolving arrangements, whilst the likes of Bloody Mary and Cardopusher shift the emphasis towards warping 303 lines and wicked bass licks.
Moving into the second half of the package, Thomas P Heckmann's 'Some Good Acid' provides a well-placed and energetic injection of funk, whilst I Love Acid founders Posthuman's 'Boxjam One' hones in on the duos innate ability to create intricate, unique acid sequences. To close, Klienfield's 'Knob Fatigue' and Beyun's 'Manic Acid' edge towards darker, techno and electro tinged territories, Luke Vibert turns in yet another essential acid cut in 'Yeah', before ConSequence vs. The Auditor punctuate the package in style with the stripped back 'South London Analogue Movement'.
DJ Pierre pres. 'Acid 88 Vol.2' is out on Afro acid on 15th June (Beatport) / 29th June (General) 2018.
Tracklist
1. Phuture feat. DJ Spank Spank – Who Would Have Thought
2. Hardfloor – Acid All The Way
3. Gettoblaster & Missy – Fantasy
4. Gary Gamble – Acid Icon
5. Bloody Mary – Love Is Acid
6. Cardopusher – Bughouse
7. Thomas P. Heckmann – Some Good Acid
8. Posthuman – Boxjam One
9. Klienfeld – Knob Fatigue
10. Luke Vibert – Yeah
11. Beyun – Manic Acid (6 Days A Week)
12. ConSequences vs. The Auditor – South London Analogue Movement (S.L.A.M.)
13. Lessnoise – Acid 88 Volume 2 (Continuous Mix) *available on request.