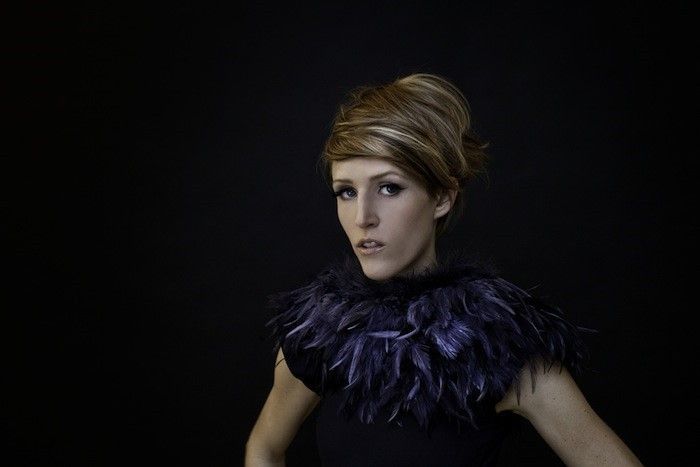 DJ/PRODUCER KATE SIMKO PRESENTS 'LONDON ELECTRONIC ORCHESTRA'
In this event, world-traveled electronic music artist Kate Simko debuts her new project, London Electronic Orchestra. Kate Simko is an electronic music producer, classical composer, and DJ from Chicago. A Masters student on the RCM's Composition for Screen course, Kate has released multiple albums and EP's of her music and performed at festivals and clubs across the globe.
Featuring Kate on live electronics alongside a 36-piece orchestra of RCM players, the LEO transform the melodies of synthesizers into lush orchestral moments, which weave in-and-out of groovy electronic rhythms. The opera lights and screen in the Britten Theatre will come to life with interactive visuals designed by Parisian Adrien de Maublanc (of Masomenos).
Taking up the spirit of the 1851 Great Exhibition, this cutting-edge series is curated entirely by students. This concert will feature original works by Kate Simko, including Simko's remix of Philip Glass, and orchestral covers of electronic music.
Kate Simko
Kate Simko has carved an international career as an electronic music producer, film composer, live performer, and DJ. Hailing from Chicago, Kate's music reflects the influences of the city's underground sounds, as well her background in classical piano and jazz music.A prolific composer, Kate's musical output includes three albums, various EPs, film soundtracks, and classical compositions.
Kate's CV includes a remix of Philip Glass's Houston Skyline which was played on radio stations across the USA and appeared in Billboard's Top 100 Classical Chart. In 2008, Kate composed her first feature-length film score for the PBS documentary The Atom Smashers. This soundtrack was then released on Ghostly International. More recently, Kate created sound design for the Barbican Centre in 2011, her hit song Go On Then feat. Jem Cooke topped the charts in house music in 2012, and in 2013 her songs were licensed to ABC Television and Giorgio Armani.Kate has established her reputation as a performer with interactive audio-visual live sets and cutting edge DJ mixes.
Named one of Chicago's "Top 10 DJs" by XLR8R Magazine, Kate has played clubs and festivals around the world, including past shows at Berghain (Berlin), Fabric (London), Rex Club (Paris), Verboten (New York), Millennium Park (Chicago), Movement Festival (Detroit), Montreal Jazz Festival, Eleven (Tokyo), D-Edge (Sao Paulo).