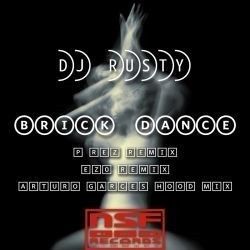 DJ Rusty – Brick Dance
Not So Fast Records is a San Francisco house music label founded in 2006 by DK Watts (Short Bus Kids) and DJ Naz Vartianian, meant as a sub-label of Bounce House Recordings. Releases from the likes of Giano, Short Bus Kids, p-rez, and Bon Johnson established the label in the bay area house community. Today DJ Naz is still at the helm of NSF Records, but somewhere along the way he was joined by Fresno-based DJ/producer P-REZ in managing the label.
Now presenting its eighth release, the label acts as a springboard for the solo debut of Oakland's DJ Rusty. He's previously collaborated with P-REZ as Dos Banditos, making NSF Records a fitting home. Diving right in, the "Brick Dance" single has an unequivocal California feel with a shaker, tom, and rim-filled rhythm, a rockin' bass line, and accented vocals that all combine into house music with lowrider appeal. Three included remixes take the track into different territories. Ezra Osborn is the owner of Voluptuous Recordings and one half of Da Basspushers with Giano. Producing as EZO, he turns in a spacier interpretation with minimal tech flair and sparse synth chords. P-REZ (real name Steve Perez) is a label mate of EZO's and production partner of Rusty's making his remix the glue to this release. He ups the original's sleaze with additional Cali flavor by way of Fresno, adding bong hits and buzzed synths. Completing the release, Arturo Garces is a San Jose label manager for Jump Recordings, Beat Bum Music, and Resource Records with plenty of productions released on other widely recognized labels like Robsoul Recordings. His Zone Mix is full of shuffling elements from the percussion to the bass line and all the additional effects, giving life to a deep, but energetic, groove.