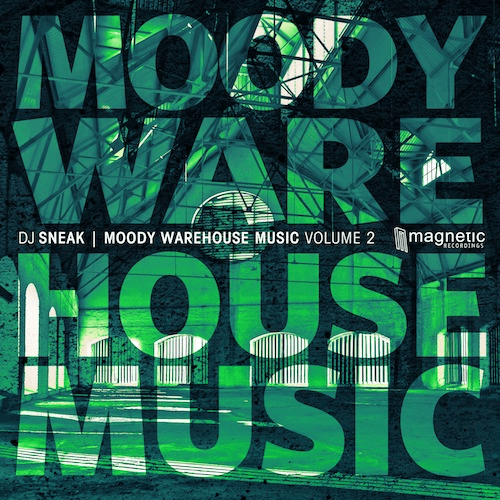 DJ Sneak – Moody Warehouse Music Vol. 2
After kickstarting Summer with an almighty bang, unleashing Volume 1 of his new release series 'Moody Warehouse Music', DJ Sneak keeps the underground heat coming, releasing Vol. 2 on Magnetic Recordings! 'Moody Warehouse Music Vol.2' kicks off with the energetic 'Didn't Know Nothing', armed with driving beats and a dark pulsating bassline, deemed to raise the thermostat to boiling point! 'I Need My Baby' comes with a girly vocal hook that rides over a jackin groove of signature Sneakology beat science. 'The Hot Shit' gives a wink to Arrested Development's anthem 'Everyday People', laced with a series of dynamite vocal, piano and brass hooks, underpinned by Jackin' beats. Finishing off this monstrous 4 tracker EP, 'Won't Stop' is an infectious underground groove with twists and turns, all bound together with classic soul and seductive vocal sample loops to fire up the crowd!
"This project is all about my mood when playing in warehouses and unusual venues. This set of tracks were made to hit these type of places and events. My whole vibe on these tracks is "Strictly Underground Dirty Moody House Rhythms" lots of bass > grooves > melodies > and hard hittin' Sneak Beats. This is music for real DJs, the ones that can walk into a party no matter where and make that place bounce!" – DJ Sneak
One of House music's true pioneers, DJ Sneak, has the passion and drive to keep House music alive. Born in Puerto Rico, raised in Chicago and now residing in Canada, the self-proclaimed House Gangster has helped shape the course of dance music since the early 90s. His early music has influenced the likes of Daft Punk, Basement Jaxx and Armand Van Helden, among many. His signature sounds – funky filtered disco-influenced house and tough, jacking beats have revolutionised and redefined house music for more than 15 years. Having begun his DJ'ing career in 1983, Sneak continues to be at the top of his game, still delivering signature non-stop beat bumpin' sets on the global the electronic music circuit and continuing to deliver a barrage of top quality releases over the last 20 years. In 1991 graffiti artist Sneak launched Defiant Records with his life savings, working with Cajmere / Green Velvet and also Derrick Carter on his Classic label, who released Sneak's 'U Cant Hide From Your Bud'. In 2000 he launched Magnetic Recordings and spawned one of his biggest releases in 2001 with 'Fix My Sink', featuring vocalist Bear Who? Other labels followed including Oomph Recordings sporting a deeper sound and Sneak's Classics. Recently Sneak has collaborated with Murk on 'To The Bassline' (Exploited) and is set to release 'Meteors Over Russia' (Planet 74). DJ Sneak's legendary Budcast (Podcast) focuses on new music currently being played as he travels the world and the 'Vinylcast' is a real treat for House-Heads as Sneak digs deep in the vaults unearthing treasured electronic music mixes from yesteryear. Check them out and subscribe here: https://itunes.apple.com/gb/podcast/the-dj-sneak-budcast/id584423719. Sneak is also the figurehead of the I'm A House Gangster movement, which dedicated to promoting the essence, culture and roots of real house music and those who support it, for more information visit: http://imahousegangster.com.
TRACK LISTING
1 Didn't Know Nothing
2 I Need My Baby
3 The Hot Shit
4 Won't Stop
DJ Sneak 'Moody Warehouse Music Vol. 2' will be released on Beatport promo on August 18th / full release September 1st 2014 on Magnetic Recordings.
DJ SNEAK TOUR / FESTIVAL DATES
Sneak's Summer gig season is already in full swing, having rocked Glastonbury, ANTS (Ibiza), Found Festival, Movement and Sonar, among many highlights. Sneak is also playing a series of dates in Ibiza, including Tribal Sessions at Sankeys, Insane at Pacha, along with some special dates including Pete Tong at Ushuaia with Snoop Dogg and the closing party with Carl Cox at Space. Please find below full details of where you can catch him this season, more updates soon!
*Fri Jul 11, 2014: Ibiza, Spain @ Pacha
*Sun Jul 20, 2014: Boom, Belgium @ Tomorrowland
*Wed Jul 23, 2014: Ibiza, Spain @ Sankeys
*Thu Jul 31, 2014: Rimini, Italy @ Coconuts
*Sat Aug 2, 2014: Rotterdam, Holland @ Boothstock
*Sat Aug 2, 2014: Cologne, Germany @ Heinz Gaul
*Fri Aug 8, 2014: Ibiza, Spain @ Pacha
*Sat Aug 9, 2014: London, UK @ Summer In The City
*Sun Aug 10, 2014: Palma De Mallorca, Spain @ Ibiza Club Social
*Fri Aug 15, 2014: Ibiza, Spain @ Ushuaia
*Sat Aug 16, 2014: Mamaia, Romania @ Sunwaves Festival
*Wed Aug 20, 2014: Ibiza, Spain @ Sankeys
*Tue Aug 26, 2014: Ibiza, Spain @ Gatecrasher
*Wed Sept 3, 2014: Ibiza, Spain @ Sankeys
*Sat Sept 6, 2014: Bern, Switzerland @ Ey 5 Club
*Fri Sept 12, 2014: Ibiza, Spain @ Pacha
*Sat Sept 13, 2014: London, UK @ Ceremony
*Fri Sept 19, 2014: Vicenza, Italy @ Totem Gallery
*Tue Sept 23, 2014: Ibiza, Spain @ Space
*Fri Oct 3, 2014: Manchester, UK @ Sankeys
*Sat Oct 4, 2014: Dublin, Ireland @ Pygmalion
*Sat Oct 11, 2014: Rome, Italy @ Rashomon Club