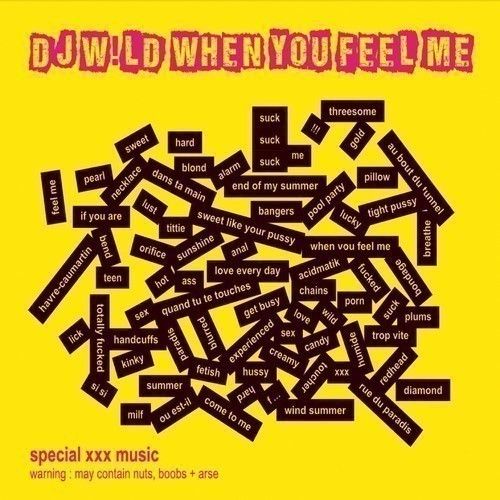 DJ W!LD – When You Feel Me
After a notably well deserved two year hiatus from full length album production; Parisian-born Circoloco favourite and DC10 resident DJ W!LD catapults himself back into the heady realm of studio creativity with his forthcoming LP 'When You Feel Me' clocking in at no less than an eye watering 27 tracks.
With this aptly named LP, W!LD demands your attention, narrating his story through a series of juxtaposing genres, and complex cuts. Heavy beats and warm vocals call as an alluring invitation into his self-interrogating album.
Throughout this lengthy and profound courtship with house music, W!LD allows you an insight not just into his sound, a rare contrast of a producer who has seen it all with the raw talented naivety of somebody who's coming up right now.
The laidback disco-fringed grooves and gradual build up in tracks such as 'Breathe' and 'Sweet Like Your Pussy' portray his attentive attention to detail, while 'Totally Fucked' offers a melancholic depth that, on second listen to the album as a whole, one notices bubbling deliciously under the surface of the ardent beats and dancefloor fillers. From the textured patterns in 'Rue De Paradis' nodding to his Parisian underground roots to the softer Balearic notes in 'Quand Tu Te Touches', there is no doubt that W!LD has truly bared his soul.
Both CD's present a tug of war between genres. He blends disco with tech house before teetering on the edge of big room techno with the heavyweight basslines in tracks such as 'Humide' which would be welcomed on dancefloors across the globe.
"I just have a very creative flow at the moment', W!LD explains. 'The current double album is reflecting my more housey, sexy, summer side on one part, and a darker techno sound on the otherŠ but all still around 118 bpm."
Never lacking in creative composition, he continues to stray away from the unexpected; injecting poignant chords with the electricity he conjures on DC10's Terrace as a Circoloco resident.
W!LD's career continues to flourish with 'Make You Feel Me' developing and growing throughout the 27 cuts, showcasing the ever-growing sound success of this enigmatic Parisian.