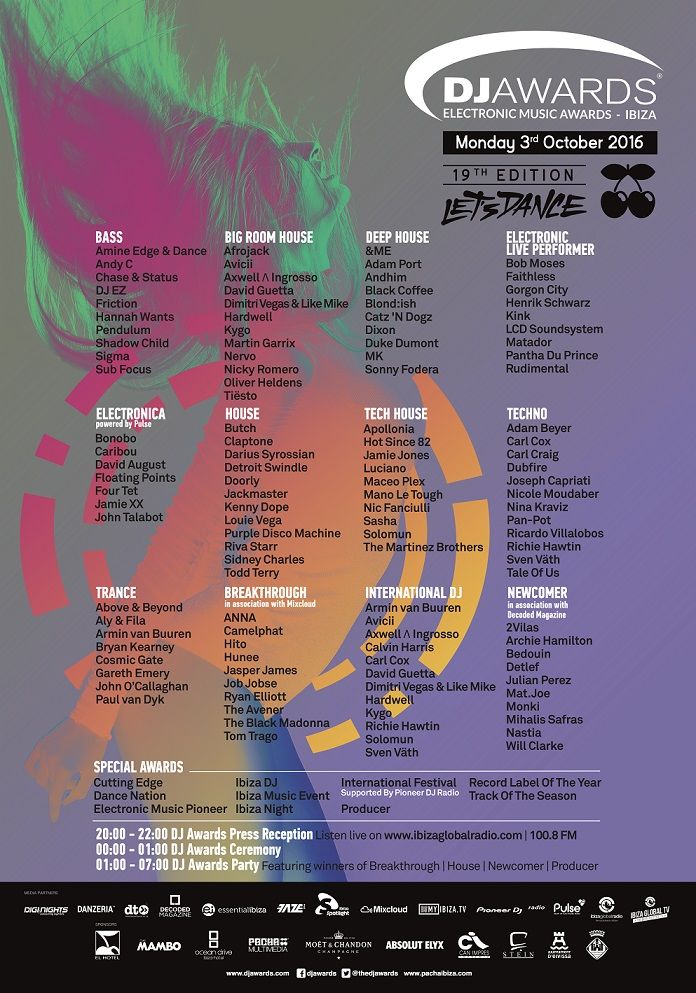 Djawards Ceremony News Update
The Ibiza summer season is coming to a close and that can only mean one thing, it's time for the DJ Awards! This annual gathering of music heavyweights will celebrate the 19th Edition at Pacha, Ibiza.

The theme of this year is "Let's Dance!", and as this incredible season draws to a close, we pay homage to the DJs and individuals behind the music that have been driving the scene forward, making sure that dance floors all over the world are vibrating with their beats.

20 awards are presented on the night; 11 Categories which cover all dimensions of electronic music where winners are chosen by the music loving public. There are also a number of Special Industry Awards that are chosen by a panel of industry insiders.

The ceremony will once again, be presented by Des Paul and Lucy Horobin.
Des is a hugely experienced TV and radio presenter having hosted a range of shows including Capital Radio's Dance Anthems. DJ Awards remains a highlight for him as this year sees him host the ceremony for the 9th time as he says "I am looking forward to a very special evening at Pacha as the curtain closes on the 2016 Ibiza season".

Lucy, comes with a wealth of experience, currently holding fort as a UK radio & TV presenter presenting the 'Getting you Home' show on Heart London, and the hugely popular Saturday breakfast show. Plus she is also self professed Ibiza addict. Lucy is "over the moon, and feels honoured to be back co-hosting the DJ Awards again with her good friend Des Paul for the 4th time."
Providing the soundtrack to the ceremony will be Ibiza legend and DJ, Graham Sahara. The long time Pacha Ibiza resident not only tours internationally, he is also head of Seamless Recordings and director of Pioneer DJ Radio.
There's bound to be well known faces alongside some rising stars.
Who will take home the legendary Kryptonite awards? All will be revealed on night!

The ceremony will be followed by the DJ Awards Party featuring some of the 2016 winners, including House, Newcomer and Producer, who will take to the decks to keep us dancing until dawn.

To get all the inside news and to hear from the nominees preceding the ceremony, listen in to the DJ Awards Press Reception worldwide on www.ibizaglobalradio.com and 100.8FM in Ibiza & Formentera to hear from some of the 2016 nominees.

The schedule will be:

20.00 – 22.00 – DJ Awards Press Reception from Ocean Drive Hotel, Ibiza
22:30 – Doors Open at Pacha
00.00 – 01.00 – DJ Awards 19th Edition Ceremony, Pacha Ibiza
01.00 – 07.00 – DJ Awards Party – featuring winners including House, Newcomer, Producer & Electronic Music Pioneer
www.djawards.com