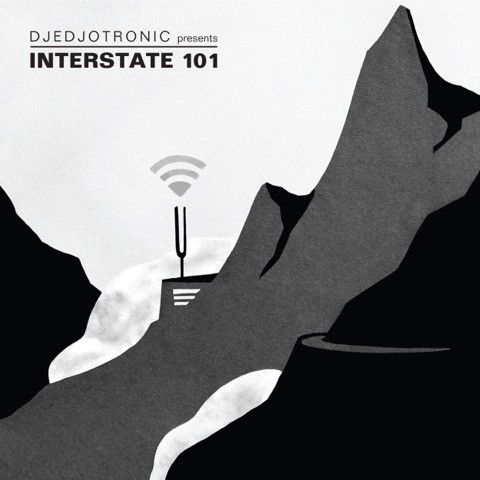 DJEDJOTRONIC – INTERSTATE 101
With six previous EP releases under his belt in the Boysnoize stables, Bordeaux-born, Berlin-based producer Jeremy Cottereau, aka Djedjotronic, returns to BNR with 'Interstate 101', a 21-track salute to electro music. As Jeremy explains, the concept behind the compilation is simple:
"To unify some of my favourite artists on the same record and ask them to produce a track especially for the occasion. The result is a road trip through wild electronic territories with a detour into the techno mountains."
Geographical metaphors are a key theme in this release. Its title 'Interstate 101' refers to the famous El Camino Real (The Royal Road) highway that runs through California and Mexico, and closely follows the route used by the Spanish missions. Over the years, pieces of this road have been renamed, replaced and truncated, a journey that Jeremy likens to that of electro music. This electronic 'Royal Road' has connected and influenced different people in different countries for more than 30 years, and remains a way out of a crowded and commercial junction, following its own path on the margins.
This metaphorical vision is evident in the music Jeremy has selected for 'Interstate 101', drawing on artists from his extended sonic family to build a journey that moves from the deeper, darker realms of 'proper' electro into vital, dancefloor-focused techno. Composed of predominantly exclusive material the tracklist features scene veterans and new breed producers alike, including The Hacker, Miss Kittin, Maelstrom, Glass Figure, Jensen Interceptor, Mikron, Defekt, SCNTST, Hoshina Anniversary, CWS, Noob, Voiron, and Djedjotronic himself.
TOURDATES
18.09.2014 – Reeperbahnfestival 2014 @ U&G, Hamburg, Germany
26.09.2014 – Lektroklash @ Bar de Congressistes, Liege, Belgium
27.09.2014 – BNR Night @ ROK Club, Luzern, Switzerland
03.10.2014 – Interstate 101 Release Tour @ Showcase, Paris, France
25.10.2014 – Interstate 101 Release Tour @ Club Aftershave, Innsbruck, AU
07.11.2014 – FabricLive @ Fabric, London, United Kingdom
10.11.2014 – Dantesk @ Eurexpo, Lyon, France
22.11.2014 – Eklektik Guys, Marbehan, Belgium
03 – 06.01.2015 – Holy Ship! Miami/Half Moon Cay, USA/Bahamas
08.01.2015 – Club Social Rhodesia, Mexico City, Mexico