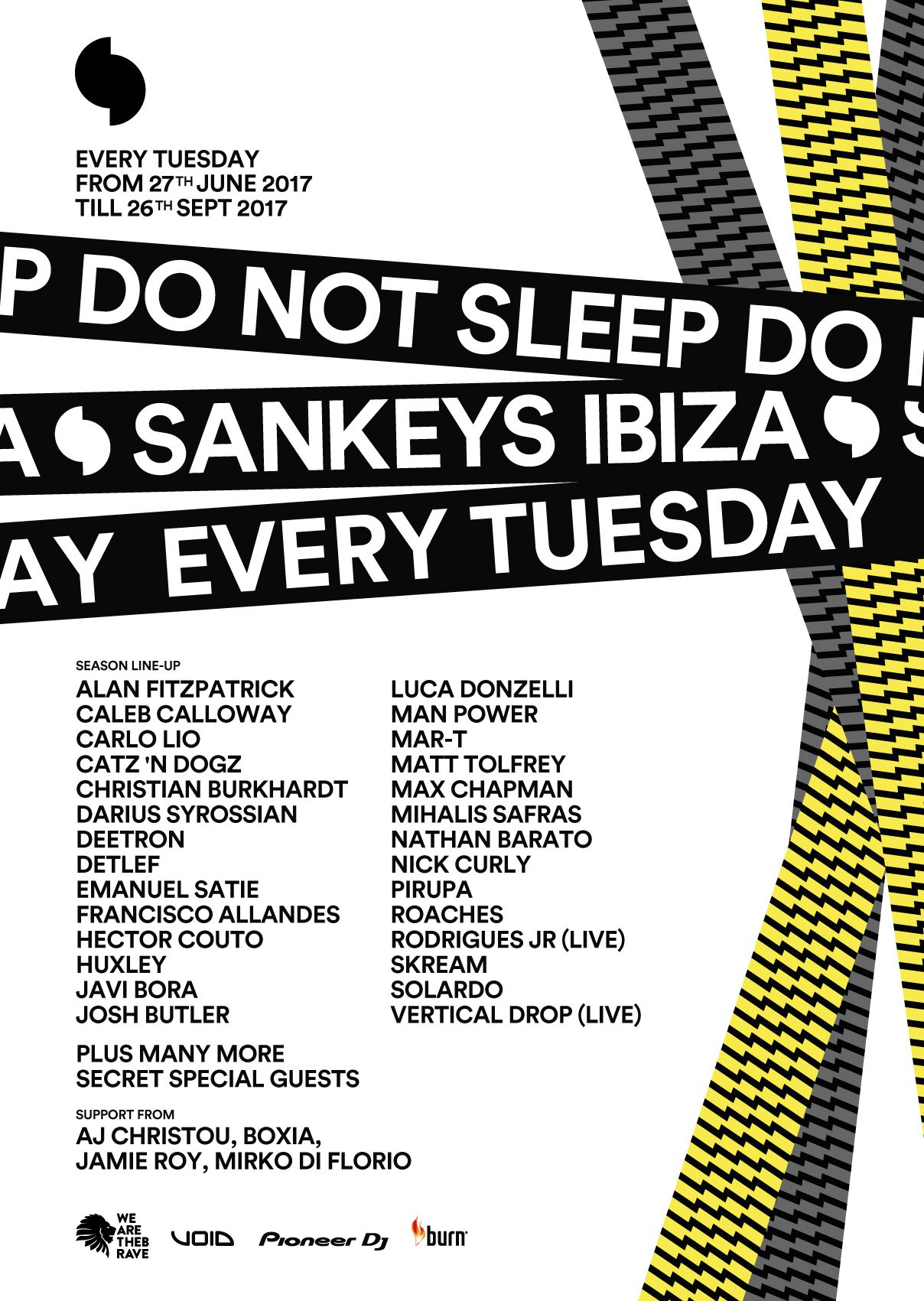 Do Not Sleep announce line ups for Tuesdays @ Sankeys Ibiza
Do Not Sleep gears up for a third year on the White Isle following on from last year's hallowed residency at Space Ibiza, as part of the iconic club's farewell season. The nomadic party has become a key fixture in the Ibiza calendar over the last few years, offering crowds a no-frills attitude that focusses on the dance floor and lets the music do the talking. In 2017 the party takes on their weekly residency at one of the island's rawest and most stripped back venues, the legendary Sankeys Ibiza. Backed by a stellar booking policy and coupled with their music focused ethos, this year promises to be Do Not Sleep's most successful to date. It also marks the return for Do Not Sleep resident Darius Syrossian to the club where he cut his teeth as part of the VIVa Warriors crew.
Do Not Sleep and Sankeys Ibiza launch simultaneously during IMS week on Wednesday May 24th with a mouth-watering line-up that includes Skream, Solardo, Alan Fitzpatrick, Detlef, Matt Tolfrey and Jamie Roy alongside Do Not Sleep resident Darius Syrossian. From there the party will commence their weekly run every Tuesday at Sankeys Ibiza from June 27th until September 26th backed by some of the finest electronic selectors around. 27th June sees Do Not Sleep head resident Darius Syrossian take the reigns alongside House & Techno connoisseurs Hector Couto, Nathan Borato, Javi Bora and AJ Christou. From there the weekly lineups come thick and fast, 4th July will see a very special guest join Nathan Barato, Carlo Lio and Matt Tolfrey behind the decks. On 11th July Darius Syrossian will be joined by 8bit honcho Nick Curly as well as Swiss techno spinner Deetron and British rising talent Jamie Roy. As we move into mid July Syrossian is again joined by Deetron and Jamie Roy alongside the inimitable Catz 'N Dogz who will bring their catchy cuts to the Sankeys main room to top off the lineup in style. The final July date (25th) sees Nathan Borato, Mihalis Safras, Rodriguez Jr and Jamie Roy complete the lineup. The self proclaimed 'master of eclecticism, Rodriguez Jr, is sure to bring his unique blend of electronic music to proceedings creating an encapsulating spectacle as Do Not Sleep hits top gear and Ibiza moves into mid season.
August 1st sees UK house pioneer Huxley join Darius Syrossian as well as fellow compatriot Alan Fitzpatrick bringing his techno blend to 'The Lab' with his We Are The Brave imprint. The full lineup is still TBC for this one so keep your ear to the ground for further announcements. August dates include 8th, 15th 22nd and 29th where Mihalis Safras, Nathan Barato, Huxley, Hector Couto Alan Fitzpatrick, Jamie Roy all rejoin the party as well as the likes of Max Chapman, Detlef, Emanuel Satie and Caleb Calloway are all welcomed for their first sets of the summer with Do Not Sleep.
Into September and Do Not Sleep gears up for one huge final month of parties on the island. 5th September sees Huxley, Josh Butler and Jamie Roy join Darius Syrossian with further special guests TBA too. 12th September Josh Butler joins again alongside Mihalis Safras, Max Chapman, Caleb Calloway and Jamie Roy. Caleb Calloway has had recent releases with Desolat and also on the Do Not Sleep imprint and is really starting to make moves through the scene as a one to watch. The same could be said for UK spinner Max Chapman too. Although a more experienced figure in the industry, it is his recent releases in particular that are really starting to pick up serious heat and gain accolades from some of the industry's key tastemakers!
There's no time for those with weary eyes as Do Not Sleep kicks on at a frantic pace. 19th September sees Detlef, Francisco Allandes and Jamie Roy join Syrossian. Allandes is a Chilean DJ/producer who lives on the White Isle and has released on a plethora of labels including Desolat, VIVa Music, Cadenza, Mood and Spectral Sound. Alan Fitzpatrick will once again bring his We Are The Brave imprint to 'The Lab', the lineup for this will be announced at a later date via the Do Not Sleep socials.
For the party goers that can match the pace of Do Not Sleep toe to toe the final closing party commences on 26th September. The lineup for the final throwdown sees Amnesia head honco Mar-T join Luca Donzelli with the full lineup under wraps until later in the season but if the lineups that have preceeded are anything to go by, then you can trust us when we say, one extra night without sleep will definitely be worth the wait!
Full Season Lineup (A-Z):
Alan Fitzpatrick
Boxia
Caleb Calloway
Carlo Lio
Catz 'N Dogz
Christian Burkhardt
Darius Syrossian
Deetron
Detlef
Emanuel Satie
Francisco Allandes
Hector Couto
Huxley
Jamie Roy
Javi Bora
Josh Butler
Luca Donzelli
Man Power
Mar-T
Matt Tolfrey
Max Chapman
Mihalis Safras
Nathan Barato
Nick Curly
Pirupa
Roaches
Rodrigues Jr (live)
Skream
Solardo
Vertical Drop (live)
Support from:
AJ Christou
Mirko Di Florio
Jamie Roy
Tickets:
https://www.ibiza-spotlight.com/night/promoters/dns

Tickets for Do Not Sleep are on sale now available here:
https://www.ibiza-spotlight.com/night/promoters/dns
Do Not Sleep Socials:
https://www.facebook.com/donotsleepibiza/
https://www.instagram.com/donotsleepibiza/
https://twitter.com/DoNotSleepIbiza