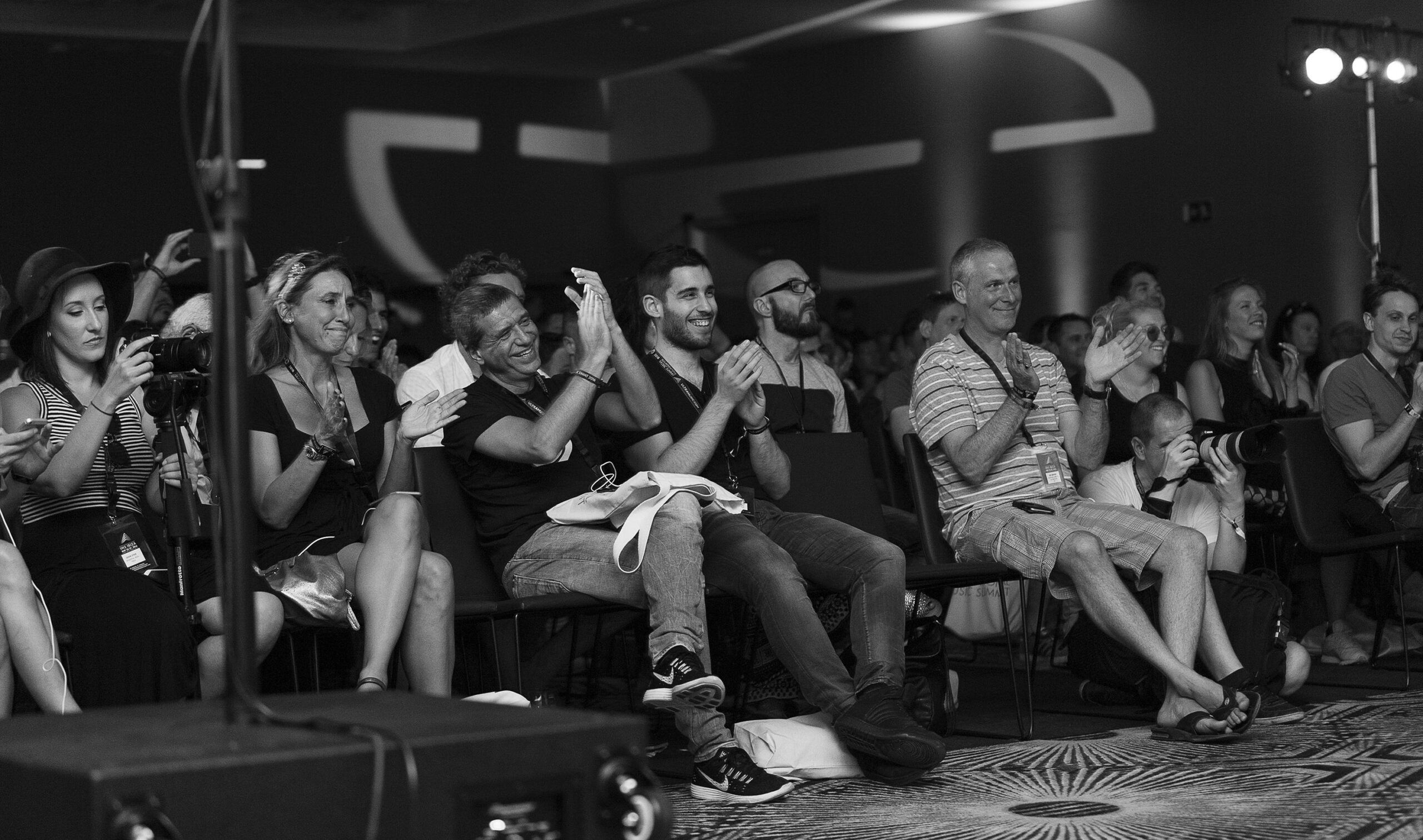 IMS Ibiza Announce Full Schedule
International Music Summit (IMS), the three-day inspirational, educational and motivational thought-leadership platform held annually in Ibiza, today announce full details and the final schedule for the hotly anticipated 10th anniversary summit for 2017. Featuring a powerful collection of the industry's leading electronic music professionals, and further adding new names to an unmissable roster totalling over 110 impressive and diverse speakers from around the globe.
Over three days delegates will enjoy a wide range of illuminating workshops, inspiring artist keynotes plus engaging discussions and lively debates on the most important issues facing the electronic music industry today.
Day one highlights opening the summit include the greatly anticipated annual IMS Business Report, hosted by Kevin Watson (IMS Analyst, UK) who will take an in-depth look back at the growth of electronic music over the last decade plus reveal the all-important annual valuation of the genre for 2017. Following this is The Definitive Digital Ecosystem Discussion featuring representatives from Spotify, Facebook, Deezer and more, examining if labels and publishers can generate income without the big playlists fully supporting electronic music. Giving further insight into streaming is a Best Practices Masterclass from Spotify outlining how to approach positioning on its sought-after playlists. There will also be a revealing keynote interview with The Black Madonna, Meet The Team with the esteemed elrow family and a special insight into Resident Advisor and the pioneers behind it. Valuable advice on how to succeed in the music business both physically and emotionally will be given in Health vs Hedonism: Staying Sane in the Game, hosted by SheSaid.So and Native Instruments.
Thursday presents day two of IMS, with highlights including a Masterclass by Facebook offering an invaluable opportunity to learn best practices in Facebook Live, VR and AI direct from those on the inside. Also on Thursday is an unmissable interview from Bernard Sumner of legendary UK dance act New Order, where the founding member of the iconic 80's English band speaks on his multi-decade career and his memories from recording one of the finest albums of 1989, Technique, on the island of Ibiza. Continuing the all important diversity conversation will be a debate on How The Industry Needs To Address Gender Disparity In Electronic Music, hosted by SheSaid.So & Smirnoff Sound Collective.
The final day of IMS plays host to the 10th Annual Ibiza Debate hosted By Ibiza Voice, one of the summits most anticipated moments with leading island voices running over the changes and happenings on the island, in addition there will be a wider world view discussion with Clubland in Crisis? pinpointing the successes and failures of the scene over the last year. Closing IMS will be a rare public keynote interview with Dixon, going deep into the inner visions of this innovative artist.
With all this and so much more engaging and exciting moments to share at IMS, from networking drinks by the pool, films that document our culture, breakout sessions to the ultimate Ibiza party at Dalt Vila. All in all this is the strongest speaker line up in IMS Ibiza's ten year history with many of the most pressing aspects of the music industry to be examined, analysed and explained.
Full list of new speakers Include:
Agoria (Artist, France)
Alastair Duncan (INFAMOUS PR, Founder/CEO, USA)
Alejandra Matas (PwC Barcelona, Intellectual Property Legal Services, Spain)
Alex Phountzi (NameBrandSound/Bugz In The Attic, Artist, UK)
Alvaro Diez Alfonso (SGAE, Manager, Instituto Autor, Spain)
Andy Dean (Tagmix Ltd, Co-Founder & CEO, UK)
Anna Mallol (PwC Barcelona, International Tax Services, Spain)
Arturo Ruiz (Loop Promote, CEO, Peru)
Claudio da Rocha (Rio Music Conference, Founder & Director, Brazil)
Danny Whittle (IMS Partner)
Dave Browning (Game Over Ibiza, Director, Ireland)
Denis Doeland (DDMCA, Advisor/Consultant, Netherlands)
Edo van Duyn (PlusNetwork, Co-Founder/Director of Artist Management, South America)
Eric Reithler-Barros (A2LiVE, Managing Director/Chief Commercial Officer, China)
Glenn Miller (Facebook, Entertainment Partnerships EMEA, USA)
Grego O'Halloran (Ibiza Voice, Owner/Director, UK)
Helen Stange (Communications & Strategy Consultant, Germany)
Inder Phull (KRPT, Managing Director, UK)
Jack Baucher (Tears for Tigers, CEO, UK)
James Beyersdorf (Financial Sherpa Inc, Founder & President, USA)
Jesper Skibsby (Warm, CEO/Founder, Denmark)
John Boyle (Insomniac, Chief Growth Officer/Interim CFO, USA)
Jono Heale (ACS Custom, Director, UK)
Josep Cardona (PwC Barcelona, International Tax Services, Spain)
Kevin Watson (Author of IMS Business Report, UK)
Liz Muirhead (BMAT, VP/Head of Legal & Business Affairs, Spain)
Liz Stokes (Record Of The Day, Editor, UK)
Macky Drese (Evermix, CEO, UK)
Mark Brown (CR2 Records, Director, UK)
Mark Grotefeld (Pioneer DJ EMEA, General Manager, UK)
Mark Lawrence (AFEM: Association for Electronic Music, CEO, UK)
Martin Gontad (Creamfields South America, Founder, Argentina)
Matt Abbott (Label Worx, Director/Co-Founder, UK)
Michiel Groeneveld (Junkie XL, Manager, Netherlands)
Nacho Marco (Berklee College of Music, Professor of Music Production, Technology & Innovation, Spain)
Nick DeCosemo (Mixmag, Global Editorial Director, USA)
Pedro Nonato (MMLive/Ultra Brasil/RMC, International Director, Brazil)
Phillip Straub (BURN Energy, BURN Residency Head Mentor, Austria)
Pierce Warnecke (Berklee College of Music, Valencia Campus, Assistant Professor of Music, Production, Technology and Innovation, USA)
Ralf Kollmann (Mobilee, Co-founder, Germany)
Richard Zijlma (ADE: Amsterdam Dance Event, General Manager, Netherlands)
Rodrigo Frutos (Aftercluv/Universal Music Latin America, New Business Development Director, USA/Mexico)
Sam Potts (Young Guns Network/Buzz Jam, Founder, UK)
Scott McKenna (Facebook, Enternainment Partner Services EMEA, UK)
Seb Wheeler (Mixmag, Head of Digital, UK)
Siad Rahman (Warner Music Germany, Senior A&R Manager, Germany)
Syd Lawrence (We Make Awesome/The Bot Platform, Founder, UK)
Tass Diakos (Warner Music, Dance Label Manager/A&R, Australia)
Terry Weerasinghe (Beatport, GM/SVP Music Marketing and Analytics, Germany)
Tom Aldridge (A&R Manager, FFRR/Parlophone Music, UK)
Toni Tambourine (Neighbourhood PR, Partner, UK)
Tristan Hunt (AudioLock, Partner & Director of Business Development, UK)
Valeri Viladrich (PwC, Head of Tax & Legal Services, Barcelona, Spain)
Will Saul (Head of A&R, !K7 & Aus Music, UK & Germany)
Industry leaders already confirmed to share their insight and experience include:
Alexandra Cárdenas (Algorave, Composer / Live Coder, Colombia)
Alice Favre (LWE, Head of Operations, UK)
Andreas Allen (Native Instruments, Head of Artist Relations, USA)
Andreea Magdalina (Shesaid.so / IAMJT, Founder/Co-Founder, USA)
Austin Kramer (Spotify, Global Head of Dance/Electronic, USA)
Brigitte Armengol (HEART Ibiza, Booking Manager, Spain)
B.Traits (BBC Radio 1, Broadcaster / Artist, Canada)
Carly Hordern (Point Blank, Presenter/A&R, UK)
Charlotte Lucy Cijffers (DJ Magazine, Digital & Ibiza Editor, UK)
David Emery (Kobalt Records, VP / Global Marketing Strategy, UK)
Dixon (Artist, Germany)
Duncan Smith (Playstation, Senior Music Supervisor, UK)​​​​​​
DVS1 (Artist, USA)
Eddie Dean (RPM Presents, CEO, USA)
Eelko Van Kooten (Spinnin' Records, Founder & Owner, Netherlands)
Elrow – The Arnau Family (Elrow, Founders, Spain)
Gianfranco Bortolotti (Media Records, Founder, Italy)
Gina Tucci (Big Beat Records, Head of A&R/General Manager, USA)
Gregor Pryor (Reed Smith, Partner/Co-Chair of the Global Entertainment and Media Industry Group, UK)
Hot Since 82 (Artist, UK)
Jason Ellis (Positiva / Virgin Records, A&R Director, UK)
Jessica Ibgui (Budde Music, Creative Manager/Head of Business Development, France)
Johannes Goller (Cocoon, Head of Cocoon Ibiza, Germany)
Jonny White (Art Department, Artist, Canada)
Leila Fataar (Diageo, Head of Culture & Entertainment, UK)
Lindi Delight (De Light Management, Founder, Germany)
Lisa Buchan (Monster/BURN Energy, Director Music & Culture Strategic Brands, UK)
Loco Dice (Artist, Tunisia)
Louisaahhh (Artist, USA)
Mary Jong (Pioneer DJ / EMEA, Marketing Executive)
Masters At Work – Louie Vega & Kenny Dope (Artists, USA)
Michael Weicker (AMM Management, Talent Manager, Germany)
Miss Kittin (Artist, France)
Monki (BBC Radio 1, Radio Presenter / DJ, UK)
New Order – Bernard Sumner (Artist, UK)
Nicole Moudaber (Artist, UK)
Nick Sabine & Paul Clement (Resident Advisor, Founders, UK)
Patrick Moxey (Ultra Records, President/Founder, USA)
Patrick Walker (Facebook, Director of Media Partnerships EMEA, UK)
Rachel Turner (Achieve Unlimited, Business Psychologist & Performance Coach, UK)
Renaat Vandepapeliere (R&S Records, Founder, Belgium)
Rich Robinson (Warner Music, Senior Vice President Synchronisation UK & Europe, UK)
Seth Troxler (Artist, USA)
Steffen Charles (Cosmopop GmBH, CEO, Germany)
Sulinna Ong (Deezer, VP / Artist Marketing, UK)
The Black Madonna (Artist, USA)
The Martinez Brothers (Artists, USA)
Ulrike Schönfeld (Music Goes Further/Into the Valley, Promoter/Curator, Germany)
Wade Cawood (Pulse Global, CEO, USA)
Yann Pissenem (Hï Ibiza / Ushuaïa Ibiza, Owner / Founder / CEO / Artistic Director, Spain)
Boiler Plate:
The Mission
International Music Summit is an educational, inspirational and motivational thought leadership platform dedicated to creating and encouraging the awareness of, and appreciation for, electronic music, and the artistry related to DJing and related art forms – primarily through the presentation of summits and events that celebrate both the historic and ongoing contribution of the genre to culture worldwide. IMS annually hosts major events globally in Ibiza, Los Angeles, China and Malta. IMS was created by Ben Turner, Danny Whittle, Mark Netto, Pete Tong & Simeon Friend.