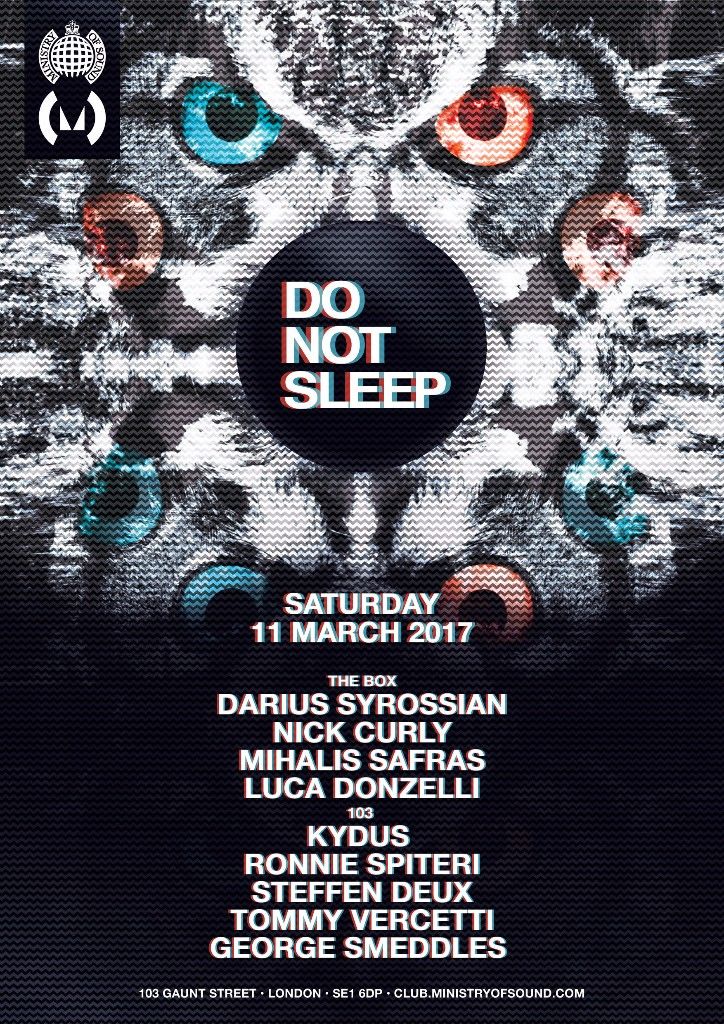 Do Not Sleep – Ministry of Sound
As part of Ministry of Sound's burgeoning Spring calendar, Darius Syrossian's Do Not Sleep event series will make its eagerly-awaited debut at the London clubbing institution on Saturday 11th March.
Following a hugely popular summer residency at Space Ibiza, the house and techno brand has firmly established itself for its no frills, no nonsense, non-conformist philosophy. With a crowd that's all about the music and the party, Do Not Sleep's Ministry of Sound takeover will see head-honcho Darius Syrossian lead proceedings, while party resident and 8-bit label owner Nick Curly is joined by Mihalis Safras and Luca Donzelli on support duties. Break-neck breakthrough Kydus will take to the helm in 103, backed by a cast of steadfast party-starters in the form of Ronnie Spiteri, Steffen Deux, Tommy Vercetti and George Smeddles.
Tickets are on sale now.
Event Info:
Date: Saturday 11th March
Tickets: http://bit.ly/2jGsNLr
Line-up:
The Box:
Darius Syrossian
Nick Curly
Milhalis Safras
Luca Donzelli
103:
Kydus
Ronnie Spiteri
Steffan Deux
Tommy Vercetti
George Smeddles
Baby Box:
Hosted by Double Drop
George Smeddles