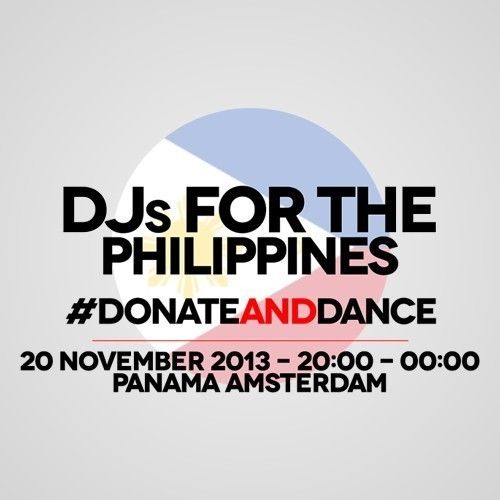 #Donateanddance DJs for the Philippines benefit concert
19 November – From 8pm (GMT+1) Wednesday the 20th of November 2013, the benefit concert #Donateanddance DJs for the Philippines will be broadcast worldwide. The website www.donateanddance.com will have an interactive website that will broadcast the event both on video and audio. International viewers and listeners during this event can donate directly through a number of non-profit organizations such as Red Cross, Doctors without Borders, Save the Children, and many more. UPC has donated its services to allow clubbers in the Netherlands to watch and donate via its UPC boxes. These donations will go directly to GIRO 555, the national Dutch calamity fund for victims of the typhoon Haiyan.
The benefit will also be aired live or as a recorded broadcast in various stations worldwide. DJs such as Quintino, Sandro Silva, Marco V, Blasterjaxx, Dennis Ruyer, Sied van Riel, Jacob van Hage, Oliver Twist, and Ferry Corsten will be playing for this 4 hour worldwide broadcast and live show.
"We're amazed at the response of the media locally and internationally to help promote the plight of the victim of typhoon Haiyan through this event. We hope that this encourage people to donate and dance ." says the Donate and Dance initiative.
Tickets can purchased at the door or via www.donateanddance.com. Join us in our cause. Donate and Dance.
The event starts at 8pm (GMT+1) and will end at 12am midnight (GMT+1)
The Donate and Dance event will be aired on the following channels at the moment. Check for more information: www.donateanddance.com
UPC
Nile FM – Egypt
Radio Metro – Australia
Diesel FM
Real Dance Radio
Dept of Dance – USA
Sonic FM in Argentina
www.donateanddance.com