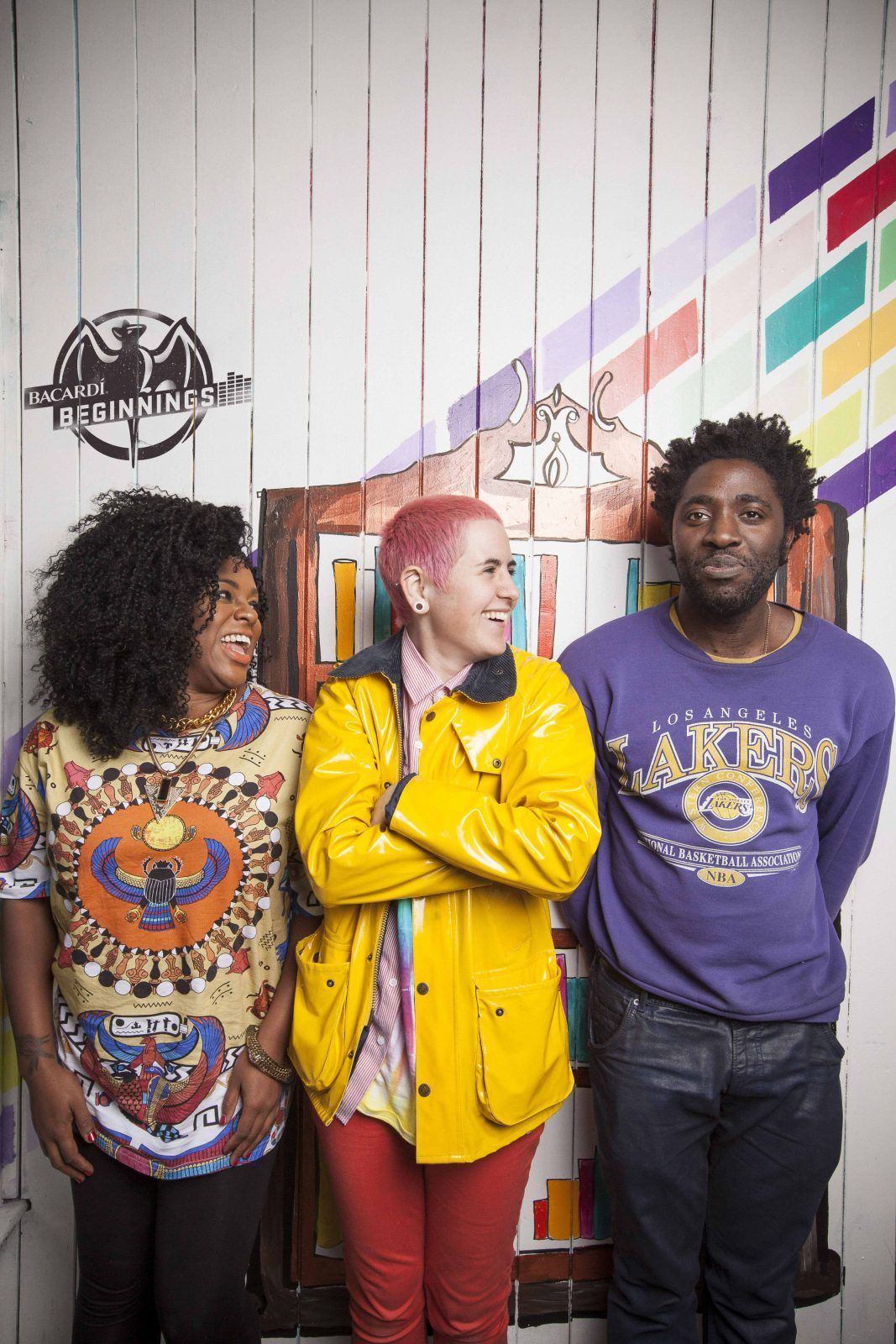 BACARDI launches World's First 3D Printing Record Store
The BACARDÍ Beginnings campaign has seen some of the UK's most exciting established and up-and-coming music artists come together to push the boundaries of music releases. For the third and final creative project in the music mentoring programme, Bloc Party's Kele Okereke and his chosen emerging artist Bobbie Gordon will release their brand-new, original track 'Down Boy' (BACARDÍ Beginnings) through the creation and opening of the world's first 3D printing record store.
Open for just two days on Friday 13 December and Saturday 14 December in central London, the store not only marks the very first time an original track has been released in 3D printed format, but also highlights and pushes the current boundaries of 3D printing technology. Working with technologist Amanda Ghassaei who developed the bespoke technique and programme for converting digital audio files into 3D-printable records, this will also be the first time an entire track is coded to print in 3D.
Music, culture and technology fans alike will be able to go to the store to buy the limited edition record 'Down Boy' (BACARDÍ Beginnings), with all sales proceeds going to charity Nordoff Robbins, the national music charity dedicated to transforming the lives of vulnerable adults across the UK through music therapy and services.
Each record will also be sold in limited edition record sleeves specially designed at Studio Moross, led by designer Kate Moross. Famed for her energetic style and love of three sided shapes and typography, the London based illustrator, designer and art director has created four different cover designs for fans to choose from.
A launch party to celebrate the release of the track and 3D printed limited edition vinyls will take place on Thursday 12th December, with Kele Okereke and Bobbie Gordon performing their new track 'Down Boy' (BACARDÍ Beginnings) for the very first time. Fans can win tickets to the party and see the 3D printing in action by keeping an eye on the BACARDÍ UK Facebook page. Watch Kele, Bobbie and Kate discuss the project at: http://youtu.be/NQl9hD995ho
Kele is best known for being the front man and guitarist of indie rock band Bloc Party, breaking through in the UK in 2005with their Mercury-nominated album 'Silent Alarm'. Since then, the band has continued to evolve and reinvent themselves stylistically. Bloc Party's love of dance music has most recently been reignited with the release of Tapes', a dance-mix compilation that shows the influence electronic music and club culture have had on their music. The inspiration of dance music on Kele is also shown clearly in 'Down Boy' (BACARDÍ Beginnings), which features classic garage beats and ambient vocals from Bobbie Gordon.
As well as pushing the boundaries of music releases, BACARDÍ Beginnings also serves as a music mentoring programme to provide a unique platform for some of the UK's best up-and-coming music talent to showcase their sound to a wider audience.
Embarking on this project, Kele comments: "I'd heard about the BACARDÍ Beginnings campaign before I was approached to take part, so you can say it's been really successful if someone like me who wasn't even paying attention noticed it. I'm really excited about being part of this year's project and working with Bobbie. She has a lovely quality and fresh energy to her voice which works really well with the up-tempo dance track we've created. I hope this project makes people take notice of her."
With her smooth, soulful voice, Bobbie Gordon started out as anin-demand vocalist providing vocals for the likes of Adele, Cee-Lo Green, and Noisettes. Since then, the singer-songwriter has developed her solo sound; mixing genres and being more daring with her musical output, as well as lending her distinctive vocals to more electronic acts including Bondax's 'Just Smile For Me'.
Bobbie Gordon also comments: "I'm proud to have provided the lead vocals on this track and my name's on it. And to then release it on 3D printed vinyl – that's just brilliant! I'm really looking forward to hearing how it sounds. I'm so glad that Kele has chosen to work with me on this BACARDÍ Beginnings project; it's increasingly difficult to break through in this industry and it's great to have that opportunity."
The BACARDÍBeginnings campaign this year has seen six music artists take on unconventional briefs around the creation, production and experience of music, as well as releasing original tracks together. The first project saw Rudimental and Bipolar Sunshine embark on the A&R process in 24hours – writing, recording, releasing and performing a track all within a day. They will come together once more, with Bipolar Sunshine supporting Rudimental as part of their 2014 tour. The second project saw Toddla T and Roses Gabor release anoriginal track solely via social media, before throwing the track open for aremix contest. All tracks can be listened to and the creative process for each project captured is available to view: https://www.youtube.com/bacardiuk
Go to https://www.youtube.com/bacardiuk for more details.