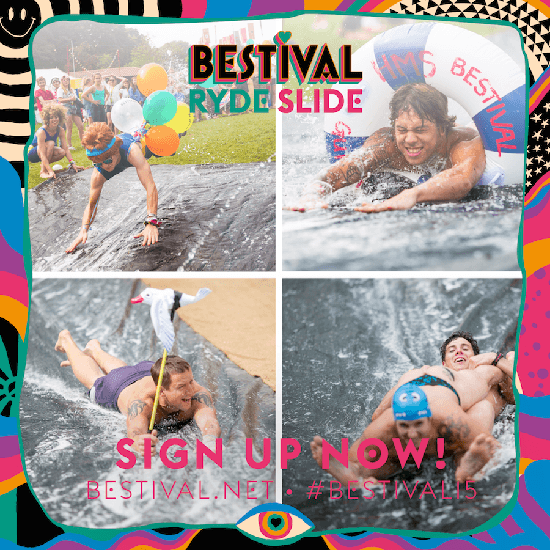 Don't miss the Ryde Slide at Bestival
They said that it would happen and now it's a reality, the Bestival Ryde Slide is coming to the Island this summer! A 200 metre thrill seekers' delight, the exhilarating giant inflatable water slide's arrival in Ryde's main shopping street this July has been made possible by a collaboration between the former Mayor of Ryde and Bestival. 300 lucky Islanders will get the chance to take part in the community event, which will raise money for local charities.

In 2013 Wayne Whittle, then Mayor of Ryde, was sent a photo of Bristol's 'Park and Slide', a 100m water slide built in the centre of Bristol by artist Luke Jerram. The picture was sent to Wayne on Twitter captioned 'can't you make this happen Mayor?' Wayne noted that the Bristol water slide's location looked very similar to Union Street, and he has been pushing for the event ever since. Now, we're happy to say, it's finally here!
Bestival head honcho Rob da Bank cycles past Wayne's café on Ryde Seafront often (Rob da Bike as Wayne calls him) and together they have hatched a plan to bring you a 200m giant water slide on Union Street in Ryde, this Summer of Love!
Rob da Bank said: "We always like to get involved with really exciting and really mad stuff at Bestival, so when Wayne spoke to me about bringing a huge inflatable water slide to the Island and running it down the middle of Union street in Ryde, I couldn't possibly refuse. Chances like this don't come along all that often and it's all for a lot of great causes, so please do donate some money and see how you get on with the luck of the draw!"
Wayne Whittle said: "Ryde; The Town on The Beach is a unique place that deserves a unique event. Union Street is the perfect venue, thanks to Bestival's help and the community's enthusiasm and assistance, it's finally all downhill from here. I can't wait to join in the fun on the 12th, there's no better way to fund raise. Oh we do like to be beside the seaslide!"
The event will run from 11am – 7pm on Sunday July 12th 2015 from the top of Union Street, Ryde.
For a chance to be one of the lucky water sliders, Islanders will be asked to register interest via www.bestivalrydeslide.net, and they will then be notified at a later point of information.
All proceeds will go to Local Charities – Ryde Inshore Rescue (Independent lifeboat), Aspire Ryde Community Centre (Holy Trinity Church), Ryde Arena ltd (Ice Rink) and Ryde Waterside Pool via the Ryde Slide Trust.
But that's not all, the Bestival Ryde Slide will also be making a triumphant return to the Island with a very special appearance at Bestival this September 10-13 at Robin Hill, adding even more madcap adventure and unique aquaplaning joy to our Summer of Love, keep an eye on our website, Facebook, Twitter, Instagram & Tumblr for more details coming soon.
Head to www.bestivalrydeslide.net now to be in with a chance to be one of the lucky Bestival Ryde Slide riders!