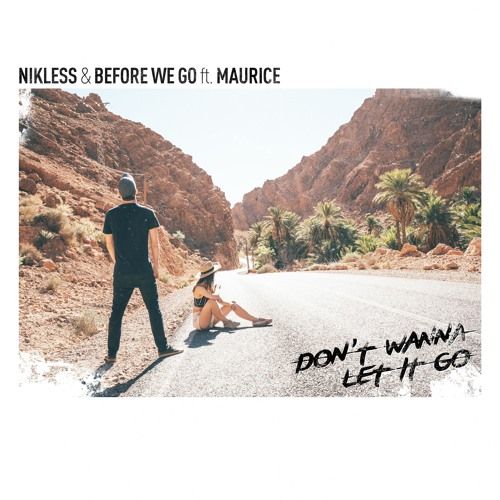 Nikless & BEFORE WE GO - Don't Wanna Let It Go
'Don't Wanna Let It Go' is the second single from Swiss producers Nikless & Before We Go. It follows hot on the trail of their October release, Shattered Dreams – a cover of the 1988 hit by British pop duo Johnny Hates Jazz, which immediately entered the top three on Spotify's Swiss Viral chart. The song racked up over half a million streams, along with hundreds of thousands of plays on YouTube and was subject to excellent critical reception and intense popularity for a debut track.
'Don't Wanna Let It Go' sees the two producers take their combined energies to a new level, maintaining their melancholic edge, but this time injecting a reggaeton groove into their contemporary, dance-pop aesthetic. The luscious, harmony-laden vocals of Maurice add an undeniable depth to the track. His dark, yet infectious lyrics tell the impassioned tale of a couple searching desperately for solutions, as the empire they built together enters its final days – a story brought to life by the accompanying video, shot in the blistering heat of the Moroccan desert by London-based production crew Bad Habit Collective.
The collaboration between Nikless (Roman Gilgen) and Before We Go (Maury Pozzi) is compelling in itself. Maury is a veteran hitmaker, who has written and co-produced an incredible body of work for such artists as DJ Antoine and Remady & Manu-L. He's the unmistakable feature vocalist on Roger Martin's "Waterfalls", which has earned over fifteen million streams, and "Ma Cherie" – DJ Antoine's smash hit, which garnered sixty-one million YouTube views and reached triple-gold and multi-platinum status in five separate European territories. Roman is the new kid on the block; a young, up and coming DJ/producer from Baden, near Zurich. Despite his humble, small-town roots, he's been making big waves in the EDM scene with his seamless fusion of hook-laden pop and immersive, deep and future house. He accrued significant industry recognition through placing first in the Avicii & Otto Knows "Back Where I Belong" remix competition, and has since opened shows for the likes of Vinai, Curbai and Steve Void.
The two's dynamic mix of classic, pop songwriting, and fresh, innovative sound design comes to a head in 'Don't Wanna Let It Go', resulting in a truly anthemic record with a clear and powerful message.
Links:
www.facebook.com/itsnikless
www.twitter.com/itsnikless
www.soundcloud/com/itsnikless