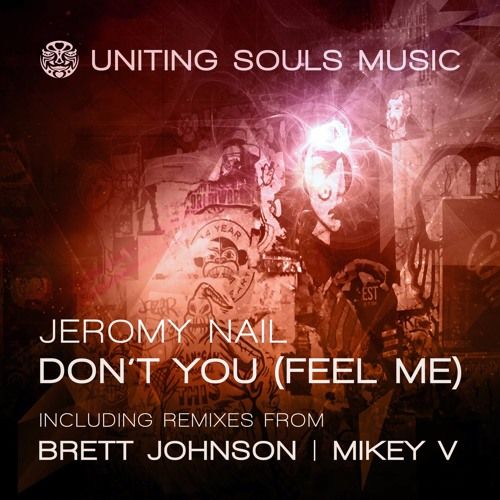 Jeromy Nail - Don't You (Feel Me)
Seattle's Uniting Souls Music returns for its second release in 2017 with Jeromy Nail's "Don't You (Feel Me)" featuring remixes by Brett Johnson and Mikey V.
As part of the Uniting Souls Music collective since the early 2000s, Jeromy sharpened his DJ'ing skills on many late night dance floors, including residencies at the seminal Flammable Sundays – the West Coast's longest running house weekly twenty years strong – and the (now defunct) electronic dance music haven See Sound Lounge. With releases and remixes for the likes of Viva Recordings, Build It Records, Bomb Recordings, Hype & Soul, House Call, and, of course, the Uniting Souls label, Jeromy's been busy on the scene.
First up, Jeromy's original takes the listener on a quirky, tech-house inspired journey built on layers of vocal stabs sprinkled over tinges of acid-flavored synths. With its snappy drum programming and uplifting vibe, the original mix is a unique ride from start to finish.
Next up, veteran DJ / producer Brett Johnson (Classic Music Company, Get Physical) goes a little deeper into the underground, offering up a stripped down and moody version full of lush synths, warm chords, and a thick bass line. With his distinctive style and superb production, Brett's mix is sure to please.
Closing things out is up-and-coming talent Mikey V. Making waves recently with a slew of originals, remixes, and collaborations on labels such as Classic Music, Electrik Soul, and Salted Music, Mikey raises the energy a few notches with a funky tech-house remix that's aimed squarely at the dance floor.
Label and Artist Links:
www.unitingsouls.com
www.facebook.com/djjeromynail