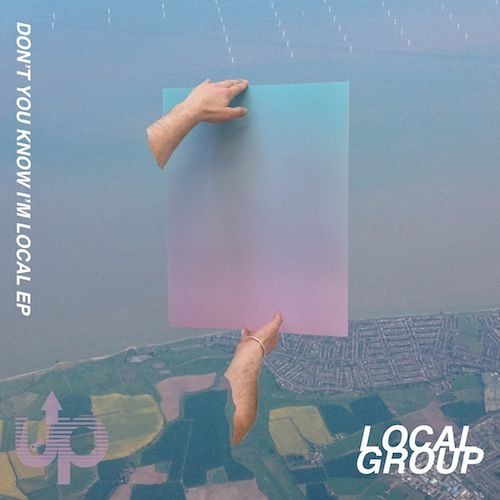 Local Group - Don't You Know We're Local EP
London-based duo Local Group release their first full EP for Get Up Recordings, following a track on the label's Get Up To Get Down Vol. 3 EP and a remix for label co-owner Christy Love. The Don't You Know We're Local EP features two original tracks offering different sides of their sound: the Kerri Chandler nodding NYC-flavored house of "A Basement, A Red Light, And A Free Line" complimented by the bass-heavy, breakbeat vibe of "Discredit To The Edit". Both tracks are flipped by their remixes. Fresh pairing Violet & Elles turn in a drum machine heavy, mutant jack beats version of "A Basement, A Red Light, And A Free Line", transforming its sound to early Chicago instead. Italian-born, Madrid-based producer Bawrut then provides two house re-versions of "Discredit To The Edit", the bubbling acid melodies and Eastern chants harking back to late '80s Ibiza and the open air terrace of Amnesia.
Residents at UK festival Field Maneuvers, alongside DJs including Ryan Elliott and Ben Sims, Local Group – aka Joe Roberts and LMajor – formed almost two years ago, named after the group of galaxies that the Milky Way is part of. United by a love of late '90s drum and bass, classic house and garage, and bad puns, since cracking the code of the holographic universe they're cursed to think in drop down menus and see in 4D. Joe is an ex-editor of DJ Mag and resident DJ for packed mid-week dance party Uncontrollable Urge at East London's iconic Dalston Superstore, as well as a resident at bi-monthly techno party Sabajaq. He's DJ'ed around the world from New York to Tokyo, supporting everyone from Duke Dumont to Dinamo Azari, and runs a monthly Ecstasy Garage Disco radio show on MEATtransMISSION Radio. LMajor, meanwhile, began producing over a decade ago as part of drum and bass trio Broken Drum, touring Europe, and now uses his studio skills to help produce other artists, as well as preparing his own solo work.
Violet & Elles are a relatively new studio pairing, putting together a stunning all female cover of Mike Dunn's "So Let It Be House" for International Woman's Day 2016 and gaining the support of DJs including Optimo, Luke Solomon, and Mike Servito, but they already have a rich history separately. A Red Bull Music Academy alumni and half of all-girl rap crew A.M.O.R., Violet is originally from Portugal but now lives in London where she is co-founder of Radio Quantica, a Portuguese-focused station dedicated to pushing underground music and ideas. Part of the One Eyed Jacks crew, her 2015 cover of Underground Resistance's classic "Transition" became a viral hit, winning her the attention of Donatella Versace, who declared Violet her new music diva and used the track for her SS16 collection, later commissioning new work for her Haute Couture collection. Elles is a prolific DJ on the East London scene, thanks to a knowledge of everything from disco and '80s Chicago house to the newest labels, and was previously part of the Junior Boys Own approved trio Legendary Children. Together the pair co-host the Venus Rising show on Radio Quantica and are part of all- female DJ trio Suspiciously Delicious.
Bawrut recently garnered the support of everyone from Jackmaster to Axel Boman thanks to "Ciquita" and "1234", the two sides of his 12" which launched Ransom Note Records, an offshoot of the irreverent UK music, arts, and culture site. With the tracks originally released digitally via his own online headquarters, Silencio, home to mix-tapes, music and other goodies, they're the perfect, floor-wrecking introduction to his acid-infused sound, inspired by the Chicago originators and subsequent European teachers, but given a modern twist thanks to his non-stop crate-digging tendencies. Jumped on by publications including Mixmag, DJ Mag, Test Pressing and Data Transmission – who labelled R$N001 one of the freshest releases of 2016 so far – his remixes cement this reputation, injecting a dose of Balearic bliss just in time for the summer sun.
The EP artwork comes from London-based artist and curator Elaine Tam.
Label and Artist Links:
www.getuprecordings.com
www.soundcloud.com/wearelocalgroup