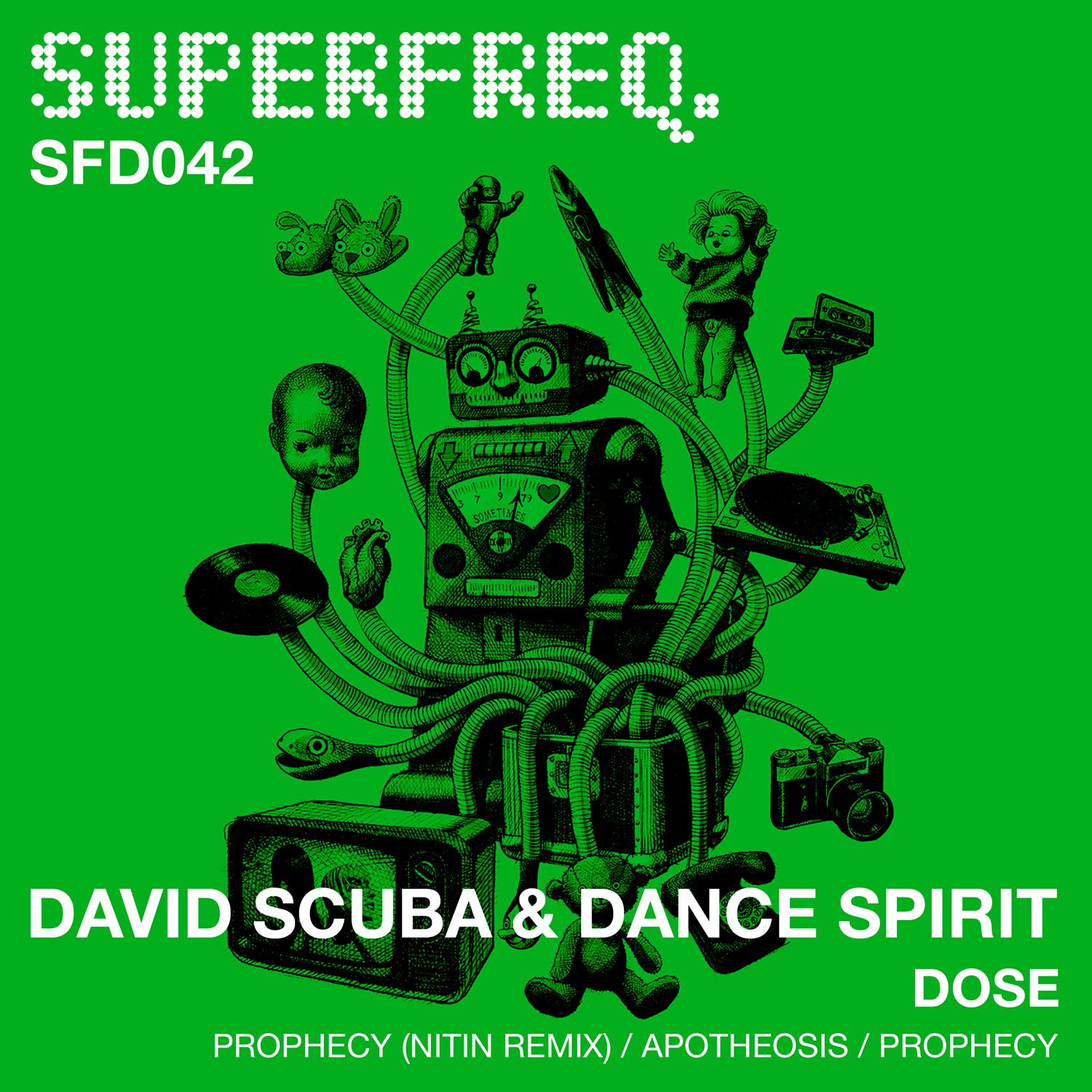 David Scuba & Dance Spirit - Dose
Superfreq returns with another fantastically futuristic package, this time from label partner David Scuba with Dance Spirit, the duo of Christopher Mohn and Reagan Denius.
Revered US talent Scuba is in fine form at the moment after big releases on labels like Riff Raff, Desert Hearts and Veryverywrongindeed, as well as playing events like BPM Festival, Burning Man and the Winter Music Conference in Miami. Here he links with Dance Spirit who are known for their forward looking minimal techno and are also residents of the famous Flying Circus parties. Past releases include their inspiring and thought-provoking work on groundbreaking LP 'The Sun Also Rises' on Supernature, and so when added together with David Scuba this exciting collaborative outfit has a truly fresh sound.
First up is a fantastic remix of 'Prophecy' from No.19 co-founder Nitin, which swarms with warm solar winds. Down low, slick metallic drums roll along and create a spooky spaced out vibe that will surely hypnotise any crowd as they get taken deep into the cosmos.
David Scuba & Dance Spirit then serve up the excellent 'Apotheosis', which is seven superbly atmospheric minutes of meandering techno that journeys far off into the galaxy. It is spacious and eerie with circling spaceship sounds and clean, synthetic drums that all create a truly cinematic experience.
Lastly comes the original of 'Prophecy,' a subtle and supple number with slippery rubber drums and daubs of acid that melt your mind. It's expertly crafted stuff that brims with originality and boasts standout production.
This is a brilliant EP that really brings the best out of all involved.
Tracklist:
1. Prophecy(NitinRemix)
2. Apotheosis
3. Prophecy