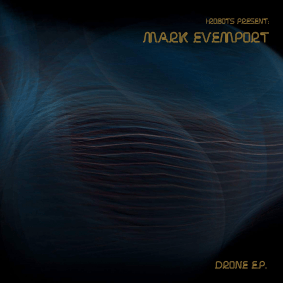 I-Robots present: Mark Evemport - Drone EP
Opilec Music's next project finds label boss I-Robots select an E.P. of unreleased material by Mark Evemport. It comes with exclusive artwork by Tim Paulvè of Artefract France.
Evemport hails from Treviso in Italy and runs the Sticky Music label. His passion for electronic music was born in the late 90's and seeing D.J.'s like Louie Vega and Jerome Sydenham. Inspired by disco, afro, techno and more, he achieves real depth in his music; tribal rhythms intertwined with synths and deep atmospheres.
Evemport has a forthcoming 22 track album, 'Klin', coming on this label before the end of the year featuring a selection of material from the vaults that has been carefully curated by I-Robots. I-Robots also included the track of the same name on the latest 'We Are Opilec' compilation back in June 2016, and it's one that's been supported by none other than Derrick May.
Evemport says of the 'Drone' release, "The E.P. in my opinion can be divided into three distinct parts, the first one explores the deepest African sounds, the second part is built around two tracks with hypnotic grooves but at the same time aggressive moods and finally three tracks that were born from my desire to get outside what I've produced so far."
The moody 'Drone' opens up with deep and dubby techno, soft drums and pensive chords, then 'Fyzz' brings some spiritual melodies and 'Kentu' keeps you on edge with inventive pads and percussion that get you in an afro-trance. The elegant 'Lambat' is a more hopeful track with celestial keys and cosmic rays, 'Nagano' goes back into the depths and broods with deft percussion and well sculpted synths and 'Tier' is heady and atmospheric, with gently unfolding chord progressions and a late-night sense of enchantment.
Keeping up the intriguing nature and high-class production' 'Trix' is darker and more driven, with percolating percussion and a sense of menacing lurking underneath and last of all 'Woxy' is a spine-tingling track with icy synths and aching pads that encourage your mind to drift off into the ether.
This is a classy and coherent techno opus that brings real musicality and thoughtfulness to all eight of the excellent tracks.
Tracklist:
1. Drone
2. Fyzz
3. Kentu
4. Lambat
5. Nagano
6. Tier
7. Trix
8. Woxy