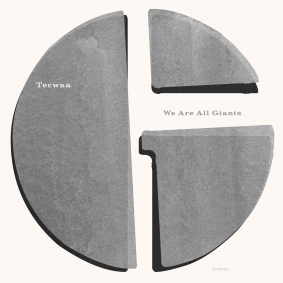 TECWAA - We Are All Giants
The fantastic first Clouded Vision Recordings release of 2018 comes from label newcomer Paul Fawcett, AKA Tecwaa, with a remix by label boss Matt Walsh.
Fawcett is a DJ and musician from York with influences from the rave scenes of Leeds and North Yorkshire, Detroit techno and film scores. He has already released on the likes of Frigio Records, and the four original tracks of his excellent EP here were recorded with analogue instruments, layered percussion, guitars and piano. Together that creates spaced out soundscapes that capture a hypnotic and emotive element throughout, with a wash of delayed pads and eerie instrumentals adding to the effect.
Opener 'Always & The End' is eight deeply involving minutes of slow-motion house with beautiful pads and widescreen atmospheres that really sucks you in. The fantastic 'Night Moves' then picks up the pace a little with percolating grooves, soft acid lines and analogue hits that all make for a loveably loose, emotive musical groove whilst 'Remember the Clear Light' gets a little darker and more angsty, with scintillating percussion and broad, droning pads bringing a real sense of tension to this spiritual track. The final standout original is 'In Shadows', another superb mix of synthetic sound design and organic chords that is filled with detail as a slow, pensive rhythm emerges.
On remix duty is label owner Matt Walsh, an esteemed producer with a varied and vital sound. He brings the tempo of the first track 'Always & The End' up a notch, adding a new bass guitar line and a plethora of warped sounds and broken percussion.
This is an artful EP of masterfully realised sounds that making a lasting impact way beyond the dance floor.
Tracklist:
1. Always & The End
2. Night Moves
3. Remember The Clear Light
4. In Shallows
5. Always & The End (Matt Walsh Remix)