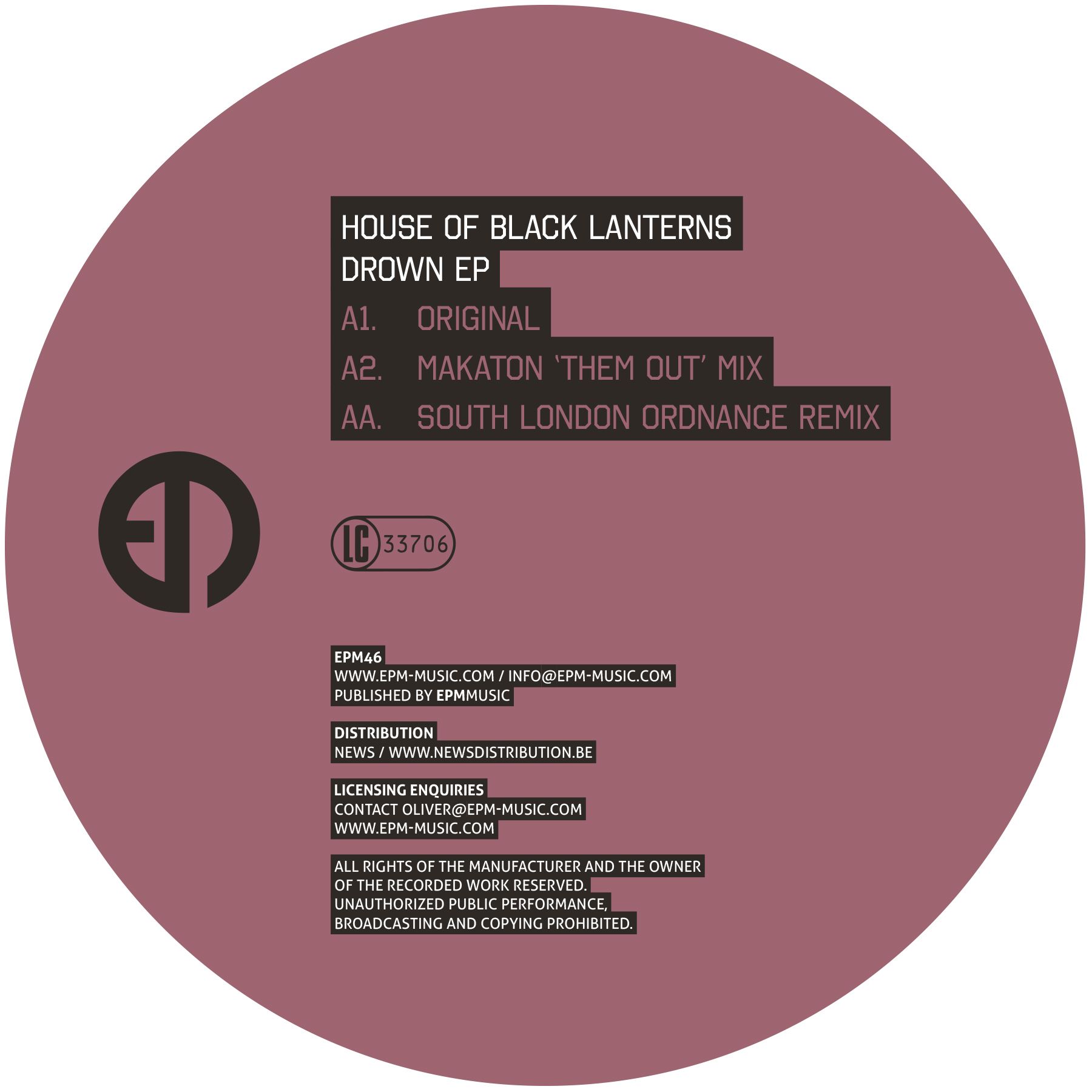 House of Black Lanterns - Drown
Following the deep textures of Dan Curtin's 'Galaxies Merging EP', EPMMusic now heads into darker realms with 'Drown' by House of Black Lanterns, and featuring remixes by Makaton and South London Ordnance.
House of Black Lanterns is the latest artistic guise of Dylan Richards, formerly known as King Cannibal on Ninja Tune and Zilla on Warp. House of Black Lanterns offers a defined change in vision and style with his debut album 'Kill The Lights' on fabric's Houndstooth imprint gaining critical acclaim. In between sets at both Berghain and Panorama Bar, The Roundhouse, Boiler Room, fabric and Melkweg, remixes have been traded with Breakage, Dave Clarke & Mr Jones' _Unsubscribe_ project, followed by an EP on Hypercolour and a release for Doc Scott's 31 Records. His second conceptual album piece 'You Were Telling Me of Mountains' was released at the end of 2015, backed up with a hefty run of more dancefloor orientated tracks across Crème's new Jericho One imprint, Darkroom Dubs and now EPMMusic.
The dub techno of 'Drown' sets a strikingly atmospheric tone from the onset, with its subterranean soundscape spreading into a pulsating groove, with a splash of poignant melody and bursts of breathy vocal.
The original is presented alongside equally first-rate remixes from Rodz-Konez label head, Makaton who most recently delivered new EPs for Token and Blueprint, as well as Brixton's South London Ordnance (Hotflush / Aery Metals), whose remix was premiered by B.Traits on her BBC Radio 1 / 1xtra shows in February.
The release of 'Drown' also coincides with EPM's 15th Anniversary celebrations as House of Black Lanterns join us at our first two "EPM 15" parties.
29/04: EPM 15 @ Suicide Circus, Berlin – Robert Hood, Ben Long, House of Black Lanterns
30/04: EPM 15 @ fabric, London – Robert Hood, Marcel Fengler, Esteban Adame (Live), House of Black Lanterns
House of Black Lanterns 'Drown' is released on vinyl and digitally on EPMMusic on 29 April 2016.