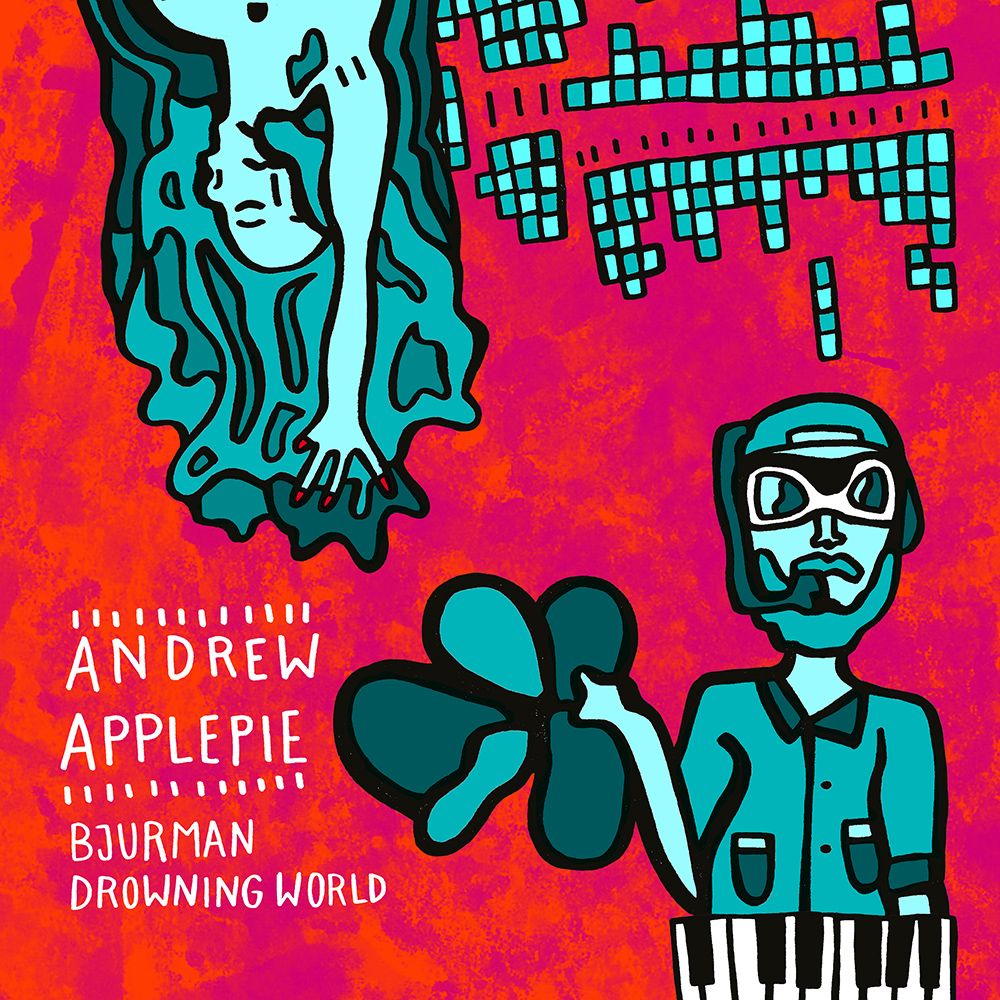 Andrew Applepie & Bjurman - Drowning World
Bjurman and Andrew Applepie present their first collaboration "Drowning World" blending Swedish singer Bjurman's raw and melancholic vocal performance with Berlin based producer Andrew Applepie's upbeat and playful style. Thus they refreshingly combine the yin and yang of pop music into an incredibly emotional and appealing tune, starting out fragile and vulnerable, making you smile through a warped ukulele riff and leaving you with goosebumps when the chorus drops. There's more to come this year.
Andrew Applepie loves producing music, creating songs with everything he gets his hands on. He uses all kinds of instruments, ranging from familiar choices like guitar and drum machines, to exotic contraptions he picked up while travelling, to all the stuff you would find in a kitchen. His very unique style transpires his charm, wit and happy nature, bringing an organic sound and laid back timing to electronic music. New York film-maker Casey Neistat and many more are playing his tunes in their videos and millions of people around the world are listening. Andrew Applepie is one of the most aspiring and upcoming German electronic artists.
For Sandra Bjurman nothing compares to the feeling of a freshly hatched song idea. Her vivid imagination has her accumulate bits and parts of melodies and words, processing her experiences and surroundings, giving live to emotionally powerful pieces of music through her writing and captivating voice. Bjurman's music feels like watching a short film that has multiple layers of stories, ranging from subtle undertones to strong statements. She says she's not a singer, but that she once was, and that it took years for her to reprogram to let the raw emotions rule, no matter what, and regardless of the outcome. In 2011 she wrote the winning song of the Eurovision Song Contest.
Drawing influence from modern electronic artists like Caribou and Baths as well as classic beatmakers like RJD2 and bands such as Gorillaz, Applepie is also influenced by alternative/independent artists such as Sigur Rós or Deerhunter.
Of his collaboration with Bjurman, Applepie says: "Before we even ever talked or met up I got to hear her song "Drowning World" and I immediately felt drawn to it. I loved the melody and the song was great. I felt I could really contribute something to it. So we met up, and then I took our material with me to Maui where I made it into a new song with a new chorus and some spicy ukulele licks with my new uke I got in Kahului. Surprisingly enough everybody loved the tune!"