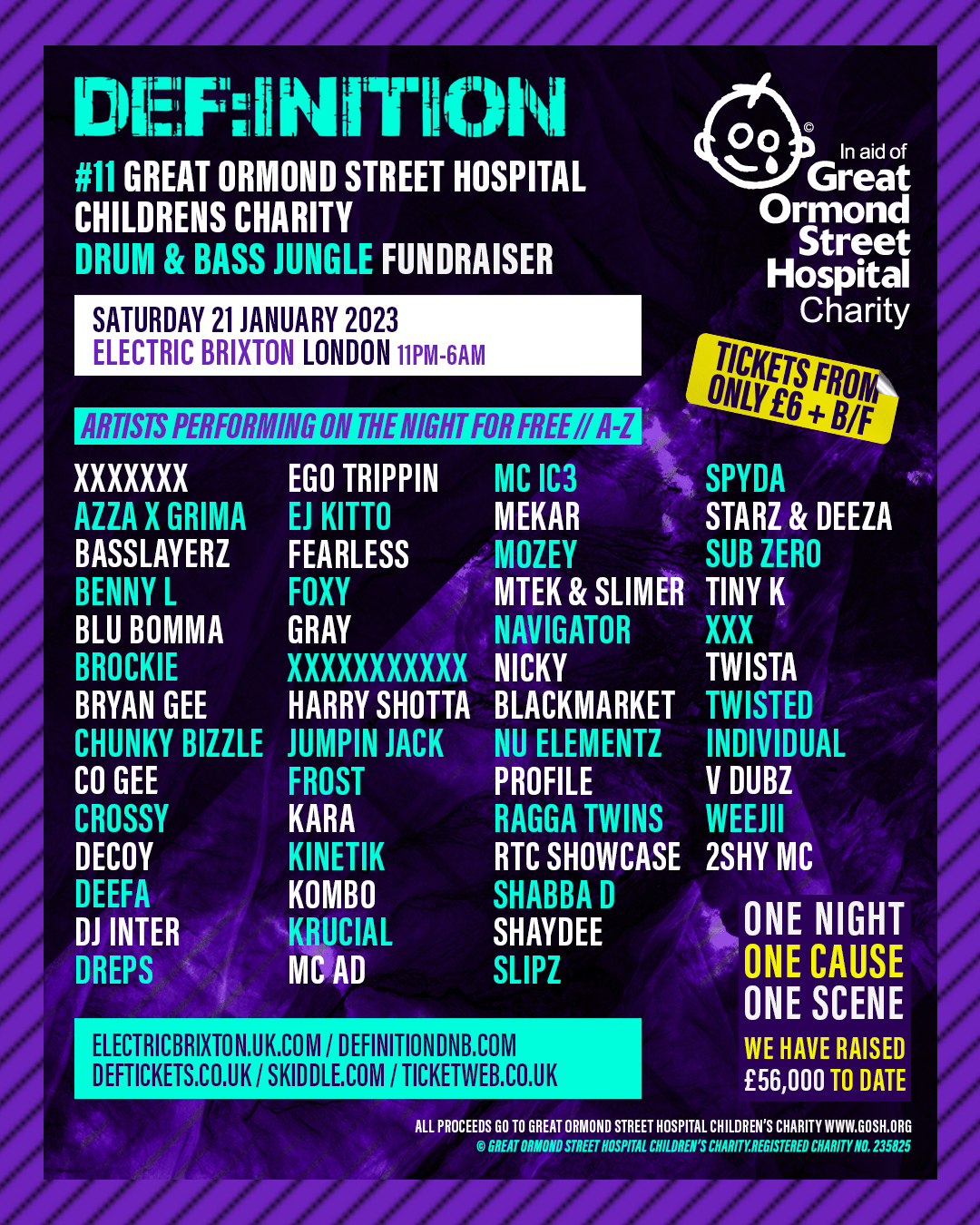 Drum & Bass and Jungle community join forces for GOSH Children's Charity fundraiser at Electric Brixton on 21 January
Prior to the UK Lockdowns this was traditionally the first big London Drum & Bass event of the new year and now after a 2 year break, they return with an all star cast of artists donating their services to help raise money for this great cause.
Over the last 10 shows the Drum & Bass + Jungle community have raised a staggering £56,000 and aim to add a lot more to this on 21 January at Electric Brixton with a huge line-up of talent.
Great Ormond Street Hospital (GOSH) is one of the world's leading children's hospitals and every day about 600 children and young people from across the UK arrive for life-changing treatments.
All Proceeds go to the Great Ormond Street Hospital and Children's Charity, which supports the hospital and its patients by funding www.gosh.org
Life-saving medical equipment
Research into children's health
Support for families and children
Rebuilding and refurbishment
Line Up:
Xxxxxxx // Azza X Grima // Basslayerz // Benny L // Blu Bomma // Brockie // Bryan Gee // Chunky Bizzle // Co Gee // Crossy // Decoy // Deefa // Dj Inter // Dreps // Ego Trippin // Ej Kitto // Fearless // Foxy // Gray // Xxxxxxxxxxx // Harry Shotta // Jumpin Jack Frost // Kara // Kinetik // Kombo // Krucial // Mc Ad // Mc Ic3 // Mekar // Mozey // Mtek // Navigator // Nicky Blackmarket // Nu Elementz // Profile // Pedro Slimer // Ragga Twins // Rtc Showcase // Shabba D // Shaydee // Slipz // Spyda // Starz & Deeza // Sub Zero // Tiny K // Xxx // Twista // Twisted Individual // Weejii // 2shy Mc