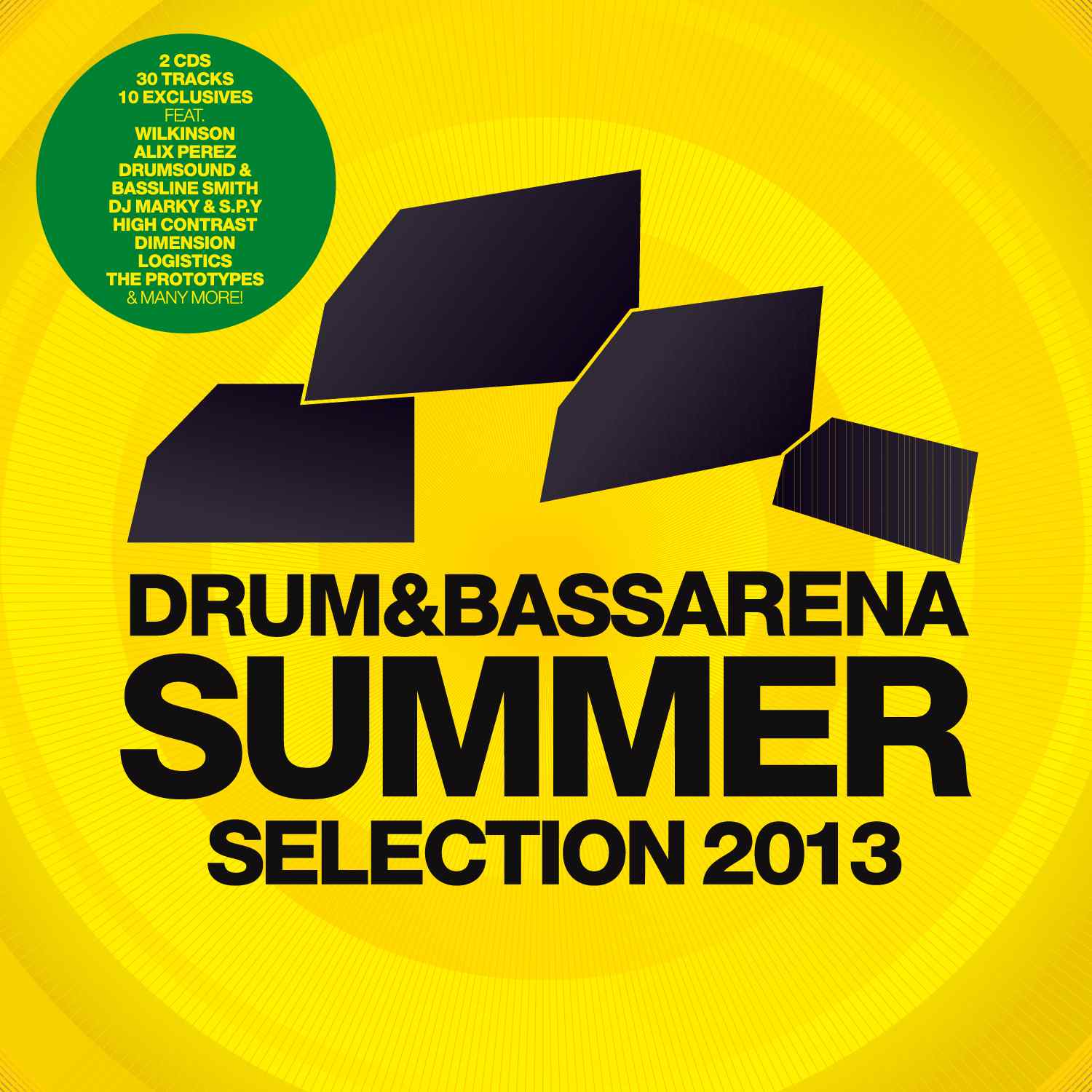 Drum&BassArena Summer Selection 2013
Drum&BassArena is the biggest selling drum & bass compilation series of all time and the new release, Drum&BassArena Summer Selection 2013, presents an essential round-up of this summer's hottest tracks.
Handpicked and blended by the scene's leading tastemaker (since 1996), Drum&BassArena Summer Selection 2013 sparkles with 30 tracks from Wilkinson, Alix Perez, High Contrast, Drumsound & Bassline Smith, S.P.Y, Marky, Chords, Sub Zero, Hybrid Minds, Artificial Intelligence, Calibre, Tantrum Desire and many more.
The album also features 10 exclusives including Need For Mirrors, Halogenix, LSB, Harvest, Stanza, A.M.C & DBR, Symptom, Nookie, and Nelver & Simplification, all delivering premium exclusive material, it means an entire third of the double CD / 30-track download album is completely unreleased, upfront and unashamedly fresh. Complete with a smattering of tried and tested sunshine-wooing classics and a whole wealth of discerning D&B anthems-in-waiting, this album features huge household names and blisteringly hot next generation talent stepping up to the Drum&BassArena summer soundtrack challenge.
CD pre-order link: http://smarturl.it/ss13dnbastorepre
Launch party at Ministry of Sound Courtyard Sunday 28 July – free entry
To toast the release of the compilation, Drum&BassArena will be hosting a free outdoor album launch party on Sunday 28th July 2013 in Ministry of Sound's courtyard. Expect a BBQ, plenty of beers and a top line-up of DJs that will also be streamed live around the world on D&BTV.
http://smarturl.it/ss13launchparty
TRACKLIST:
CD1
1) Drumsound & Bassline Smith Feat. Fleur – One In A Million (Tantrum Desire Remix)
2) Wilkinson – Take You Higher
3) Torqux Feat. Lady Leshurr – Blazin' (Dimension Remix)
4) Chords – Biting Point
5) Donea'o – Fire (The Prototypes Remix)
6) Delano – Big, Bad & Heavy (Logistics Remix)
7) Artificial Intelligence Feat. Steo – Let It Be (DJ Marky & S.P.Y Remix)
8) High Contrast Feat. Selah Corbin – Wish You Were Here
9) LSB – Solstice
10) DJ Marky & S.P.Y – Yellow Shoes (Calibre Remix)
11) Nu:Logic Feat. Lifford – Everlasting Days
12) Nookie – A Drum, A Bass & A Piano (Madcap Refix)
13) A.M.C & DBR UK Feat. Robby Stone – Blue Waters
14) Commix – Be True
15) Sub Zero – Brighter Days (Krakota Remix)
CD2
1) Alix Perez Feat. Sabre & Sam Wills – The End of Us
2) Ivy Lab Feat. Frank Carter III – Afterthought
3) Halogenix Feat. Zoe Klinck – Raw Deal
4) Commix – How You Gonna Feel
5) Harvest – Keep It Real
6) Symptom Feat. Ella – Overrule My Senses
7) Need For Mirrors Feat. Jasmine Spence & Grimm – Silent Runner
8) Savage Rehab Feat. Saxxon – Rare Groove
9) S.P.Y – Love Hurts
10) Submorphics – Summer Soul
11) Nelver & Simplification – Midnight
12) Hybrid Minds – Meant To Be
13) Technimatic – The Unspoken
14) Stanza – Glow
15) Nookie – Only You (dRamatic & dbAudio 2013 Remix)