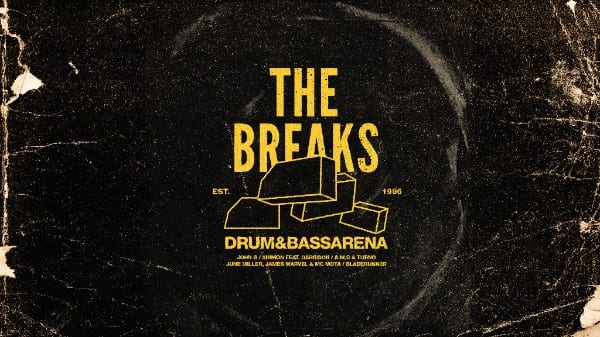 Drum&BassArena's 'The Breaks EP' marks first EP release in over 10 years
After piling up the hype this month through socials and support from BBC Radio 1, Drum&BassArena have finally put out their 'The Breaks EP' today. Renowned and respected for releasing some of the genre's highest-selling compilation albums of all time, today's release by the leading scene champion's marks the first EP in over 10 years. Featuring influential artists like Shimon, Bladerunner, John B, A.M.C & Turno, June Miller & James Marvel – 'The Breaks' is a 21 gun finger salute to one of the most important founding elements of drum & bass: the breakbeat.

Listen, stream or download 'The Breaks EP' here

An EP that features razor sharp sonic craftsmanship from every generation of drum & bass talent possible, 'The Breaks' marks the start of a new release series for the brand who are set to reach their 21st anniversary later this year. Denting an already loaded release schedule of calendar-essential albums, worldwide events and festival arena-takeovers and its annual awards ceremony, 'The Breaks' is yet another way for Drum&BassArena to celebrate and contribute to the sound that inspired us all since day one. "To celebrate our 21st anniversary I wanted to start a brand new chapter in releases," states Drum&BassArena founder The Risky. "This EP series gives us the perfect platform to once again celebrate the genre we all love so much. "

Kick starting 'The Breaks EP' is John B with 'ENERGY': an electrifying homage to some of drum & bass's most skin-melting elements – an adrenalin arpeggio, toxic bass textures and a shapeshifting rhythm that you can feel physically from your head to your toes. Followed by Shimon – a man who has given the world countless roll-outs, anthems and bangers over the years as a solo artist, Andy Ccollaborator, Ram Trilogy member and head of Audioporn Records – teams up with Darrison to seal the deal with 'Believe It'. Gilded with Darrison's singular vocal styles and status as one of the scene's most versatile and musically talented MCs, 'Believe It' is a diesel-powered roller that balances a perfect contrast of light and dark. 'Ice Cold' by A.M.C & Turno builds on the momentum of their uncompromising 'Collision' EP last year. Here we find two exciting producers colliding once more with a savage break, an iconic detuned rave hook and a tempo-flexing breakdown that can melt a crowd at 20 paces. 'Don Dada' sees June Miller & James Marvel taking us on a one-way trip to breakbeat future with a dancehall-inspired dynamic that gradually builds more momentum as the track progresses. Closing the show in true jungle style we find Bladerunner. 'International' backs up his spotless status to last rattling hi-hat and smouldering one note b-line. Laced with shimmering guitars and a subtle MC call, it's already sound tracking many junglist summers.

While much of the scene in recent years has been characterised by chiselled sinewy two-steps, recently drum & bass has enjoyed a breakbeat revival with artists from all subgenres returning to the source for inspiration and development. As a brand that celebrates the breaks every single day with its URL homage www.breakbeat.co.uk, Drum&BassArena knew it was high time to return to the EP game and contribute to the breakbeat culture that's motivated it for all these years. Five incendiary tracks, one heavyweight EP, over 10 years' worth the wait: 'The Breaks EP' is a special dedication to everything we love about drum & bass past, present and future.