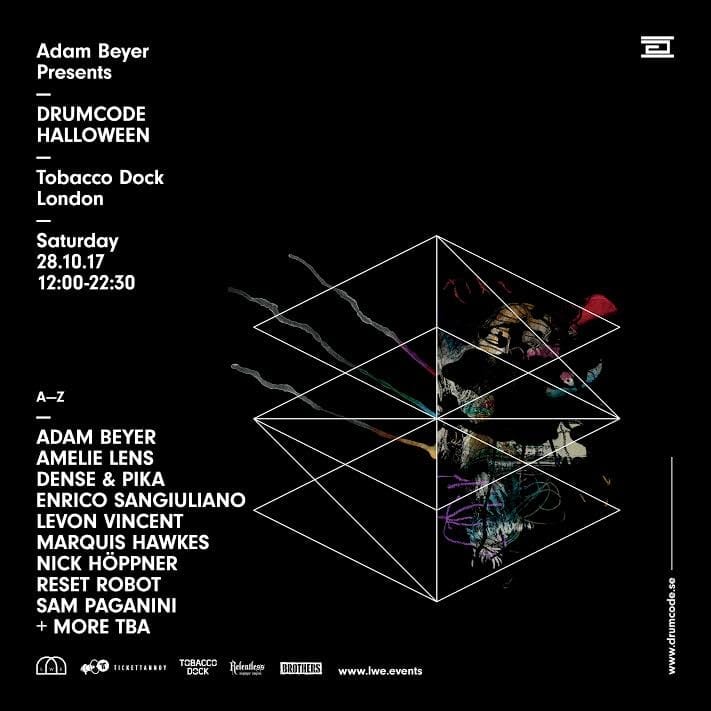 Drumcode Halloween 2017 First Names Announced
Over the past 8 years, Drumcode Halloween has cemented itself as London's definitive Halloween Party. Returning to the ancient burial site of Tobacco Dock, we're thrilled to announce the first artists joining us on 28th October…
Of course our Dark Overlord, Adam Beyer heads things up. Presiding over the Great Gallery, the Drumcode boss promises a visceral & cerebral rollercoaster. A ride guaranteed to make your hairs stand on end!
Little is known of International woman of mystery, Amelie Lens. The femme fatale from Belgium will seduce you before administering a deadly bite. A mesmerising whisper. A heart-throbbing bass. Amelie's sound will lure you in and sweep you up!
Joining them will be Drumcode Halloween regulars, Dense & Pika. Spreading the unadulterated message of techno, these loyal stooges are quick to the bidding of their master. Dark. Darker. Darkest.
Fall under Enrico Sangiuliano's hypnotic spell. The Italian mystic promises out-of-body experiences for those who dare participate in his séance. Enrico burst onto the scene in 2016 with a slew of huge releases and a devastating trademark kick. He's also the man behind that track.
The evergreen Levon Vincent may well possess eternal youth. Rumour has it you can't see his reflection. Bringing a wealth of experience, Vincent has seen and done it all, yet the NY DJ remains as relevant as he's ever been.

Marquis Hawkes makes his first appearance at Tobacco Dock, having released on the likes of Houndstooth and AUS music. Consistently evolving his sound, he crosses the boundaries between house and techno with a seamless and ethereal mist.
Atmospheric and eerie, Nick Höppner is a storyteller. Gather round, settle down and listen as he recounts tales through the medium of music. Expect otherworldly soundscapes. Expect to be taken on a journey. Expect the unexpected.
Hit the reset button, the android has gone rogue! Truesoul-associate Reset Robot returns to Tobacco Dock and will bring with him an arsenal of dance floor weapons.
Sam Paganini is increasingly synonymous with Drumcode. And for good reason. He'll be bringing a bag of tricks and some thunderous techno to Tobacco Dock.
During the summer we've been busy reconfiguring the Little Gallery which we're looking forward to unveiling. We've increased the floor space but lowered the ceiling, creating a unique clubbing environment; An environment both intimate, yet inclusive.
TICKETS
1st Release – £29.50 +BF SOLD OUT
2nd Release – £35.00 +BF SOLD OUT
3rd Release – £39.50 +BF SOLD OUT
4th Release – £45.00 +BF LAST FEW REMAINING
5th Release – £49.50 +BF ON SALE SOON
VIP 1st Release – £50.00 +BF SOLD OUT
VIP 2nd Release – £65.00 +BF ON SALE NOW
Tickets: http://tobaccodocklondon.com/event/drumcode-halloween-2017
VIP tickets include
– Fast track entry via a separate VIP / guestlist queue (you MUST enter via this queue to pick up your wristband)
– Entrance to the VIP rooms with comfy seating and a cash bar (tokens not needed)
– Bar with cocktails, champagne & premium spirits
– Separate lockers (cloakroom)
– More toilets for less people!
T&Cs: www.lwe.events/terms-and-conditions
DRUMCODE
www.drumcode.se
www.facebook.com/drumcoderecords
www.youtube.com/drumcodeofficial
www.twitter.com/drumcoderecords
www.instagram.com/drumcoderecords
www.soundcloud.com/drumcode
LWE
www.lwe.events
www.facebook.com/LondonWarehouseevents
www.youtube.com/channel/UC3QfZAnrGDHaML43m0NUX-Q
https://twitter.com/L_W_E
www.instagram.com/l_w_e
www.mixcloud.com/LWE
TOBACCO DOCK
http://tobaccodocklondon.com
Tobacco Quay,
Wapping Ln,
St Katharine's & Wapping,
London E1W 2SF