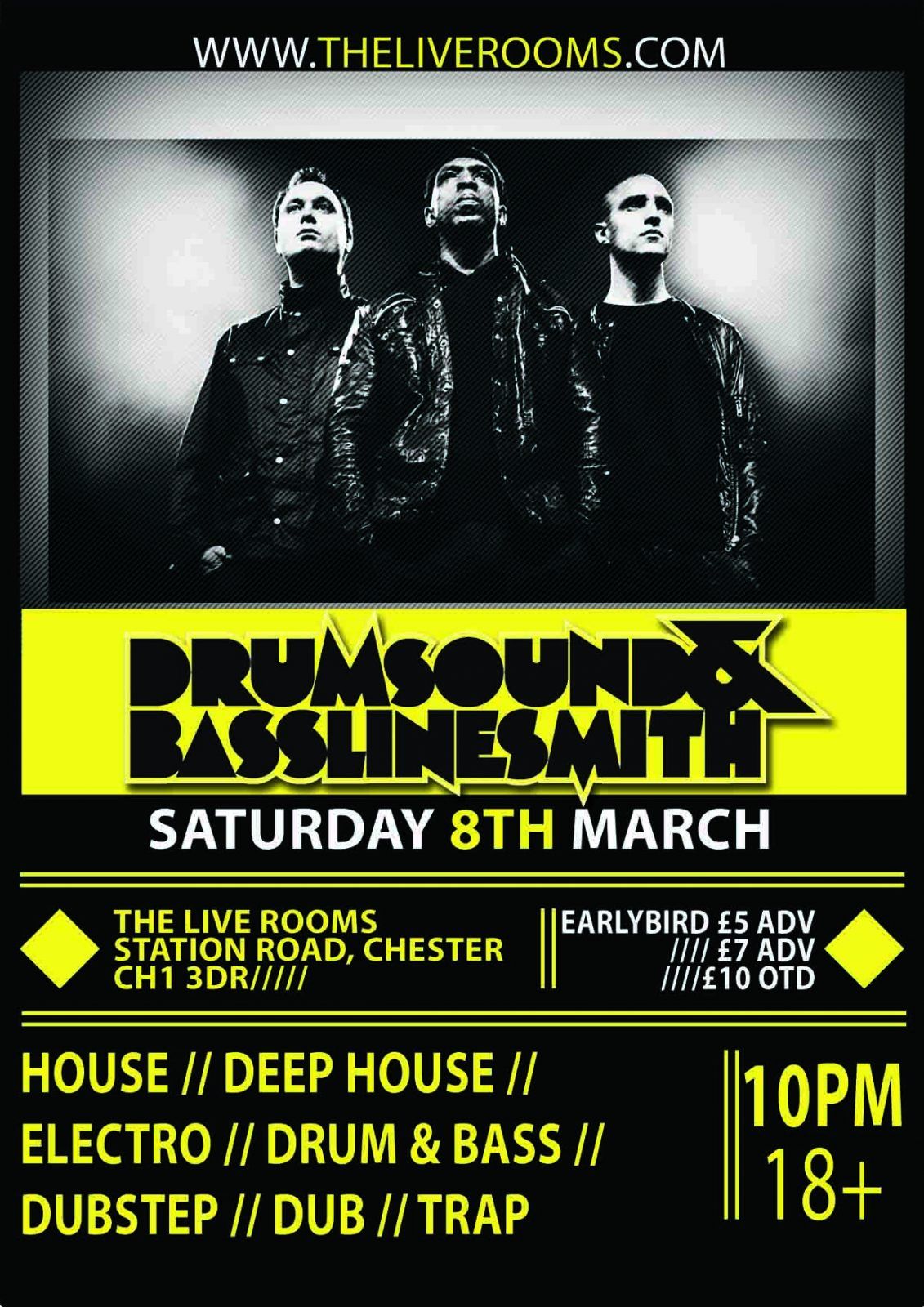 Drumsound & Bassline Smith @ The Live Rooms Chester.
D&B would not be the same without Drumsound & Bassline Smith (aka Andy Wright, Benjamin Wiggett and Simon Bassline Smith). Together the trio have body-slammed dancefloors from Derby to Durban and entrenched themselves as three of the finest drum'n'bass tastemakers on the planet courtesy of the blue chip label Technique Recordings – an imprint that celebrated 10 years of killer dancefloor joints in 2009.
The magic has been bubbling ever since Wright and Wiggett met Bassline Smith at one of Derby's mentalist Technique club nights in the summer of 1998. The Drumsound pair had been crafting beats for a year, having originally started as a crew of six artists, while Bassline Smith had carved out a reputation as one of D&B's most influential players, with a career stretching back to the early '80s.
As Drumsound & Bassline Smith they've enjoyed a firestarting musical synergy that's played a pivotal role in taking drum'n'bass to the next level and carved out a patented 'Technique sound' in the process. In 1998 they were asked to complete a CD of samples for the respected Loopmasters Series laying testament to their original approach to beat construction.
From the music industry's finest tastemakers, to the die-hard junglists populating clubs and festivals each weekend, one thing rings out loud and clear; no one can get enough of Drumsound & Bassline Smith's floor-burning sound.
Drumsound & Bassline Smith are also in hot demand from the most respected heads at Radio One and 1Xtra and enjoy regular flogging on the airwaves from Fabio & Grooverider, Zane Lowe, Mista Jam, Annie Nightingale and Annie Mac. The trio are aone of the few set of artists to complete multiple mixes for the famed Radio One, with a whisper of a request to complete a coveted Essential Mix in 2010. "We love them and have been supporting them since day one," Mac tells.
– See more at: http://original.jpgdrumsoundandbasslinesmith.com/