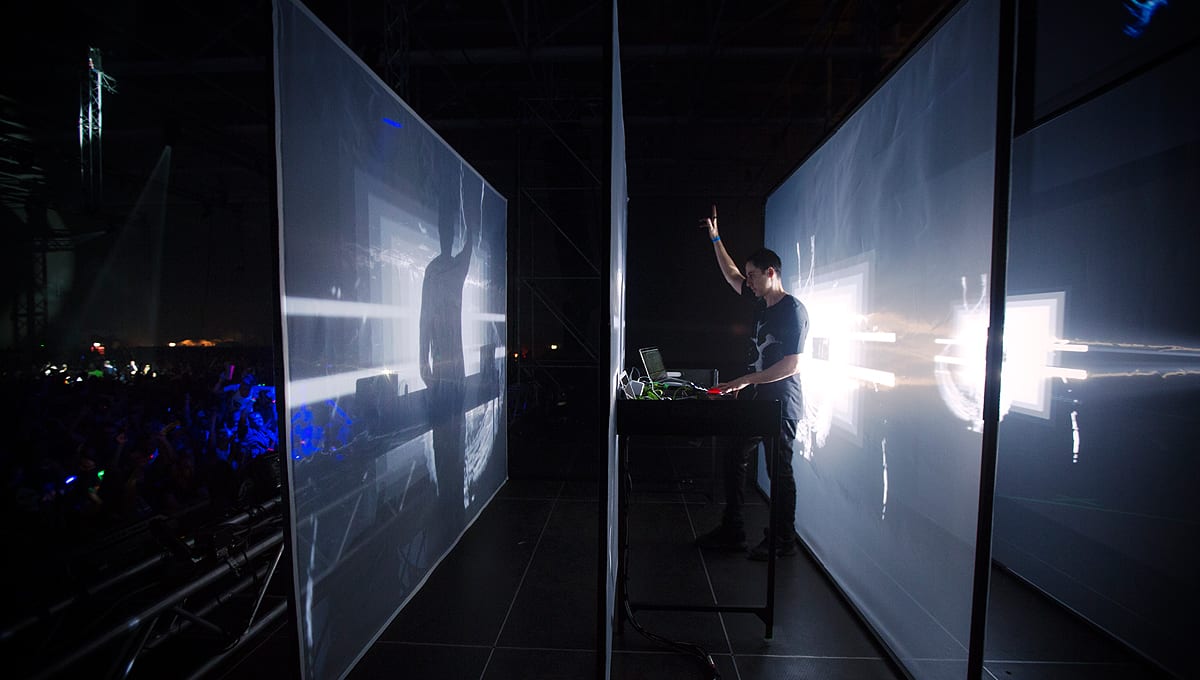 Dubfire Announces More liveHYBRID Tour Dates
Having kicked off the year impressing crowds at Coachella, Glastonbury and Movement Dubfire's critically acclaimed live project dubfire:liveHYBRID is heading to Europe and Aisa with five new dates announced in Poland, Bulgaria, Romania, Italy and Indonesia.
Having previously touched down at industry-leading events including ADE, Sonar and more recently the International Music Summit in Ibiza, fans from around the world have the opportunity to witness the experience that's been taking electronic music world by storm.
Says Dubfire: "I'd always intended for my music to be performed live, supported by the latest advancements in music, stage design, lighting and sound technology. It took me years to build up a body of work that I'm proud to stand behind and to find the team to create the HYBRID show. It's been an incredibly inspiring ride and I'm tremendously excited to finally bring the show to the fans who continue to support me and my sound"
2016 will be the final year on the tour, as all good things must come to an end with two years of touring coinciding with Dubfire's decade at the top. Don't miss your chance to experience this mind-blowing, immersive visual show.
NEW LIVEHYBRID TOUR DATES 2016
29th July – Audioriver Festival @ Plock Beach, Plock, Poland
5th August – Yalta Solar Summer @ Cacao Beach Club, Nessebar, Bulgaria
7th August – Untold Festival @ Sala Polivalenta, Cluj-Napoca, Romania
14th August – II Grido Festival, Gallipoli, Italy
24th August – Invasion, Jakarta, Indonesia
*MORE DATES TO BE ANNOUNCED
Decade of Dubfire
Is that wasn't enough, Dubfire will also celebrate a decade of Dubfire in 2016, having gone down his own distinctly singular sonic path for a whole ten years. After early success as part of the still influential dance duo Deep Dish, the man born Ali Shirazinia now has his own label empire, legions of fans around the world and a unique take on electornic music that has made him a truly global superstar.
It was no easy move to go solo after the Grammy winning success of the Deep Dish project, but the challenge of carrying out his own solo musical mission is one that Ali has more than risen to. In that time, he has established his label SCI + TEC as a world renowned platform for his own music and that of a carefully curated list of talents old and new. He has also headlined every major club and festival in the world on a regular basis, has created his pioneering live Hybrid show and has earned a reputation as an artist right at the forefront of live performance and audio visual entertainment.
Though many believed Dubfire was crazy going it alone, the seminal success of his solo tracks like 'Ribcage', 'Emissions' and 'Roadkill' prove he has more than made his own way. Remixes of 'Spastik' by Plastikman, live shows from LA to Barcelona, Washington to Womb have continued to prove the point and for the last two years, and his HYBRID live concept has been wowing crowds everywhere. Created with the aim of reinventing the concert experience and combining overlapping screen projections, a mind-blowing array of strobe lights and a powerful 2D and 3D visual framework, the show has seen Ali incorporate the latest advancements in technology to deliver an out of this world live display.
It is fair to say this show, a ground breaking combination of man and machine, science, art and technology, has proved the high point of Dubfire's solo career. But all good things must come to and end and so in 2016, after two years of touring and to coincide with his decade at the top, it will cease to exist after some final showcases at Coachella, International Music Summit Ibiza, Dockyard Festival, Movement and more to be announced.
Dubfire will also celebrate 10 years at the top as a solo artist in 2016, and though this first chapter of Dubfire's solo career is almost done and dusted, the man himself, as ever, continues to look forwards. As such you can expect him to unveil some new and exciting projects in the near future, whilst he is also being honoured with the release of a new movie about his life and career, with a trailer available here: https://vimeo.com/122099244.