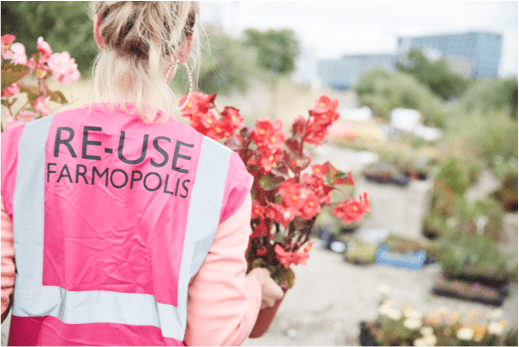 Opening Weekend, Disney Takeover & August Events Announced For Farmopolis
Opening to the public on Saturday 30th July, London's unique new floating garden Farmopolis has announced the schedule for its jam-packed summer programme. The arts and culture agenda is set to run throughout the whole of August, offering all the best in poetry, arts and inspiration workshops lead by pioneers of each field.
Partnering with the RHS Chelsea Flower Show 2016, Farmopolis has salvaged tens of thousands of Chelsea's plants, to create a truly unique floating garden surrounded by the iconic vistas of the Thames. The incredible space will host a dynamic year-round programme of live music, experiential supperclubs, literary salons, immersive theatre, creative workshops and talks, transforming the Jetty into a hub of creativity and wellbeing and offer visitors the opportunity to re-home a piece of RHS Chelsea Flower Show history.
Celebrating the opening on Saturday 30th July, all events on the opening day will be free (with a suggested £3 donation) and open to all from 10am-11pm.
Guests will be able to drop in at any time to sample the food, experiences and workshops that will be on offer throughout the year. They will include children's shows by Arcola Theatre, scholarly hi-jinx from Literary Death Match, live music curated by Mahogany sessions, floral face-painting, botanical jewellery classes, dream potion making, creative workshops in collaboration with Quodo, Biomodd and much more.
The Farmopolis cafe will be serving narrative driven and seasonal food and drink throughout the day. Visitors will also be able to adopt a rescued plant from the RHS Chelsea Flower Show or help make Chelsea's Children from clippings, in the House of Wayward area. Visitors are advised to check on www.farmopolis.com for specific event times and to guarantee a space at the popular events.
As the second part of the opening weekend celebrations, Sunday will see Disney's ZOOTROPOLIS takeover for one day only from noon – 5pm. The film that is set in the wonderfully innovative animal metropolis of ZOOTROPOLIS, will be screened twice during the afternoon and there will be a whole range of extra fun for all the family including face painting, animal performers, inspiring speakers, food and drink and many more exciting surprises on the day. Animal fancy dress is encouraged and there will be exciting Disney prizes on the day for the 'Best Dressed' on the Jetty! Zootropolis is released on Blu-ray™ and DVD from 25 July.
Full August events schedule available here: http://www.farmopolis.com/#events
August highlights will include:
FARM- TO-TABLE FOOD
The Farmopolis cafe will be open from 10am – 11pm serving food and drinks inspired by our plants and herbs
LIVE MUSIC
Programmed by Mahogany Sessions
TALKS
RoundTable Global, Bookomi Superknowledge, Literary Death Match, Creative Mornings, School of Life, Mama Xanadu's Natural Remedies.
WORKSHOPS
Life Drawing, floristry, screen-printing, playwriting, ceramics, photography, woodworking, edible hats, pirate gardening and more
THEATRE
Weekly kid's workshops with Arcola Theatre
WELLBEING
Yoga classes, Hula school, Natural remedies workshop
Situated on the Jetty at Greenwich Peninsula; The Great Plant Rescue at Farmopolis, will be easily accessible on public transport by Jubilee line, bus, Emirates Airline and by Thames Clipper river services via incredible views of the London Eye, London Bridge and Canary Wharf.