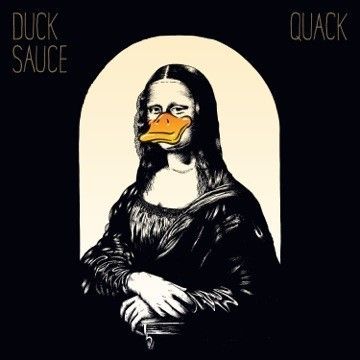 Duck Sauce – Quack
Duck Sauce, the veteran New York DJ team of A-Trak & Armand Van Helden, will be releasing their full length studio debut Quack on 29th June 2014.
Quack is fueled by the duo's strong connection with New York hip-hop, Chicago house, disco debauchery, slapstick comedy and, of course, UFOs. More Dr Octagon than Daft, tightly knit with skits worthy of early De La Soul records, Quack is a fully immersive journey into the land of Duck: euphoric loops, mixtape cut-and-paste and conspiracy theories abound. (You'll also dance your ass off.)
The duo first splashed on the scene as Duck Sauce in 2009, releasing the breakout hit "aNYway", a refreshing return to disco-house at a time when electronic music was essentially a distortion contest. The following year came "Barbra Streisand", with a So-Me directed video that became one of the most talked about cultural phenomena in dance history. With cameos from Kanye West, Pharrell Williams, ?uestlove, DJ Premier, Chromeo, Santigold and Ezra Koenig of Vampire Weekend, the song and video exploded, amassing millions of views on YouTube in just months (now at over 70 million), landing at #1 on charts all over the world, finding its way everywhere from shampoo commercials and video games to being covered on Glee and landing a Grammy nomination.
In 2011, Duck Sauce cemented their reputation as house music's official video pranksters with "Big Bad Wolf" whose VMA-nominated clip (10 million views) managed to ride the line between crude shock value and ethereal surrealism. 2013's "It's You", an orgiastic barbershop revelry (6 million views) earned them yet another VMA nod. As the anticipation grew for their fabled debut album, they released the Duck Tape mixtape as one of the year's most critically lauded BBC Radio 1 Essential Mixes. Carefully calculating its live appearances — albeit accompanied by a 20-foot inflatable duck — the group maintained its enigmatic less-is-more approach with a perpetual smirk on their bills.
No other group is capable of bringing the rich and visual tradition of sample-heavy music into the current trends of pop and EDM of 2014 – stay tuned for more Duck Sauce news!