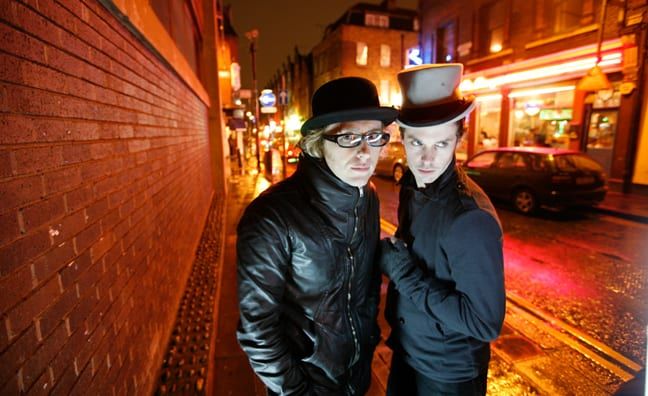 Dynamic Electronic Project The Young Punx Releases New Wave Single 'Drop it Hard'
As yet another offering from their upcoming fourth artist album, The Young Punx has released their new single 'Drop it Hard' on 10th May via MofoHifi Records, the fifth of their upheld promise to release track per month for the year 2019. The track is conceptualized and produced by Grammy Nominated UK multi-instrumentalist and record producer Hal Ritson, who has credits on over 1000 records, including for artists like Katy Perry, Cassius, The Prodigy, Kanye West, Nas, Black Eyed Peas, Duke Dumont, Avicii, David Guetta, Chemical Brothers and many more. In 2009, Hal was the Musical Director for Dizzee Rascal's BBC Electric Proms performance and went on to lead and play in Dizzee's live band headlining Glastonbury.
The Young Punx is Hal's personal pet-project, which both celebrates and subverts dance music, breaking the norms of traditional house, disco, breaks and hip-hop through mixing and mashing them with an ecstatically diverse range of musical genres and pop culture references. The project came to life in 2003 out of London's underground mashup, bootleg and breakbeat scenes and The Young Punx challenge the listener to reconsider what diverse genres can be combined, what is and isn't 'cool', as well as the boundaries between the serious and the ironic – all the while creating a feel-good party atmosphere. The goal is to make little to no sense in terms of concept and yet bring an end result that one couldn't imagine done any differently.
As a DJ duo, The Young Punx have supported Tiësto with a residency at Privilege Ibiza as well as performing as a live band with guitarist Guthrie Govan at major international festivals such as Glastonbury, SummerSonic and a 24,000 strong crowd at Nano Mugan in Japan. The group have also been presenters on TV shows such as So You Think You Can Dance (Fox TV, Japan) and UK Dance Music TV station Flaunt, along with running their own popular podcast The Young Punx FM since 2007.
Hal has expressed that his influences have no boundaries or ties to genre, specific artists or even time, but rather, that inspiration for the music is covered by the length and breadth of music history. According to the group, they are with omnidirectional high low electronica. While The Young Punx take the refusal of being pigeonholed to a level that has them releasing a different genre with every track thus far, the sound on this particular release is fresh with this indie funk soundscapes of Metronomy with the vocal stylings closest compared to that of Damian Marley and Popcaan.
The Young Punx once again deliver a joyous genre-defying sound-clash. Fusing the effortlessly cool and driving pulse of an early 80s New Wave live groove break with fierce auto-tune MC toasting, 'Drop It Hard'; both sound like nothing you've heard before, and sounds instantly right. This is a ballsy swagger-song to walk tall to!
When speaking about 'Drop it Hard' Hal explained, "The vibe of this track was initially inspired by the drum sound of The Police's Stewart Copeland in the very early 80s. At this time The Police had left behind their punk roots and were playing a unique kind of groove that echoed the danceability of disco, yet had a totally different sound where the drum kit was tuned super high and sat over the top of the bassline, the way that a pitched up jungle break does over the sub-bass in Drum and Bass today. We worked with our longtime drummer Alex Reeves (Elbow, Razorlight) to accurately recreate this rather unique drum sound and feel, and then built a fresh track around it. But the addition of dancehall MC toasting over the solid post-disco groove was the wildcard element that made the track pop and become a beast in its own right!"