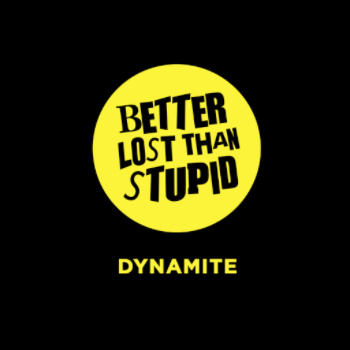 Better Lost Than Stupid - Dynamite
To celebrate the success of their first European club tour, dynamic trio Better Lost Than Stupid have unveiled their debut release 'Dynamite'. The track is available to download for free via their website.
A 7-minute trip, 'Dynamite' is a thundering melody built upon razor synths, echoing sounds and marching beats. A track perfect for peak-time sets, Better Lost Than Stupid have been dropping 'Dynamite' throughout their tour, and received a strong reaction every time.
Ending their extensive tour this weekend, Martin Buttrich, Davide Squillace and Matthias Tanzmann have been working hard under their Better Lost Than Stupid alias, taking it to the next level with conceptual stage productions throughout their showcases. Taking their concept worldwide, the collaborative trio have hosted all-night-long sessions at DC10 as well as played marathon sets at The BPM Festival and Exit Festival.
With their debut album on the way, 'Dynamite' gives a first impression of what we can expect to hear.
For more information on Better Lost Than Stupid, please visit:
https://www.facebook.com/BetterLostThanStupid/
https://twitter.com/BetterLostStupd
https://soundcloud.com/betterlostthanstupid
For more information on Martin Buttrich, please visit:
https://www.facebook.com/martinbuttrich/
https://twitter.com/martinbuttrich
https://soundcloud.com/martin-buttrich
For more information on Davide Squillace please visit:
https://www.facebook.com/davidesquillace/
https://twitter.com/DavideSquillace
https://soundcloud.com/davide-squillace
For more information on Matthias Tanzmann, please visit:
https://www.facebook.com/matthiastanzmann/
https://twitter.com/MattTanzmann
https://soundcloud.com/matthias-tanzmann