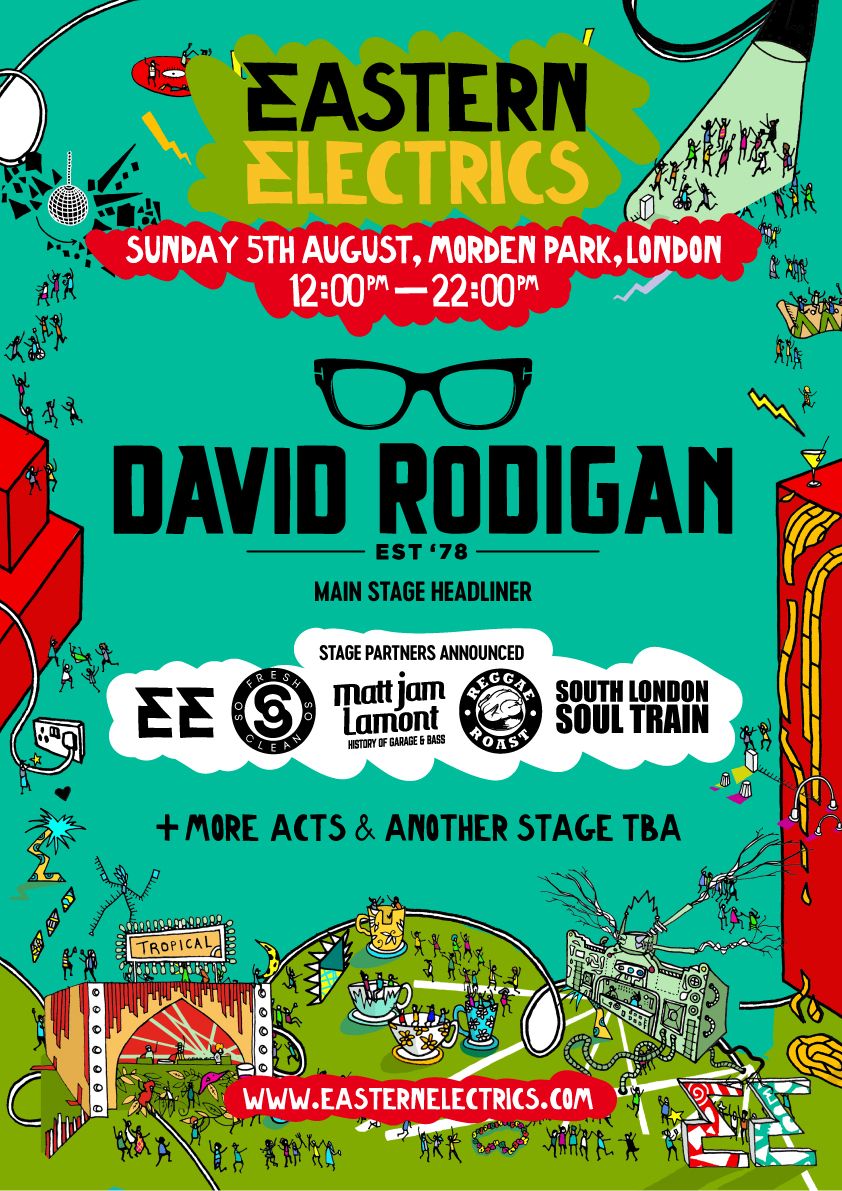 Eastern Electrics 2018
EASTERN ELECTRICS FESTIVAL
Saturday 4th + Sunday 5th August 2018 || Morden Park
Eastern Electrics has long been an essential date in the calendar for any electronic music head. Branching out from it's one day format, EE also can announce a second day, with some of the heaviest names in bass, garage, reggae and D&B involved.
TICKETS : http://bit.ly/2mGCJFC
Saturday 4th August
Seven stages make up the core of Eastern Electrics' Saturday, each bringing a unique sonic vibe to Morden Park.
Sunday 5th August
2018 sees Eastern Electrics spreading it's wings into a two day soiree, day two covers the bass-driven corner of the underground sphere, with garage, DnB, bass, jungle, reggae and coming to the EE bill.
LINE UP
DAY ONE – SATURDAY 4TH AUGUST
EASTERN ELECTRICS MAIN STAGE
JAMIE JONES – PATRICK TOPPING – CLAUDE VON STROKE – SONNY FODERA – WAX ON MARE ST + SPECIAL GUESTS TBA
EDIBLE IN THE SWITCHYARD (Streamed by Be-At TV)
EATS EVERYTHING – ALAN FITZPATRICK – NASTIA – MATADOR – BILLY TURNER + SPECIAL GUEST
SKREAMIZM IN THE BIG TOP
SKREAM – DENNIS FERRER – DE LA SWING – CITIZENN B2B SOONEY – MIX & FAIRBANKS
DEFECTED IN THE HOUSE
AMINE EDGE & DANCE – FRANKY RIZARDO – SAM DIVINE – RIVA STARR – JOSH BUTLER – SIMON DUNMORE
TQD STAGE
TQD – D DOUBLE E – P MONEY – ELIJAH & SKILLIAM – CONDUCTA – TIFFANY CALVER – MINA + GUESTS
MINISTRY OF SOUND : VIP
NATHAN BARATO – MARK JENKYNS – WAIFS & STRAYS – KATE SIMKO – THE MENENDEZ BROS – CHRIS THOMAS
ELECTRIC CITY
PRINCE FATTY & HORSEMEN – AFRIQUOI – DJ PATIFE – CHRIS MUNKY, EVA LAZARUS, INJA – THE BUSY TWINS – WARA – HIPHOPPAPOTAMUS
​DAY TWO – SUNDAY 5TH AUGUST
STAGE PARTNERS FOR DAY TWO – PRICES FROM JUST £20
Full artist bill to be announced in MARCH
SIR DAVID RODIGAN MBE – TBA – REGGAE ROAST – MATT JAM LAMONT'S HISTORY OF GARAGE AND BASS – SOUTH LONDON SOUL TRAIN – SO FRESH SO CLEAN