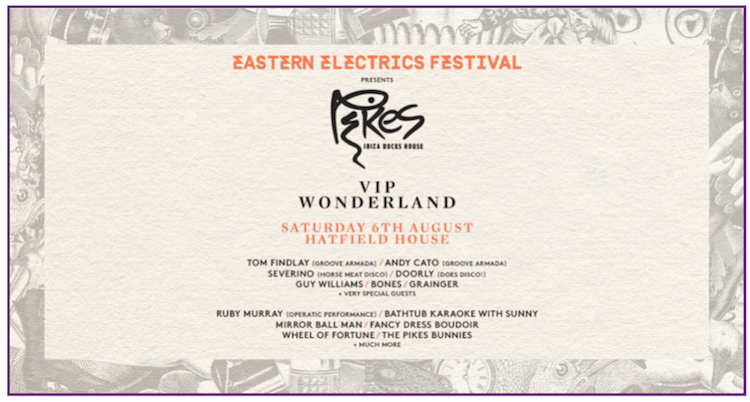 Eastern Electrics annouce VIP Wonderland with Pikes1
Line-up revealed for Pikes magical VIP Wonderland, plus after session details for EGG London and Hatfield parties…
Uniting a hefty collection of international heavyweights from the electronic music world, Eastern Electrics Festival is the go-to UK Festival for any house and techno lover. With an already golden line-up in place for 6th August, Eastern Electrics are pleased to finally announce names for Pikes first ever festival expedition, where they'll host the VIP Wonderland with Groove Armada, Severino, Doorly and a special guest TBA set to light up the exclusive and immersive area. In addition, plans can now be revealed for not one, but TWO after parties taking place to keep the vibes going through until the early morning.
This year the VIP Wonderland is to be hosted by none other than Ibiza institution Pikes, whose EE VIP area reflects the essence of their Balearic party brand. Ran by the Ibiza Rocks crew, known across the Island and beyond for their extravagant parties with a luxury feel, Pikes have thrown some of the biggest parties seen in recent years. Expect beats from the likes of Groove Armada's Tom Findlay and Andy Cato (respectively), Horse Meat Disco's Severino, and an ultimate party king as a very Special Guest, all holding it down for VIP EE ticket holders. Also taking a trip down the rabbit hole in the Wonderland themed haven will be Friends of Pikes; Doorly (doing DISCO!), alongside Manchester's Guy Williams, Denver's deep house resident DJ Bones, club regular Grainger plus more guests to be announced.
Aside from the music, expect a host of extra activities in place across Pike's paradise, including special appearances from the renowned Pikes hosts and favourite characters. Eye-catching decor, madness from Bathtub Karaoke with Sunny, the Wheel of Fortune the chance to douse yourself in glitter at the infamous Fancy Dress Boudoir are just some of the fun extra's in place, with much more to be found on the day. An operatic performance from Ibiza's favourite Fat Lady, Ruby Murray will be a special sight for EE attendees, and rounding off the exclusive areas proceedings will be Pikes regulars Mirror Ball Man and the Pikes Bunnies, and a whole host of hi-jinx and hedonism…
For those not wanting the party to end after their day long of fun at Hatfield House , the EE family have got it covered, with two after parties for your pleasure. Just 5 mins from the site Hatfield's Forum will boast a huge line up from the likes of festival favourites Skream, Richy Ahmed, Doorly, and Citizenn. Local Hertford crew Amplify bring a techno tipped journey to Room 2 with B.A.H.Y, Tamer Auf, Stevus, and DJM. The second after party returns to Egg London (near Kings X), with a 4 room extravaganza keeping the party going 'til 10am. With VW boss Steve Lawler, expertly crafted techno from Dense & Pika, Waifs and Strays, PBR Streetgang, Dance Energy's Normski, and more TBA. Completing line up for the sun-up soiree, revellers will be left in capable company with Geddes, Matt Tolfrey, Jordan Mina, Willers Brothers, Vinicious Honorio, Kyle E, Derek Dahlarge, Two and Eight, End Fragment- and of course, a few surprises along the way…
Born in a warehouse in 2007, Eastern Electrics have long been educating people in how to party. Marking their fifth year as a festival, the Eastern Electrics family are set to make this year their biggest and best outing to date. For any electronic music fan, this is not one to be missed.
Eastern Electrics Festival:
SATURDAY 6TH AUGUST || 12PM – 10PM || HATFIELD HOUSE
Take a Trip Down the Rabbit Hole with…
The Pikes VIP Wonderland
LIMITED FRIENDS OF PIKES £50 TICKETS
GENERAL VIP TICKETS ON SALE NOW FROM £59.95
EASTERN ELECTRICS FESTIVAL AFTER PARTIES:
Egg London After Party || 10pm-10am || Facebook Event || Tickets
Steve Lawler – Dense & Pika – Waifs and Strays – PBR Streetgang – Normski – Geddes – Matt Tolfrey – Jordan Mina, – Willers Brothers – Vinicious Honorio – Kyle E – Derek Dahlarge – Two and Eight – End Fragment
Forum Hatfield After Party || 10pm-6am
Skream – Richy Ahmed – Doorly – Citizenn – B.A.H.Y – Tamer Auf – Stevus – DJM
Eastern Electrics Festival | DAY TIME LINE-UP
TICKETS | Phase 2: £39.95 available from www.easternelectrics.com/tickets/
Main Stage: Seth Troxler * Martinez Brothers * Eats Everything * Hot Since 82 * Richy Ahmed * Darius Syrossian * Colin Chiddle
Skreamizm: Skream * Citizenn * Derrick Carter * Grain (Special Guest) * Waifs and Strays Groove Armada: Groove Armada * Waze and Odyssey * Kolsch * Breach * Felix Dickinson
Viva Warriors : Steve Lawler * Cassy * wAFF * Denney * Detlef * Ceri
Do Not Sleep : Darius Syrossian * Nick Curly * Matthias Tanzmann * Huxley * Bones * Kydus
Black Butter Records : Shy FX * Oneman * Monki * Mele * Bodhi * NVOY * Syv
Star of EE Pub : DJ S.K.T * MJ Cole * Spoony * Artful Dodger * Sam Supplier
Ibiza Rocks House Presents Pikes VIP Village : Tom Findlay * Andy Cato * Severino * Doorly Does Disco * Guy Williams * Bones * Grainger * Special guests TBA
ALL TICKETS AVAILABLE FROM WWWW.EASTERNELECTRICS.COM