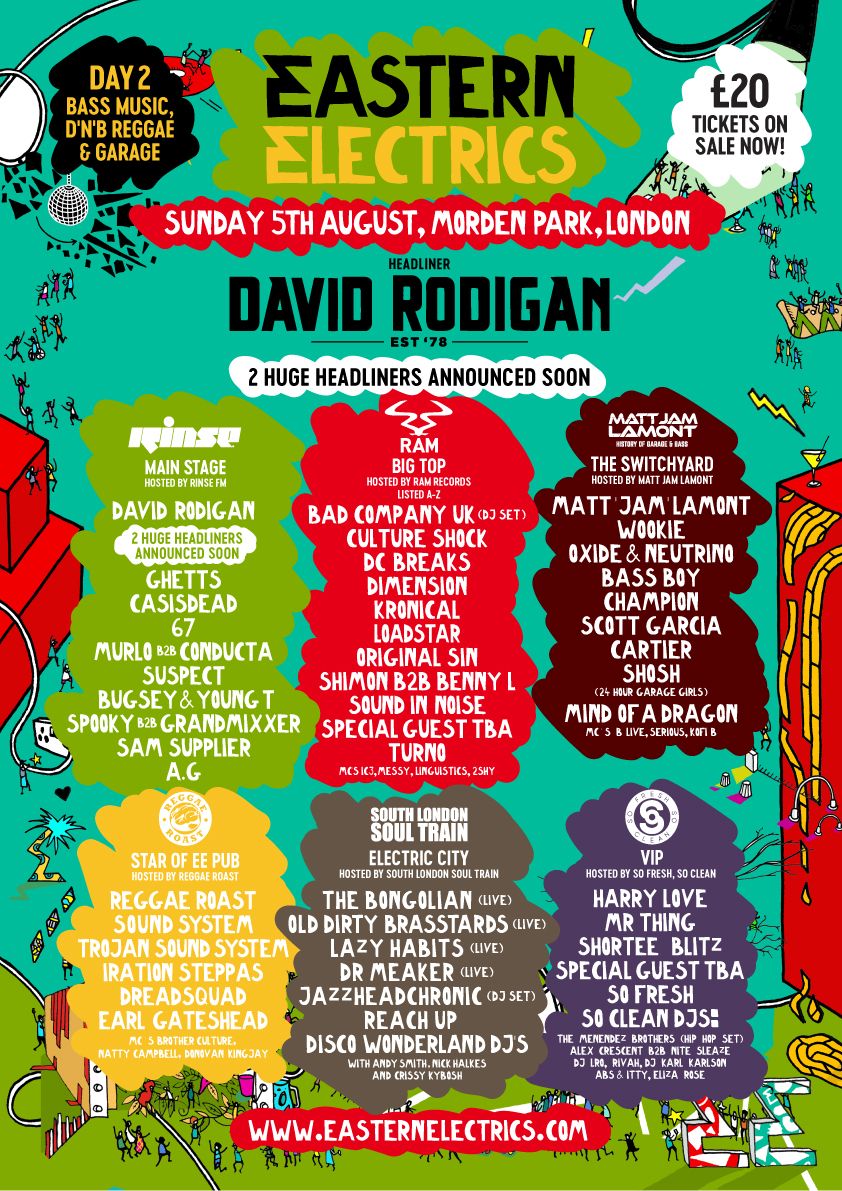 Eastern Electrics announce Sunday line-up
A treat for 2018's edition, Eastern Electrics Festival is extending it's offering into a full weekend affair, now running across 4th and 5th August at Morden Park. Whilst Saturday's outing explores all things house, techno, garage and more – Sunday's outing leans towards reggae, DnB, grime, hip hop, garage, bass and more set across six stages and featuring the likes of David Rodigan, CASisDEAD, RAM Records, Spooky, Grandmixxer, Bad Company UK, Matt Jam Lamont, Wookie and many more, plus two MASSIVE unannounced guests, this is a festival for any underground music head looking for a bass heavy day out. Set in the luscious surroundings of Morden Park, there is no excuse to miss this. Sunday tickets are starting at the unbeatable price of £20 + BF, weekend tickets are also selling fast at £57.50 + BF don't sleep on this.
EE main stage will be hosted by iconic LDN radio station Rinse FM, bringing together a heavy-hitting cast of station friends and fam. Reggae legend David 'Ram Jam' Rodigan, bringing his finest selections of original reggae, showing exactly why he has garnered the reputation he deserves built over forty years in the business. Also making an appearance is one of UK raps most enigmatic figures – CASisDEAD, plus Rinse FM's finest Sam Supplier. East-London's own rapper Ghetts will also be reaching. Speed garage legend Spooky will be joined by Grandmixxerfor what will be an extra special b2b set. Also going b2b are Murlo and Conducta bringing you the best in UKG. There will be plenty of grime artists gracing the main stage also, from Nottingham based grime duo Young T and Bugsey to Prime Audio's Suspect, grime DJ and NTS host A.G completes the bill. PLUS, there are two heavy, heavy headliners still to come – expect one of London's finest crews and another of Grime's finest faces to grace the EE Main Stage. These names will be announced soon, keep your eyes peeled for more info to follow.
Kingpins RAM Records have been leaders of the DnB genre for over 25 years, and EE are hyped to have them hosting The Big Top stage powered by an RC1 Sound System. Expect strictly high energy vibes. Showcasing the best label talent, they will be joined by Bad Company UK, Culture Shock, Dimensions, DC Breaks, Friction, Kronical, Loadstar, Original Sin, Shimon b2b Benny L, Sound in Noise and Turno. Stepping up to soundtrack the affair are MC's IC3, Messy, Linguisticsand 2Shy.
The Star of EE Pub stage will be taken over by Reggae Roast, bring selectors, steppahs and positive vibrations to the South London spot. Joining the Reggae Roast DJs we have Trojan Sound System, Iration Steppas, Dreadsquad, Earl Gateshead, alongside MC's Brother Culture, Natty Campbell and Donovan Kingjay. Next up taking over the Switchyard will be Matt Jam Lamont's History of Garage & Bass, presented my the man, the legend Matt Jam Lamont, joined by Wookie, Oxide and Neutrino, Bass Boy, Champion, Scott Garcia, Cartier, Shosh (24 Hour Garage Girls), Mind of a Dragon. MC's B Live, Serious and Kofi B will also be reaching.
South London institution South London Soul Train will be taking over the Electric City stages featuring a whole host of Live performances from The Bongolian, Old Dirty Brasstards, Lazy Habits and Dr Meaker. Jazzheadchronic will be gracing the decks as well as Reach up – Disco Wonderland DJ's with Andy Smith, Nick Halkes and Crissy Kybosh bringing the old school vibes.
This year's VIP area will be hosted by London based Hip Hop and RnB promoters So Fresh, So Clean. Bringing the finest selections from Harry Love, Mr Thing, Shortee Blitz, So Fresh, So Clean DJ's , The Menendez Brothers (Hip-Hop Set), Alex Crescent b2b Nite Sleaze, DJ LRO, Rivah, DJ Karl Karlson, Abs & Itty and Eliza Rose, Special Guest TBA.
Now a full weekender, Eastern Electrics has established itself as a staple festival for London's clubbing scene. With fairground rides, street food, glitter, cocktails and much more, set i the idyllic settings of Morden Park, there is no reason not to miss this festival. Saturday 4th August sees the best names of house and techno from Skream, Eats Everything, Jamie Jones and many more… Weekend tickets are running from selling fast at £57.50 + BF, Saturday Tickets from £45 and Sunday from £20 – grab a ticket now to secure your place at what will be a weekender to remember.