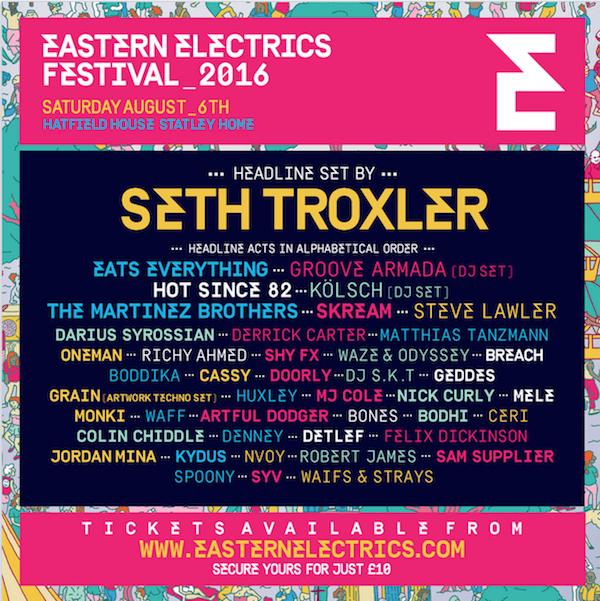 EASTERN ELECTRICS FESTIVAL 2016 : Fifty names and eight stages all revealed with the Eastern Electrics pacman game…
Undisputed party kings Eastern Electrics have long been known for their mischievous ways, always adding a flavour of fun to their much-loved summer outing, taking place this year on Saturday August 6th. Spicing things up, the Eastern Electrics Festival family have decided to announce the seventy international superstars playing this years extravaganza using the #RevEEal game, where players can bit-by-bit piece together the mega set of artists joining across the eight EE stages by chasing the 'EE's around the screen. Undoubtedly the strongest bill to date, players are in for a treat once the code is cracked!
Try it for yourself at www.easternelectrics.com/reveel
For those who can't hang on, you can check our full line-up here. For the third year running, idyllic Hatfield House will be transformed into a playground for big kids, soundtracked by the hottest names from the worlds of house, techno, garage, bass and disco, plus quite a bit in-between. Main stage is headed up by long-standing EE family member Seth Troxler (remember this video?) who'll be bringing his classic deep cuts to ravers with a killer headline set. Delicious duo The Martinez Brothers also join, alongside Bristol badman Eats Everything and house heavyweight Hot Since 82. Another long-term EE friend and Hot Creations affiliate Richy Ahmed joins the Main Stage gang, and find Do Not Sleep's Darius Syrossian spinning, with Art of Dark's Colin Chiddle rounding off proceedings.
Everybody's favourite Croydon boy Oliver Jones aka Skream returns to the Big Top stage for the second year with his Skreamizm crew. All day they'll mix old-skool to nu-skool sounds from the electronic realms with murky techno explorations with Boddika and Artwork's 90's 'Grain' alias. The legendary Derrick Carter joins Skream and the gang, expect a bag full of vinyl classics from the Chicago icon. EE regulars Waifs and Strays also bring their seamless selections to Big Top, as well as the man himself.
Eastern Electrics are chuffed to announce Groove Armada as hosts of the Switchyard, who bring with them an all-star cast of selectors including bumping house duo Waze and Odyssey, Kompact poster-boy Kölsch and Ben Westbeech aka Breach. Expect hi-energy, feel-good sets all round, plus Cynic Music's Felix Dickinson and classic-revivalist Robert James. Viva Warriors will be flexing their muscles at this years instalment, set for a not-to-miss takeover with the Warrior family including Steve Lawler, Cassy and wAFF, as well as Denney, Detlef and Ceri set to get deep with the EE crew.
After incredible scenes last year, EE announce the return of Black Butter Records, who'll bring the bassier flavours to the EE wonderland. DnB master Shy FX, Rinse FM main man Oneman, and leading lady Monki will all represent with an extended host of yet more solid talent, with Mele, Bodhi, NVOY and newcomers Syv. Ibiza lovers are also in for a treat with an arena hosted by favourite White Isle crew Do Not Sleep, headlined by DNS boss Darius Syrossian, then a packed out bill of Do Not Sleep favourites including Nick Curly, Matthias Tanzmann and Huxley, plus Bones and Kydus.
A real gem of the EE arenas, the Star of Eastern Electrics Pub returns with a host of fun-loving and classic acts playing at the cosy stage, including DJ S.K.T, and garage icons MJ Cole, Spoony and Sam Supplier, and a blast from garage past with Artful Dodger. And for those Eastern Electrics ravers after a more VIP experience can discover the myth, the magic and the mystery of Ibiza's most rock'n'roll hotel at the Ibiza Rocks House at Pikes VIP Village. Complete with secret sets and devilishly decadent surprises, the pioneering promoters will transport the essence of Pikes and Ibiza to the festival field for the very first time.
Fairground rides, street food, glitter girls, dress-up tents, hidden forest raves and much more on-site madness takes place in Hatfield House for EE, adding another dimension to the big day out. It's a chance for ravers to lose themselves in a playground for grown-ups, letting go for a day of debauchery. Since their early warehouse party roots in the noughties, Eastern Electrics have grown into a UK clubbing institution, always known for their sense of fun, and no holds barred attitude to partying.
Only a 20 minute train journey from Kings Cross, Eastern Electrics is held in the stunning grounds of Hatfield House, Hertfordshire. With such a short joinery time, Eastern Electrics is accessible from all major UK cities, and with price tags for the whole day starting from just £39.50, EE2016 is not one that could, or should be missed. In the coming months Eastern Electrics Festival will also reveal the line-ups for two after-parties, one taking place locally in Hatfield, and one in London. Details to follow.
Last few £34.95 tickets remaining! To join the biggest celebration of house and techno in the UK festival calendar, head to www.easternelectrics.com
TICKET INFO
£34.95 now available from www.easternelectrics.com | LIMITED £59.95 VIP tickets
LINE-UP BY STAGE
Main Stage
Seth Troxler * Martinez Brothers * Eats Everything * Hot Since 82 * Richy Ahmed * Darius Syrossian * Colin Chiddle
Skreamizm
Skream * Boddika * Derrick Carter * Grain (Artwork) * Waifs and Strays
Groove Armada
Groove Armada * Waze and Odyssey * Kolsch * Breach * Felix Dickinson * Robert James
Viva Warriors
Steve Lawler * Cassy * wAFF * Denney * Detlef * Ceri
Do Not Sleep
Darius Syrossian * Nick Curly * Matthias Tanzmann * Huxley * Bones * Kydus
Black Butter Records
Shy FX * Oneman * Monki * Mele * Bodhi * NVOY * Syv
Star of EE Pub
DJ S.K.T * MJ Cole * Spoony * Artful Dodger * Sam Supplier
Ibiza Rocks House Presents Pikes VIP Village
An all-star secret line-up to be revealed