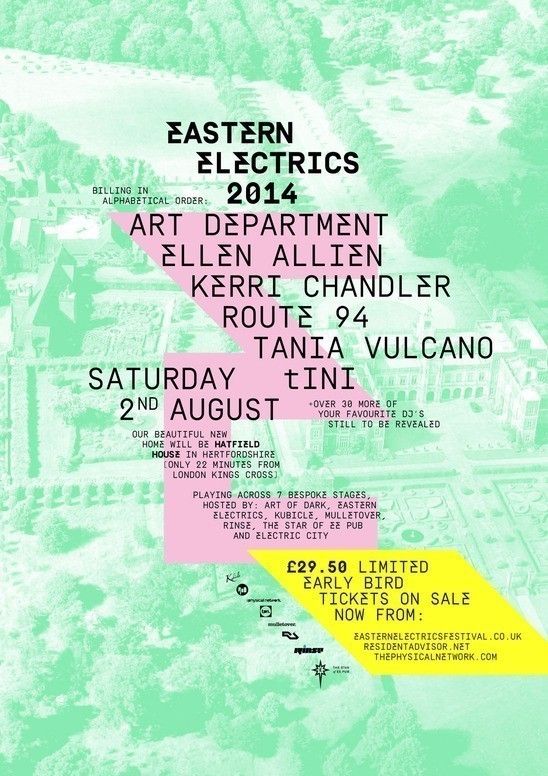 Eastern Electrics Festival announces venue and first six acts…
The UK's premier underground electronic music event Eastern Electrics Festival returns on Saturday August 2nd and has announced the first six names on a lineup that will represent the finest from the UK underground and beyond for one unforgettable all-day party.
Proponents of a low-slung bass-infused house sound, Art Department join the party, alongside BPitch Control head and creative genius Ellen Allien, and deep house luminary and champion of all things soul Kerri Chandler. Chart-topping house upstart Route 94 is on the bill, as is Tania Vulcano, an underground force to be reckoned with, and acclaimed house and techno selector tINI rounds up The Six – but this is only the beginning; Eastern Electrics Festival is curating a lineup of more than 30 acts, soon to be announced.
And now Eastern Electrics Festival can also reveal the location of its new home, Hatfield House in Hertfordshire. Coming to a stately home only 20 minutes outside of London, and only a minute's walk from Hatfield train station, Eastern Electrics Festival celebrates the very best sounds coming from an electronic music scene that has never been so diverse, exciting or innovative. Providing a majestic setting for an inspirational lineup and rousing party atmosphere, Hatfield House is an impressive backdrop – and a solid home for one of the UK's most revered electronic music events.
Promoter Rob Star presents the third annual edition of Eastern Electrics Festival this year: "The feedback from the event last year was so good that it made sense to stay in the Hertfordshire countryside, so we decided to relocate to the beautiful Hatfield House. It's such a great move for us, and comes with the advantage of being right across the road from the train station, so you walk off the train and straight into the festival grounds.
"The new venue also means that we can retain all of the attractions that made last year's event at Knebworth so special, including the Electric City, the fairground rides, the bespoke stages and our favourite pub the Star of EE. Hatfield House ticks all the boxes for us and we're certain that this will be the first of many Eastern Electrics Festival events here. Welcome to your new EE home!"
Plus, the Eastern Electrics Festival faithful can extend the festivities with a monster after-party at The Coronet Theatre. More information for that coming soon… Tickets are on sale now, starting at £15.
www.easternelectricsfestival.co.uk
www.facebook.com/easternelectrics
www.twitter.com/EElectrics
Eastern Electrics Festival 2014
Saturday August 2nd
11am-10pm
Hatfield House
Hatfield Park
Hatfield
AL9 5NQ (Foot entrance/drop-off point) / AL9 5PH (Car/Vehicle)
www.facebook.com/easternelectrics
Lineup so far (listed alphabetically)
Art Department
Ellen Allien
Kerri Chandler
Route 94
Tania Vulcano
tINI
and many more still to be announced…
Stages
Art of Dark | Eastern Electrics | Kubicle | mulletover | Rinse | | Star of EE Pub | Electric City
Tickets
The first release of early bird tickets has just dropped – get them now before they sell out.
Standard Tickets – £29.50-£59.50
VIP Tickets – £79
(A VIP ticket ensures fast-track entry in to the event, a dedicated VIP area with exclusive DJ sets, chill out area, bar and boutique food stalls.)
After-Party
The Coronet Theatre
Tickets from £15
www.easternelectricsfestival.co.uk
www.residentadvisor.net
Sign up to sell tickets and get your own for free here: www.thephysicalnetwork.com