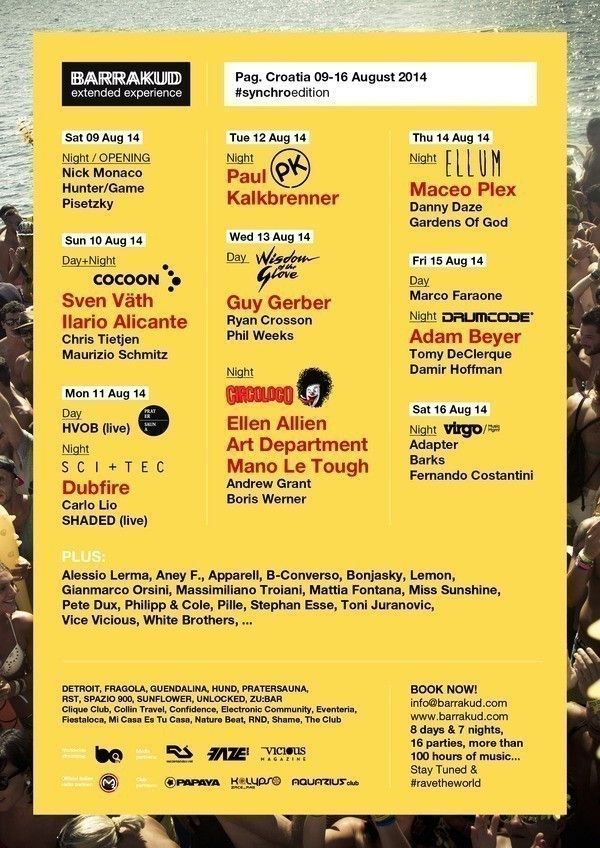 Barrakud Festival reveals complete line-up for 2014
Barrakud invites you to the breathtaking island of Pag to experience the latest jewel in Croatia's festival crown. Taking place from 9 – 16 August, the Barrakud Extended Experience brings together an impressive array of acts at the forefront of today's electronic music scene, for 8 days of sun-drenched parties by the sea.
New acts revealed today include techno superstar Paul Kalkbrenner, Visionquest's Ryan Crosson, Dirtybird associate Nick Monaco, Italian duo Hunter/Game and a live set from Vienna-based electronic project HVOB. These acts, along with a whole host of new acts revealed today, will join a selection of electronic music's finest already announced to play at the festival, including Adam Beyer, Art Department, Ellen Allien, Guy Gerber, Mano Le Tough, Maceo Plex and Sven Väth. Without further ado, here is the complete line-up for Barrakud 2014.
PAUL KALKBRENNER / ADAM BEYER / DUBFIRE / GUY GERBER /
ILARIO ALICANTE / MACEO PLEX / SVEN VÄTH
CIRCOLOCO FEAT:
ELLEN ALLIEN / ART DEPARTMENT / MANO LE TOUGH /
ANDREW GRANT / BORIS WERNER
ADAPTER / BARKS / CARLO LIO / CHRIS TIETJEN / DANNY DAZE /
FERNANDO COSTANTINI / GARDENS OF GOD / HVOB (LIVE) / HUNTER/GAME / MARCO FARAONE / MAURIZIO SCHMITZ / NICK MONACO / PHIL WEEKS / PISETZKY / RYAN CROSSON / SHADED (LIVE) / TOMY DECLERQUE
ALESSIO LERMA / ANEY F / APPARELL / DAMIR HOFFMAN / GIANMARCO ORSINI / LEMON / MASSIMILIANO TROIANI / MATTIA FONTANA / PHILIPP & COLE / TONI JUNAROVIC B2B BONJASKY
More than 15 hours of music a day from a world-class selection of international DJs and globally renowned labels and parties including Cocoon, Ellum Audio, Circoloco and Wisdom of The Glove all topped off with exhilarating beach parties, poolside revelry and open-air clubs, Barrakud is the ultimate experience for electronic music lovers. The festival line-up is carefully curated with no clashing acts so you can be sure to see all of your favourite artists and never miss a thing.
#SYNCHRO
The theme of the 2014 edition of Barrakud is SYNCHRO. When music lovers come together to share an experience they connect not only with the music but also with one another. The beats and vibrations of the dancefloor are absorbed into the body as their movements, breath and heartbeats synchronize as one. This is the magic of Barrakud's Extended Experience.
8 days and 7 nights
16 parties, more than 100 hours of music…
Stay Tuned and #ravetheworld on http://www.barrakud.com
Book your place now: http://www.barrakud.com/book-now/