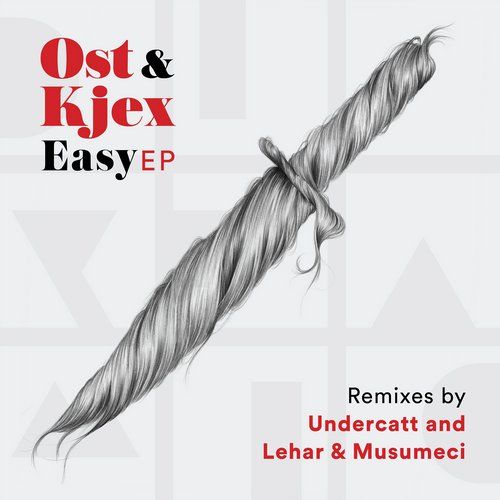 Ost & Kjex - Easy
Ahead of their much anticipated full album "Freedom Wig" – out on Diynamic in November – Ost & Kjex serve up a brand new teaser single on the label. The brilliantly woozy track "Easy" featuring Jens Carelius comes with remixes by Diynamic's new talents Undercatt and fellow Italians Lehar & Musumeci.
In original form, "Easy" by Ost & Kjex is a deep and broody song with delicate, intimately whispered vocals by Jens Carelius, playful, colourful little synth motifs and rainy melodies. There are no beats, instead the song gently flows to and fro and really sucks you in.
For those who are missing some proper dance music on this release, here it comes: The Undercatt remix flips the track into a more club ready tune with rubbery beats and soaring synth lines that will really see it soar in clubs. Then Lehar & Musumeci add their own deep drums, slick grooves and moody atmospheres to the track for their remix.
This new single is a brilliant one and really bids excitant before the full album in November.
Norwegian pair Ost & Kjex are Petter Haavik and Tore Gjedrem and over the last ten years they have contributed many great cuts to the Diynamic discography. As well as this they have released on Punkt Music and Luna Flicks and are known for their playful, off kilter sounds.
Apart from their solo work, they have been assiduous collaborators with big league names such as Jamie Jones, Solomun or H.O.S.H. Their second album earned them a nomination for the Norwegian Grammy and Sir Pete Tong himself has picked them as his Future Stars of Norway.
And not to forget, in a scene where a lot of artists are ever so serious, it is very refreshing to see the guys with a wink and a smile in their face, much to the appreciation of their long time followers.
This release is accompanied by an international album release tour, which is bringing their unique sound to world renowned venues such as Watergate (Berlin, DE), Indigo (Istanbul), Harry Klein (Munich, DE) and Culture Box (Copenhagen, DK), amongst many others.
The purest way to enjoy your dose of Ost & Kjex is during their mesmerizing live shows. The combination of their unique characters, the powerful live vocals and the signature Ost & Kjex sound make a mix so memorable, they just stick.
Ost & Kjex – Freedom Wig Album Release Tour
So far confirmed tour dates – more to come!
11.09.2015 Culture Club Copenhagen, Denmark
19.09.2015 BOZAR Brussels, Belgium
02.10.2015 The Cat & The Dog Tel Aviv, Israel
10.10.2015 Badaboum Paris, France
15.10.2015 Mediahaven Amsterdam, Netherlands
24.10.2015 Sentrum Scene Oslo, Norway
30.10.2015 Indigo Istanbul, Turkey
06.11.2015 Club Vaag Antwerp, Belgium
07.11.2015 The Villa Oslo, Norway
13.11.2015 Watergate Berlin, Germany
28.11.2015 Harry Klein Munich, Germany
11.12.2015 Opium Club Vilnius, Latvia
19.12.2015 Hive Zurich, Switzerland