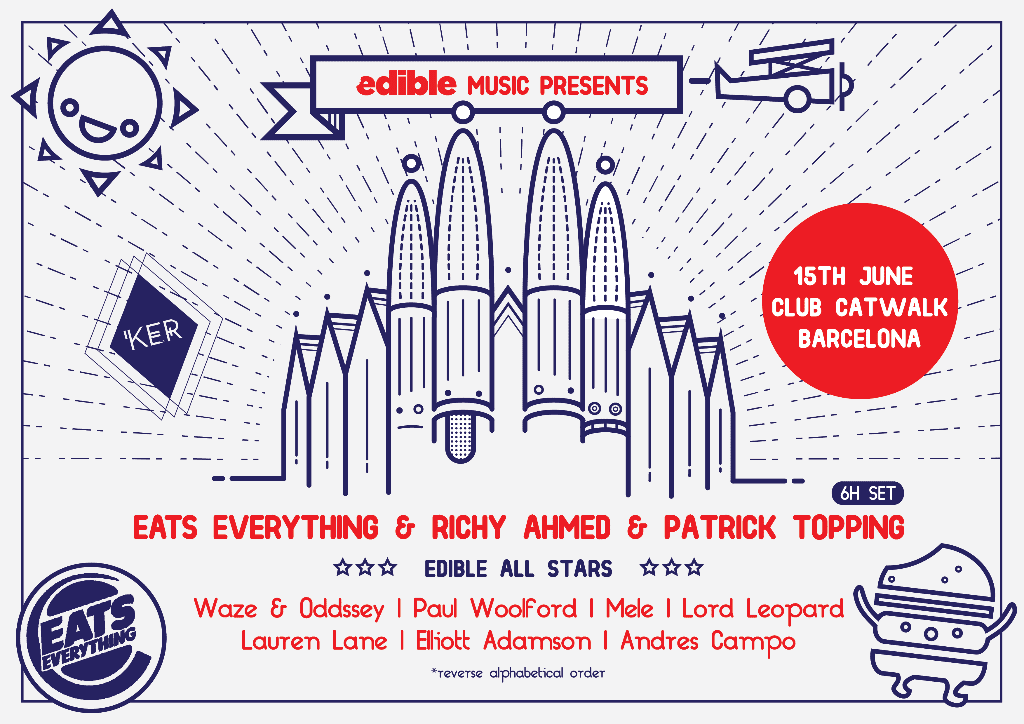 Eats Everything debuts Edible party in Barcelona
Sign up to access priority tickets, and be entered into the draw to win an apartment for 4, guestlist to the show + Eat's drinks rider.
Acclaimed DJ and producer Eats Everything will be bringing his label and event brand Edible to Barcelona for OFF week this summer alongside Spanish promoters KER.

It's the European debut for the label's event series and will act as a showcase for the talent the label has seen so far – Melé, Waze & Odyssey, Lord Leopard and Lauren Lane – alongside Eats' close friends Patrick Topping and Richy Ahmed. There's also a very special guest set from Paul Woolford, who will be joining the Edible crew at the Catwalk Club decks. It'll also be a special event as it's the first time Eats, Richy and Patrick will officially all be performing back to back at once together.

The party marks another a big year for Eats and Edible, with both releases and parties gathering pace. Eats kicked 2017 off with a slot on BBC Radio 1's acclaimed Residency series, and he is looking forward to another hectic year of gigs, taking in the international elrow parties, Snowbombing, and Lost & Found to name a few, not to forget a busy summer of Ibiza dates still to come.
---
Eats Everything debuts Edible party for OFF week

June 15th, Catwalk Club
TICKETS GO ON SALE MONDAY 3RD APRIL

EATS EVERYTHING B2B PATRICK TOPPING B2B
RICHY AHMED
PAUL WOOLFORD
MELÉ
WAZE & ODYSSEY
LAUREN LANE
LORD LEOPARD
ANDRÈS CAMPO
Sign up for pre-sale tickets here: www.eatsmeetsbarca.com