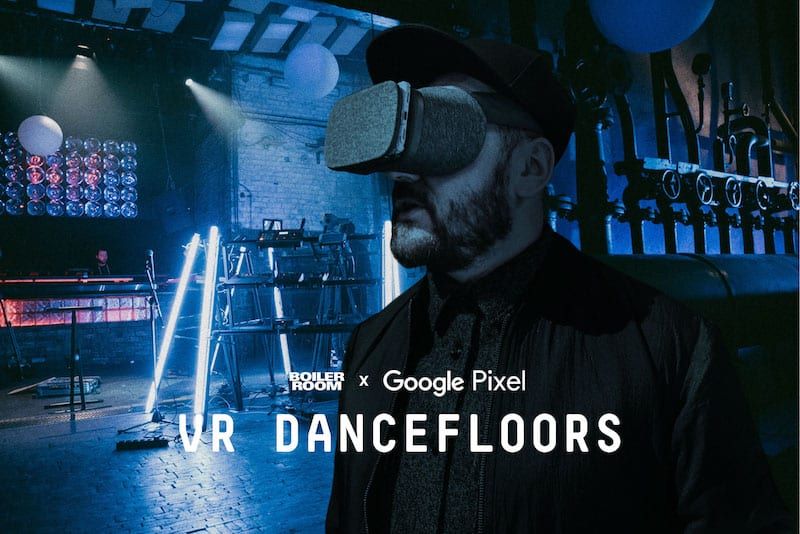 Boiler Room and Google Pixel Announce 'VR dancefloors: Techno in Berlin'
Boiler Room, the pioneer of contemporary music entertainment and leading technology company Google have collaborated to create 'VR dancefloors: Techno in Berlin' an immersive music Virtual Reality experiment that gives underground music fans unique and unprecedented access to club culture in Berlin.

The experience is designed to be enjoyed on Pixel, the first phone by Google, a device optimised for VR.
Going beyond traditional 2D digital experiences, VR dancefloors: Techno in Berlin represents a new entertainment synthesis, with engrossing interactive elements of immersive theatre, computer game narrative, music TV broadcast and installation art. The 15 minutes long experience was filmed in the industrial environs of a typical Berlin nightclub featuring a live-electronics set by Berliners FJAAK, who played from a range of analogue hardware.

With narrative and spatial immersion, viewers can 'choose their own adventure' and be transported right into the middle of a cast of 150 of Berlin's most dedicated ravers from a host of subcultures. Viewers can explore a variety of interaction points to discover the dance floor, audio-visual art installations, the artists or the darkroom by using the Daydream View controller. The experience will give participants the ability to move within a live action VR shot that captures and celebrates Berlin club culture.

From the early days of broadcasting DJ sets on a WebCam from a Hackney warehouse, Boiler Room's mission has always been about finding ways to give millions of people across the Globe access to the most exciting hyper local scenes in the world.

Steven Appleyard, CBDO of Boiler Room says: "Boiler Room's MO has always centred around using the latest accessible technology to unite online audiences around real-life music moments. This is why VR excites us: it represents the next stage of immersive, interactive, online music experience. With the help of Pixel and the Daydream View headset, now we can transport anyone into the middle of a packed sweaty dance floor anywhere in the world."

Google has always been about giving people access to information and through the partnership with Boiler Room, a leading figure in music entertainment, together both parties are able to give people unique and immersive access to music culture by the means of Google Pixel, a phone designed for VR. Combining forces, Boiler Room and Google Pixel have created a unique immersive piece of VR content. In the spirit of making unique cultural moments widely accessible, this project will allow Boiler Room's audience and the growing number of Pixel and Daydream users to drop straight into the heart of the action.

The experience is available for free, globally on Daydream, Google's high quality, mobile VR platform as part of the Boiler Room takeover of the Inception app.