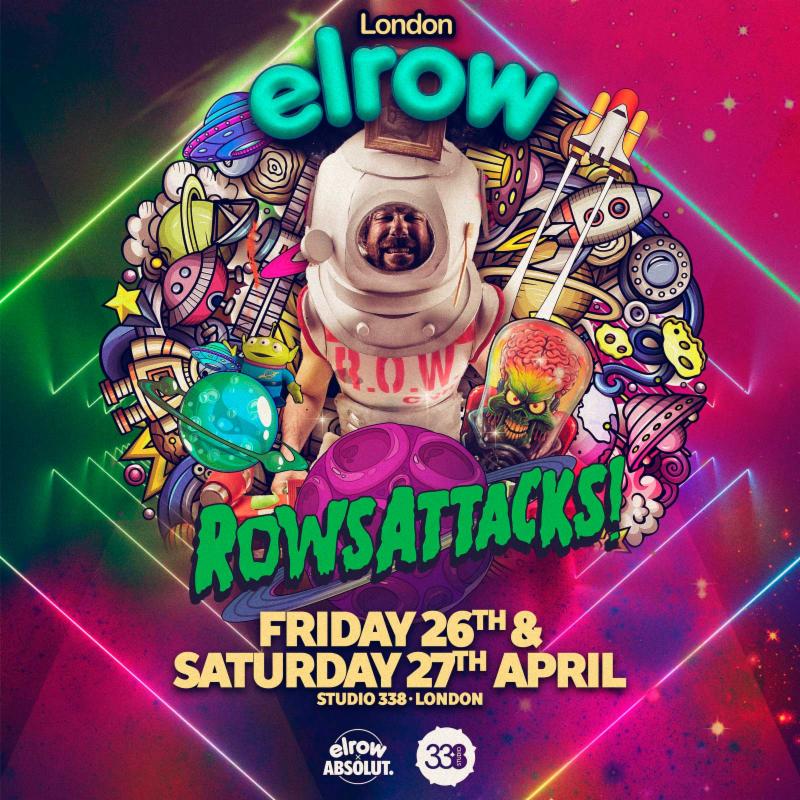 Eats Everything, Ilario Alicante And Erick Morillo To Headline Festive Studio 338 Shows
After announcing a highly-anticipated return to Studio 338 this month, elrow lock in huge headliners, Eats Everything, Iliario Alicante and Erick Morillo, to mark the occasion, with further 2019 dates unveiled.
Considered elrow's spiritual home in London before suffering a major fire and closing down, Studio 338 welcomes the party for the first time since reopening with revamped production, sound and design, and the headliners guarantee a triumphant return.
Eats Everything needs little introduction, he's one the world's most iconic, modern day DJs, and he'll be taking the reins on Friday 28th December for a 4 hour set that will demonstrate why he's one of the most in-demand dancefloor kings, while VIRGO head honcho Iliario Alicante touches down on Saturday 29th December, famed for his meticulous selections and unparalleled reading of a crowd. Sunday 30th December belongs to Erick Morillo, one of dance music's most legendary and influential figures, who will undoubtedly leave party-goers blown away by his unrivalled musical knowledge stretching across decades. All headliners will be flanked by an exciting array of supporting names too, including Melé, Mason Maynard, Nyra, Maze & Masters, Toni Varga and De La Swing for the perfect post-Christmas tonic.
With all festive shows selling out in rapid time, elrow have announced further dates at Studio 338 for 2019. Taking place on Friday 26th April and Saturday 27th April, out of this world theme RowsAttacks will make its UK debut, time-warping attendees to Planet elrow. Set thousands of years in the future, Earth may be history but all your favourite sci-fi characters are seeking out the best party in the galaxy and, amongst soaring flying saucers and friendly aliens, you'll battle to bring fun back to the solar system against the evil Planet Sensible.
These shows will sell out. Presale tickets will be available from midday on 28th December.
Sign up for access by clicking 'Get Started' on Messenger and select London:
http://BIT.LY/ELROWFB
Or sign up via email here:
http://bit.ly/rowsattacksLondon
FULL STUDIO 338 LISTINGS:
Friday 28th December 2018
15.00 – 03.00
Room One
Eats Everything (4 hour set)
Melé
De La Swing
Eddy M
Maze & Masters
Room Two
Nyra
The Menendez Brothers
Saturday 29th December 2018
15.00 – 03.00
Room One
Ilario Alicante (4 hour set)
Andrés Campo
Marc Maya
Tini Gessler
Nyra
Room Two
The Menendez Brothers
Teddy Lewis
Ismail
Viraj
LRO
Sunday 30th December 2018
15.00 – 03.00
Room One
Erick Morillo (4 hour set)
Mason Maynard
Toni Varga
George Privatti
The Menendez Brothers
Room Two
The Menendez Brothers
Teddy Lewis
Ismail
Viraj
LRO
Friday 26th April 2019
20.00 – 05.00
Lineup TBA
Saturday 27th April 2019
15.00 – 03.00
Lineup TBA
ABOUT ELROW:
elrow is an award-winning experiential event concept and party series founded in 2010 by Cruz and Juan Arnau Lasierra; the sixth generation from a dynasty of entrepreneurs also responsible for creating Monegros Festival and legendary Club Florida 135 in Fraga, Spain. From their head-quarters in Barcelona, elrow have taken the world by storm with their unforgettable party style, pairing elaborate production, interactive performers and zany characters with the best electronic music, placing them as a global reference for circus inspired parties with tickets to the visual spectaculars usually selling out in minutes. A myriad of different themes and concepts makeup elrow's zeitgeist with sub-brands including 'Rowlympics'; their own take on the Olympic games, their Brazilian jungle carnival theme, 'Sambodromo de Brasil' and flag-ship theme 'Singermorning'.
With lauded residencies in Ibiza, Madrid, London and Amsterdam already in place, 2017 has seen a game-changing partnership with live entertainment platform, Providence-Superstruct, allowing elrow to push to new heights with a Shangai debut and a festival-scale event at the Queen Elizabeth Olympic Park in August.
LINKS & FURTHER INFO
www.elrow.com
www.facebook.com/elrowofficial
https://twitter.com/elrow_
www.youtube.com/user/ElRowChannel
www.instagram.com/elrowofficial