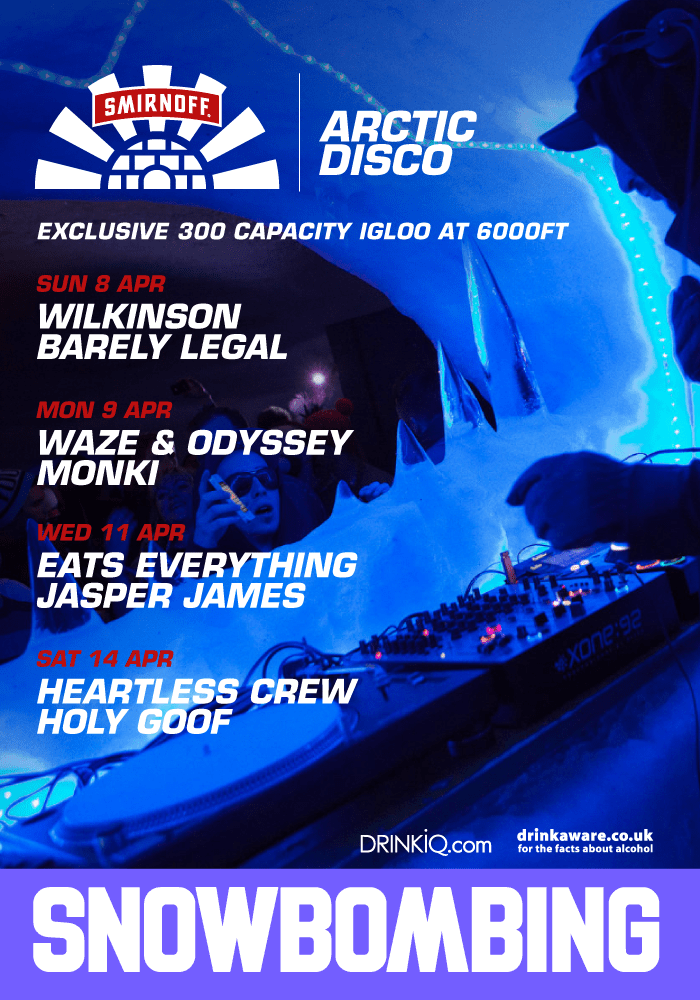 Eats Everything, Wilkinson, Waze & Odyssey And More Announc
Set to bring an unforgettable party to Austria's picturesque Mayrhofen mountain top,Snowbombing 2018 have unveiled the details of the Smirnoff Arctic Disco, a unmissable spectacle regarded as the coolest show on earth.
Taking place on top of the Ahorn mountain, decorated with incredible panoramas, the 2018 Smirnoff Arctic Disco will bring a unprecedented night of raving in one of the world's most breathtaking venues. Complete with two ultra-cool dance areas, three carefully crafted bars sculpted entirely from ice and snow, and decked out with luxurious fur rugs, the super exclusive spectacle will cater to an intimate crowd of 300 lucky Snowbombers, all in an igloo at 6000ft.
No stranger to Snowbombing Festival, DnB supremo Wilkinson will kick off the party on Sunday 8th April in his debut Arctic Disco session, joined by bass-heavy Barely Legal, setting an incredible precedent for the week ahead. Following the inaugural 2018 Arctic Disco, Bump N Grind House heroes Waze & Odyssey are set to storm the igloo with Radio 1's dextrous DJ Monki for a blinding masterclass in euphoric vibes on Monday 9th April.
Also appearing in the coveted igloo will be Eats Everything, a rebel DJ promising one of the most energetic and exciting raves of the week, following his mind-blowing debut diso performance in 2015. Eats Everything is joined by the up and coming Glaswegian tearway Jasper James for an unforgettable night on Wednesday 11th April, with Heartless Crew and Holy Goof closing the experiential arctic party on Saturday 14th April.
Offering once in a lifetime experience to sip on a rich concoction of cocktails while listening to the world's best DJs atop Ahorn mountain, tickets for this unforgettable arctic affair for VIP ticket holders are on sale now, with general sale tickets following on Friday 16th February. Eager Snowbombers are encouraged to book as soon as possible due to the igloo's exclusive capacity.
ABOUT SNOWBOMBING
Explain Snowbombing? Where to start… Mayrhofen, Austria, that's where. A festival up a mountain 8,497 FT above ordinary in the finest ski resort in Europe, sprinkled with world class acts, insane venues (think Igloo rave, enchanted forest party, tennis club turned super club). Blue runs, black runs, beer runs… And more? Add Mr. Motivator, throw in a pool party, a celebrity butcher named 'Hans', whack a luxury jacuzzi on every other rooftop, stand back and survey the majesty. If it's good enough for Idris Elba, it's good enough for you. As Liam Gallagher brilliantly summed it up: "there's no business like Snow business".
CONNECT WITH SNOWBOMBING
http://www.snowbombing.com
https://www.facebook.com/snowbombing
https://twitter.com/Snowbombing
http://instagram.com/snowbombingofficial
http://www.youtube.com/snowbombing
https://soundcloud.com/snowbombing-festival