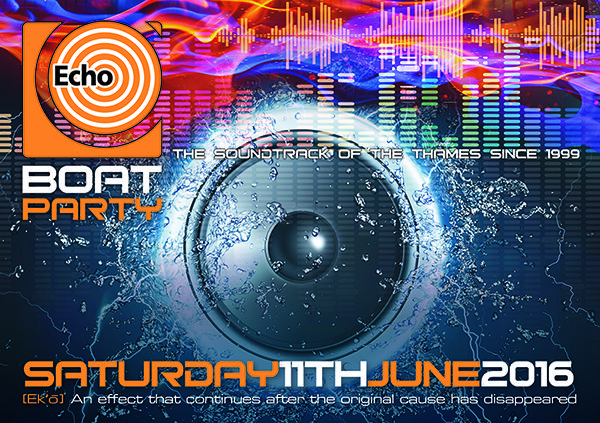 Echo Summer Boat Party
Echo Boat Parties: The Soundtrack of the Thames since 1999
HOUSE RULES ROOM: Steve 'Boom!' Brennan / Al Jamieson / BongoBeatz (DJ set) / Vickerz & Miley / Rich Piper / Steve Furmston / plus live percussion from BongoBeatz
TRANCE & PROGRESSIVE ROOM: Ashley Waters / Beaumont & Round / Dr Duzzit / Ben Alonzi (vinyl Trance Classics set) / Andy Atkinson / Michael James
THE BOAT: We're aboard your favourite – the Golden Jubilee. 2 floors of music, 2 bars, and a large sundeck.
THE PIER: The boat departs from (and returns to) Templer Pier, Victoria Embankment, London WC2R 2PN. The party starts at 4.45pm. We leave as soon as the boat is loaded. We return at 10.45pm.
OUR HISTORY: Echo is not advertised at all and has been built up solely by word of mouth recommendations. If you've heard about us, it was almost certainly by a friend of yours telling you what a great time they'd had. Our boat parties are an entirely different experience to club venues, with a special and unique atmosphere. This is something we have been carefully cultivating at Echo for the last 17 years – and we think you'll love the result.
AN OFFER FOR ECHO REGULARS OLD & NEW: Buy a ticket for any 2 of our first 3 Echo boat parties of 2016 (17th birthday on April 30th, summer boat parties on June 11th & July 23rd) and get entrance to our brand new Classics & Old Skool Echo boat party on September 10th for just £15! That's more than 30% off the usual price!
EVENT PAGE: https://www.facebook.com/events/224615814561823/
TICKETS: £22 available from our Box Office at https://www.fatsoma.com/echo
INFO, PHOTOS, VIDEO & MUSIC:
https://www.facebook.com/groups/echo.uk/ // http://www.facebook.com/echoclub // http://echoclub.wordpress.com