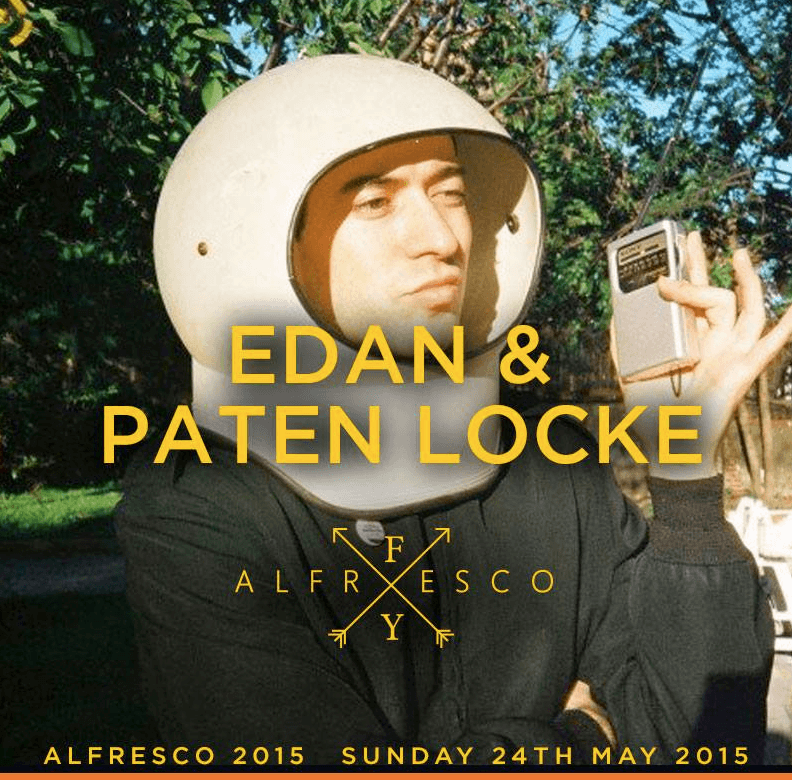 Edan & Paten Locke confirm headline slot at Alfresco Festival
Edan & Paten Locke jet in to Blackpool from the states to present their unique take on hip hop culture where traditional rap songs are often mixed with samples, effects and foreign language. The world class performers boast skills that fit perfectly together as DJ, MC, Rapper, Beat Producer, Turntablist, Songwriter. The dynamic duo have already played at Blackpool's Cricket Club, but this time they return not only as the headliners of the Alfresco main stage but of the festival itself. Expect a formidable live show of mind blowing energy, hip hop, psychedelia, dance, rap and a splash of humour.
Edan and Paten Locke will be supported by Shit Robot, Finitribe w/a Finiflex Production, Hackney Colliery Band, Morgan Hammer, Section 25, 2 Billion Beats and 7″ of Bliss. The main stage in the marquee will feature twelve hours of diverse acts for Alfresco's 5th edition.
Alfresco all day festival also features many acts and performers who will be making their debut in Blackpool including a balearic stage hosted by London based: We Are The Sunset featuring Soft Rocks, Chris Duckenfield, Phil Mison, Joe's Bakery and Andy Taylor.
The huge Igloo tent will be showcasing London's Nein Records home of Tronik Youth and many British and European underground electronic acts such as Richard Norris, Craig Bratley, Haules Baules, Gemini Brothers, Clandestino and Terry Childs.
The Alfresco family tent have pulled out all the stops for the little people this year, with eight hours of non stop quality entertainment including arts and crafts, circus and science workshops, theatre shops and singers, glam up and face painting, a life size baby T-Rex Robotron and that's just for starters.
The AAA late stage and festival after show finale ticket includes "A Love From Outer Space" iconic chug pioneers, Andrew Weatherall and Sean Johnston who will be headlining the main room downstairs. Whilst first lady of dance music Nancy Noise, Ben Pistor of Disco Bloodbath fame and Ruf Dug will be DJing on the top floor of the private Cricket Club.
The festival kicks off with a free Saturday night pre party in the Marquee and clubhouse from 8 pm – 2 am with Gemini Brothers, Rich Lane, Martin Brew, Jonah Considine, Discordance, Marc Hasler, Jock Lee.
Early bird festival tickets have sold out, next release from £17.50 – £25.00 now available http://bit.ly/1xLNKoF