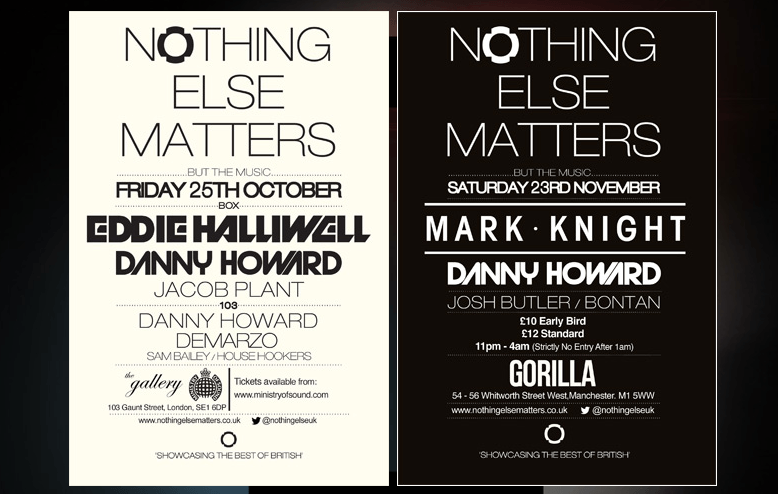 Eddie Halliwell and Mark Knight to launch Danny Howard's "Nothing Else Matters… But The Music"
Expectations for Danny Howard's new "Nothing Else Matters" night are big – bigger than the Blackpool's Big Dipper and perhaps even Big Ben. A project that showcases the very best in musical talent that our fine country has to offer demands a launch that'd rival the Olympic opening ceremony and luckily, Danny's arranged just that.
Not content with just one opening night, Nothing Else Matters is starting as it means to go on by launching two huge, home-grown line ups at two of the most iconic locations that our music scene has to offer.
Friday 25th October will see legendary London club Ministry of Sound play host to the first serving of Nothing Else Matters with a line up that boasts more British talent than a cupboard full of Marmite. Nominated by Mixmag as one of their "Greatest DJs of all time", Eddie Halliwell will be overseeing a monster roster that includes Danny Howard, Jacob Plant (Fly Eye Records), DeMarzo (Hot Creations) and Sam Bailey, all looking to destroy The Gallery's dance floor and claiming they did so with the best of British intentions.
Danny's then giving us chance to catch our breath before his next little soiree. Saturday 23rd November will see Toolroom head honcho Mark Knight stationed behind the decks at Gorilla in Manchester, backed up by a hand-picked, crack-team of UK talent in the form of Josh Butler (MTA Records), Bontan (Kraftek & Toolroom) and of course, Danny Howard. As the spiritual home of the UK dance scene, Danny's Northern contingent will have a fair old reputation to live up to on the launch night, but with a line up like this – we can't see it being a problem.
Make no mistake, as British as a brew and a plate of biscuits, this is just the beginning of a musical crusade led by Danny Howard that promises to represent the cream of the UK dance music scene. Armed with a jackin' union of beats, bass and talent, get ready for something rather special, and remember: Nothing Else Matters… But The Music.
Nothing Else Matters reveal video:
http://youtu.be/cqKRQkv6Ki0
Tickets for the Ministry of Sound date are available here at a special discounted £10 rate:
http://www.ministryofsound.com/club/event/1196/1264/gallery-10-link-the-gallery
Earlybird £10 tickets for the Manchester date are available here:
http://www.skiddle.com/e/11979062/
http://www.nothingelsematters.co.uk/
http://www.djdannyhoward.com/
https://www.facebook.com/dannyhowarddj
https://twitter.com/djdannyhoward
https://www.facebook.com/nothingelsemattersNEM
https://twitter.com/nothingelseuk