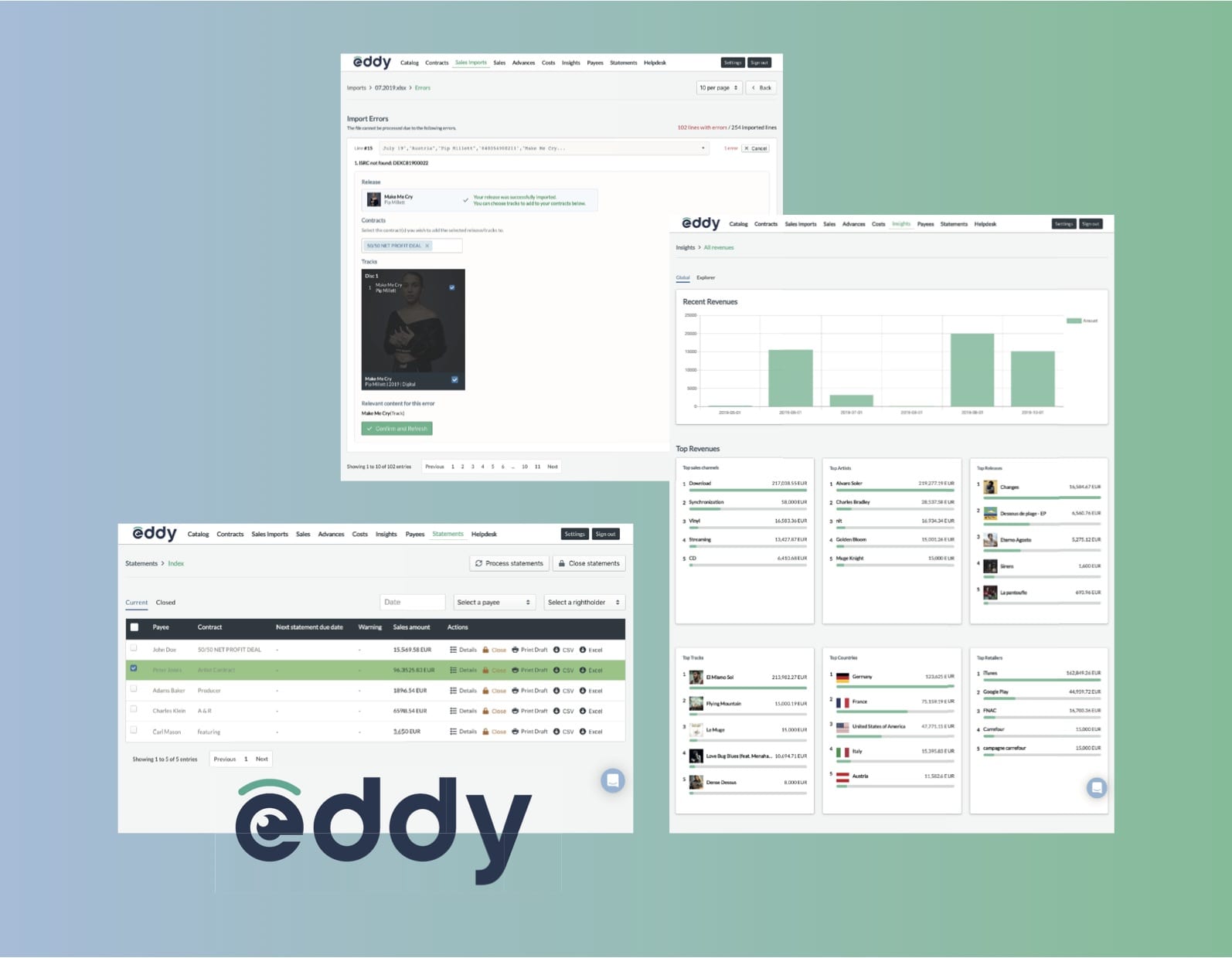 Eddy App launches – a new label and artist royalties management software for UK
Rights'Up launches Eddy.App, the royalties management solution that will revolutionise the day-to-day life of independent music labels
Brussels 7 November 2019. The founders of Rights'Up launch Eddy.App, a new software allowing independent labels to concentrate their time and efforts on their core business: managing their artists' careers. With this innovative solution, Rights'Up wants to offer labels the possibility to save precious time by managing artists' royalties seamlessly and transparently.
"We designed this platform to help independent labels have a clear and simple vision of their artists' royalties, therefore enabling them to spend more time on their artists' careers and to define a trusting relationship based on transparency". Damien Morjane, co-founder of Rights'Up start-up.
Successful entrepreneurs passionate about their sector
Belgian start-up Rights'Up was founded in 2012 by two key players of the Brussels music scene: Damien Morjane and Quentin Verhaeghe. Rights'Up is used by clients from +40 countries. The platform gives labels and artists access to user-friendly technology that makes it simple to register and collect music rights. 
This offer has bowled over major players of music distribution, including,  Believe. Besides, the company also manages a broad catalogue including releases from internationally-renowned artists  (Johnny Cash, Dj Tiësto, Philip Glass, Alvaro Soler, Nils Frahm, Jack Johnson, Lomepal, J Balvin & Willy William, BadBadNotGood).
Eddy.App, a software to strengthen label/artists relations
With its user-friendly portal and features designed for independent labels, the new software enables structures (record labels, music companies, etc) to easily create and share transparent royalty statements with their artists. These elements allow both parties to exchange clearly and transparently on the revenue they are owed.
Why do labels opt for Eddy.App
–       Time saving: With Eddy.App, the days of spending endless hours behind spreadsheets risking potentially-biased results because of the merging of documents is now a thing of the past. Eddy automatically classifies revenue from sales statement across.
–       Easy to use: The solution developed by the Belgian start-up boasts an extensive and easy to tame user experience.
–       Transparent: Eddy.App allows labels to share royalties figures with their artists, completely transparently.
–

       

Flexible: Thanks to its versatile reporting, Eddy.App allows labels to adapt to the needs of artists.
–

       

Pricing: The start-up offers its product at an attractive rate on a very competitive market.
Eddy.App proposes three packages ranging from €29 to €189 depending on the features provided to labels. The software allows importing artists' catalogues quickly and offers an assistant to correct sales imports errors. The tool also provides artists with statistics and online royalties reports. Moreover, it's possible to adapt reporting according to each separate contract (monthly, quarterly, half-yearly or "upon request").
Eddy.App is the latest product of the Right's Up, a royalties management software. Launched in 2019 by young entrepreneurs Damien Morjane and Quentin Verhaeghe, Eddy.App is based in Brussels, Berlin and New-York. Follow Eddy.App on Instagram @eddy.app, Facebook @eddyroyalties, on LinkedIn @eddyapp