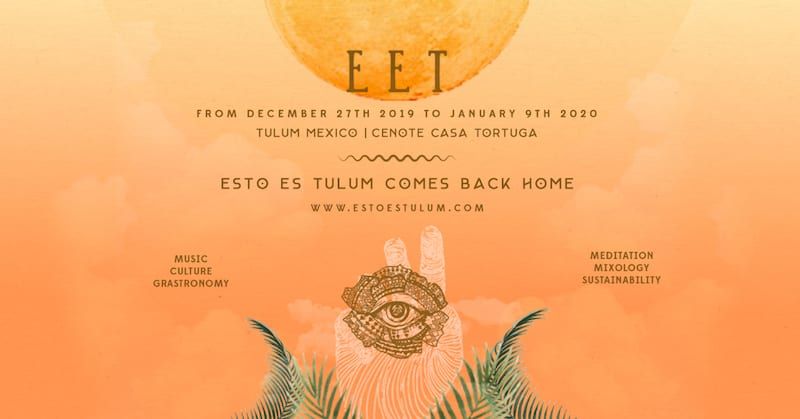 EET Reveals Full Program With Seth Troxler, The Martinez Brothers, Pete Tong, Tiga + Many More
Esto es Tulum has outlined the full agenda for its 2019-20 edition, taking place from December 27-January 9, with some of the world's most recognisable DJs and clubbing brands locked in to perform at the immersive cenote festival.

With a total of eight parties across the period, things kick off on December 27 with iconic Ibiza clubbing brand Space, who brings a flurry of superstar DJ talent to Mexico, including New York house legend Roger Sanchez, Turbo Recordings label-head Tiga plus M.A.N.D.Y and Sharam to Mexico.

Two days later on December 29, MDRNTY comes to EET, a brand dedicated to throwing electronic music parties in weird and wonderful places, including ski resorts, cruise ships and hot air balloons. The lineup includes South American selector Guti, Moon Harbour label-head Matthias Tanzmann and German artist Martin Buttrich.

EET goes big for NYE, bringing dance music icons The Martinez Brothers to the festival to rein in the new year in the way only they know how. Since first hitting the road at ages 15 and 17, The Bros have gone on to sell out some of the world's largest venues, performing regularly in hotspots like Ibiza and quickly rising to become leaders of the dance music new school.
The first party of 2020 is an EET & Friends affair on January 2 that sees BBC Radio 1 royalty Pete Tong make the trip across the Atlantic, along with Way Out West's Nick Warren, rising talents such as Greek DJ Angelo, Kintar, Javier Gonzalez and Treceveinte Live, among others.

The following day, even more electronic icons make their way to EET for a CVΛ party with experimental artist Actress, Hot Creations co-founder Lee Foss and Detroit favourite Seth Troxler, with more names still to be announced.
The amazing ANTS then bring the colony vibes to EET on January 5, with mainstays Francisco Allendes and Paco Osuna joined by ViVa Music label boss Steve Lawler and the Coachella-slaying Fisher.

Local promoter Vatos Locos then hosts DEEP DISH, the legendary electronic duo by Dubfire and Sharam who will play their only Tulum set at ETT alongside Troxler, Miami artist Fiin and local DJ Hector on January 7. Closing proceedings on January 9 will be Children of the Sun, a co-production between EET and Gate, hosted by Distrikt, Pink Mammoth and Monkey Love, renown camps from Burning Man dedicated to taking responsibility for and reversing climate change. Their sprawling lineup features infamous electronic music act Art Department, Amine K, Guy Mantzur, Armen Miran, MoBlack, Kintar, Javier Gonzalez, Treceveinte LiveRoy Rosenfeld, Nico Stojan, Facundo Mohrr and Zetter, among others.
Committed to the environment and social inclusion, EET uses all recycled materials in the operation of the event, they will also have live trash sculptures and have banned the use of plastic at the festival. The toilets were specially built with biodigester system to protect the ecosystem and the sargassum from the beaches was used to build the tables in the VIP area.

The festival works with various civil society organizations to carry out activities in favour of the environment to ensure that Tulum remains an example of a friendly ecosystem, this includes a regular clean of the Quintana Roo beaches on Sundays. Working with the Mayan communities to promote fair trade and social inclusion, the festival brings local crafts and samples of regional food to the festival and welcomes fair-trade organizations to sell products made from biodegradable materials.

A vast lineup of events that feature some of the world's best DJs, Esto es Tulum 2019-20 promises to be the biggest and best year yet.